You've heard of a virtual assistant, or maybe you are working as one. And now are wondering, "Should niche down or specialize? But in what?" There are so many options when deciding to niche. Like SEO virtual assistant, social media virtual assistant, or Pinterest virtual assistant! And that's just to name a couple!
A Pinterest virtual assistant is a great option if you want to niche down, especially if you are already offing some Pinterest services. Going the specialized virtual assistant route is a great way to transition your business while you are still learning, and before you are ready to jump into Pinterest management.
Not sure what Pinterest is or what a Pinterest virtual assistant is? That's okay! We are jumping right into what a Pinterest virtual assistant does and how you can start working as a Pinterest virtual assistant today!
What is Pinterest and How Do Businesses Use it?
Pinterest is a virtual search engine. It has become a tool for all businesses from large to small to help reach their target audience. The user puts in a search term, and Pinterest provides products and services in the results to satisfy the search.
Pinterest helps businesses by being a platform that helps bring more targeted traffic to their website, blog, or the product page.
What Does a Pinterest Virtual Assistant Do?
So, what is a Pinterest virtual assistant? A Pinterest virtual assistant helps a client grow on Pinterest by helping to create pinboards and pins with visually appealing images and descriptions to attract searchers to click that Pin. Ultimately, increasing traffic to the client's website and generating leads.
How can I learn Pinterest?
To become a Pinterest virtual assistant, you don't need to be an expert on it! However, you will need to learn the basics of the platform. To learn how to navigate it, you can go to Pinterest, create a free account, and start playing around with it.
You can also watch a free video on YouTube to learn the basics. You do NOT need a super in-depth paid training or course to begin working or offering services as a Pinterest virtual assistant. That is because you are not expected to be the expert. You are helping the client by doing these services, creating Pins or scheduling them, or whatever it may be; you are not and should not be expected to know everything about Pinterest as a VA!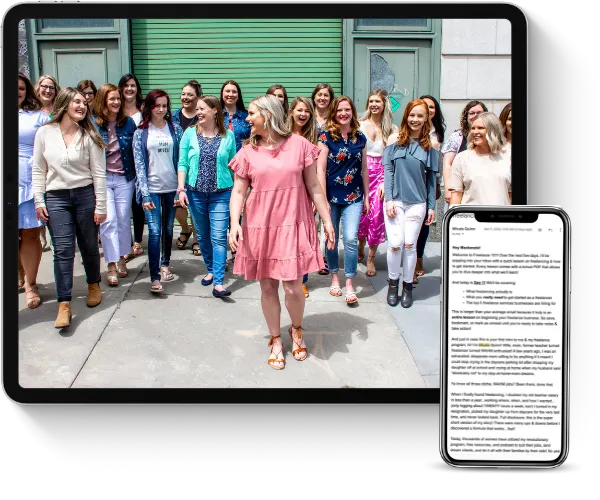 Learn how to earn $3K a month+ as a freelancer working less than 25 hours a week even if you think you have no experience.
This FREE crash course will teach you all about the freelance industry, so you can finally end the family vs. finances battle.
What Pinterest Virtual Assistant Packages Can I Offer?
Pinterest account setup:
This is a great starting point for a client who is not yet on Pinterest. You would create a business account for them, making sure it's optimized as you create it.
Tailwind account setup:
This is a good pairing service with Pinterest account creation, for clients that are new to Pinterest. With Tailwind, you can schedule Pins to post on future dates. Learn more about how Pinterest and Tailwind can work together on the Tailwind blog here!
Pinterest audit:
Do a deep dive into a client profile and Pinterest strategy to see what is working and what isn't.
Monthly Pinterest services:
Designing pins
Writing pin descriptions
Scheduling pins through Tailwind
Analyzing the monthly analytics (As I said before if you are not ready to offer this service, do not worry. Strategy and monthly analytics are not typically expected from a VA!)
How Much Do Pinterest VAs make?
How much you make as a VA can vary. It should be based on what you ultimately need to make and your confidence in your pricing. It can also depend on your skills, your expertise, and your clientele.
This table shows the beginning, advancing, and expert rates for basic virtual assistance to give you a starting point.
How Do I Find Clients?
There are multiple ways to find clients for your Pinterest virtual assistant business–Facebook groups, personal networks, direct outreach, online job boards, current employers, referrals, and marketing on social media.
Facebook groups: there are so many Facebook groups out there, pick a few your ideal client would be in, join the conversation and show up as an expert on Pinterest.
Direct outreach: Also called cold pitching. When going this route you want to find a need you can fill, then reach out with a very personalized email.
Online job boards: For example, the job board that available to all students that sign up for The Live Free Academy course. Potential clients will post what they need, and you reach out to them.
Current employer: depending on your role in your company and how open they are to the idea, you could ask your current employer if there is any capacity to move to a freelancing role.
Referrals: once you start landing clients, they will refer you to other potential clients.
Marketing on social media: this route takes more time and energy, so I don't recommend it unless you are established in your business.
Want to hear more about these routes to finding freelance clients for your Pinterest virtual assistant business? Listen to Episode 228 of The Live Free Podcast where I dive into these methods in more detail!
How to Become a Pinterest Virtual Assistant
In these 4 steps, you can become a Pinterest VA.
Learn Pinterest for business
As we discussed earlier, find free training on YouTube, or a course, or play around with a free account on Pinterest.com.
Practice
To gain experience, you don't have to do work for free! Trade small services like creating a couple of Pins for a testimonial.
Create a portfolio
Whether you are currently working as a virtual assistant or haven't yet started your business, create a portfolio for your business. You will include service packages with the services you want to offer.
An example could be 1 board creation that includes a board cover, title, and description. Also included are 10 pins with titles, images, and descriptions.
Network as a Pinterest virtual assistant
When networking, show your expertise on the Pinterest platform. Reach out to clients using one of the methods above.
Are you ready to start a freelance business doing Pinterest virtual assistance? Get started with the fast track to building a solid foundation and landing clients today! With The Live Free Academy course, you will build a freelance Pinterest virtual assistance business with the tools and templates needed to land your first client fast! It includes skills training, a community of freelancers just like you who are building their businesses too, plus weekly coaching calls, a job leads board, and accountability challenges to meet monthly goals.
Learn more about the program and sign up at MicalaQuinn.com/Academy!