Can you replace your full-time income with part-time hours? Yes!
Can you replace your full-time income with physical therapy work from home jobs? Also, yes!
If you are wanting to replace your full-time income and are working in a physical therapy assistant job–this post is for you! If you are not a physical therapy assistant and still want to replace your full-time income with a part-time job working from home, this episode is also for you.
We hear from Emily, on the blog today, who shares with us how you can replace your full-time income with work from home jobs. Emily did just that and did it all while she was on maternity leave.
Plus, how she did it working specifically with her ideal client-physical therapists.
So, whether or not you are looking for a physical therapy work from home job, read on to learn more about how to use your background and skills you already have to become booked out and replace your full-time income working from home!
Physical Therapy Assistant Background
Emily was a physical therapist assistant for the last 7 years, with the past 3 years specializing in women's health. She worked in postpartum and women's rehab which quickly turned into her passion.
After she started having babies, she found it tough to keep going to work. Even though it was a job she loved, she couldn't leave her babies at daycare all day. And it was hard for her to leave if her kids had an emergency because patients were depending on her to show up.
Left feeling like there wasn't much flexibility and needing it with 3 kids, she started searching for something else, something like physical therapy work from home jobs.
Emily just had her 3rd baby, who is now 6 months old. She finally found the LFA course when he was about 1 week old, and it took her 1 week to decide she wanted to join The Live Free Academy. Once she decided, she jumped in and was determined to make it work.
Searching for work from home options
Emily first heard about The Live Free Academy Program in a Facebook group with other moms looking for work from home jobs. She says, one comment on an old post said, "Go check out Micala Quinn on IG".
So Emily, thinking that was a little odd, did just that. She was intrigued by what she saw, the world of freelancing, and wondered if it could work for her.
She started looking around the website, listening to The Live Free Podcast, and researching in her downtime.
After 1 week she decided to purchase the course and set a timeline for herself to finish it within 4-6 weeks.
How to Replace Your Income with a Work From Home Job
Unsure how to replace her full-time income in physical therapy with a work from home job, she reached out to me. Emily asked, "I only have 3 months to replace my full-time income, do you think this is realistic?"
I responded and said that she needed to probably work the same amount of hours she was currently working in her PT job, 30 hours. But she had skills in this area and wasn't a beginner, so she should start out charging $30-$35 per hour. After doing both of those, it is possible!
So, that is what Emily did. She focused her energy on determining what skills and services she could offer to clients, and who her ideal client was. In her current physical therapy job, she was working for a clinic owner who was doing social media, marketing, podcasts, etc.
There had been numerous times he had asked her to help out with those tasks. So, Emily thought, there must be a ton of other clinic owners that need help with these things too, but don't have help.
She started joining Facebook groups related to physical therapy entrepreneurs, and cash-based clinics and began sending cold pitch emails.
Emily says she would reach out to people that seemed like they are a little behind. For example, she would look to see if they had posted a blog in the past year or if their social media was behind or posted very infrequently.
Landing clients
From all her efforts, Emily says she has 1 client landed from the LFA job board. Who is her only client not related to her physical therapy work.
4 clients from a Facebook group engagement.
1 client from cold pitching.
1 client is her old boss, the clinic owner.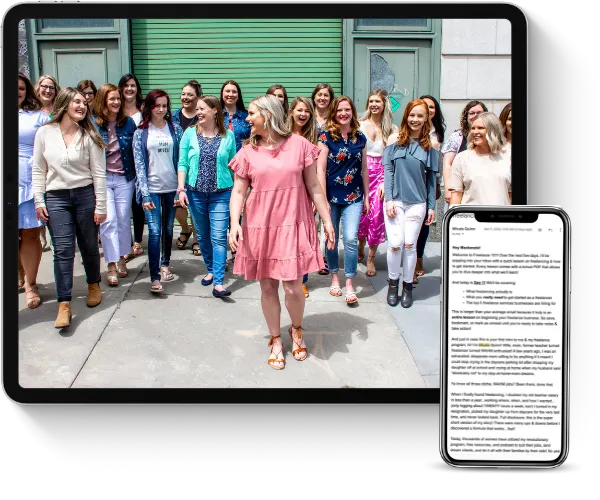 Learn how to earn $3K a month+ as a freelancer working less than 25 hours a week even if you think you have no experience.
This FREE crash course will teach you all about the freelance industry, so you can finally end the family vs. finances battle.
How to Replace Your Full Time Income
Work in your lane of genius. For Emily, that was in physical therapy. Where she knew there would be other PTs who would need similar support to her boss. So many people run away from specializing in the beginning because they are afraid to narrow down or hold themselves back from other clients. But when you do, you know where to go and exactly how to help clients.
Download the skills assessment to help you brainstorm all the skills you have! Then you can nail down what services you want to offer to clients.
Determine your ideal client, and how you can help them. Create messaging that will resonate with your ideal client.
Plan out when you can work. Add up all the 1 and 2-hour chunks of time to get a total for the month.
Figure out your income goal. What's the goal you need to meet?
Divide your income goal number by the total hours you have to work to get the number of clients you need to meet your income goal.
Start networking and reaching out to potential clients. Whether you do it in Facebook groups, send cold pitch emails, or apply to the LFA job board. Start getting yourself out there and noticed by potential clients.
Those are the simplified steps to finding and replacing your full-time income with freelancing part-time. If you are searching for work from home jobs, but unsure you can do it. You can do it!
And I would love to help and support you! Starting with The Live Free Academy program. My program is an all-inclusive 8-step training to help you start and grow your business.
Inside this course, you get all the tools and templates, skills training, and the most supportive community of freelancers on the internet by your side! Plus, you get weekly coaching calls, and freelance job leads from the exclusive LFA Hire Form available only to the LFA community.
Plus, monthly land your client goals challenges.
So what are you waiting for? Sign up today and get full access to the course and all the perks of the program from day 1!