Google search for a personal virtual assistant. You can't find much information on this topic. This niche market of virtual assistance is, for some unbeknownst reason) not talked about very much.
I'm not sure why it is so hush-hush, but it is a fabulous option for virtual assistants who want to try out this niche.
Regardless of the reason, it will become more popular among virtual assistants and could be something to think about for your virtual assistant business. Read on to learn more about virtual personal assistants, their work, their typical salary, and how to become one.
What is a Virtual Personal Assistant?
Personal assistants help business owners with personal or business tasks remotely. Since business owners need to spend their time wisely working on tasks only they can do, they will outsource other tasks that are time-consuming and can be completed by someone else.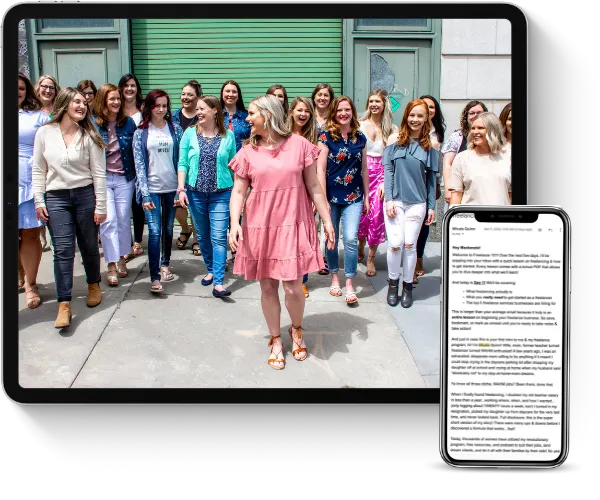 Learn how to earn $3K a month+ as a freelancer working less than 25 hours a week even if you think you have no experience.
This FREE crash course will teach you all about the freelance industry, so you can finally end the family vs. finances battle.
What tasks can a virtual personal assistant do?
So, what tasks do virtual personal assistants (VPA) do? The tasks are comparable to a  virtual assistant, focusing on the client's personal life rather than their business.
Those can include:
Scheduling and managing appointments
Calendar management
Research for the best products/services you may need
Pricing comparisons
Place orders
Book travel arrangements
Customer support or asking for a refund over the phone, website, or chat support
Data entry
Inbox management
How is a virtual personal assistant different from a virtual assistant?
Since much of the work is similar in nature between a VPA and a virtual assistant. The difference between the two is based on what you work on.
A VPA will help with a client's personal tasks, while a virtual assistant will help with a client's business tasks.
What is a Virtual Personal Assistant's Salary
Since the tasks and the general job of a virtual personal assistant are similar to a virtual assistant the rates are also similar. As an entry-level or beginner, a VPA can charge somewhere between $25 – $30 per hour.
As you advance in your expertise and are able to gain more experience and knowledge, you can charge more per hour. With each new client you sign, you can (and should) raise your rates.
Eventually, as an advanced VPA, you could make up to $40 per hour or more for your services.
The best part is that there is no ceiling, so you can charge what you want for your services. And as long as you can get and show results-there will always be someone willing to pay that amount.
How to Scale a Business to Personal Virtual Assistant
Whether you have a current virtual assistant business that you want to niche or want to start a VPA business you will want to start by listening to Episode 123 of the Live Free Podcast.
In this episode, you will learn how to choose a service even when you don't think you have any skills and how to handle imposter syndrome when it starts creeping in.
Certification
First things first, you do NOT need certifications to become a virtual assistant.
Now, having a certification may help you land clients faster and possibly at a higher rate. That is true in most niches. However, some clients will care about results over certifications.
Training and skills
If you want specified training in this niche, start researching for courses or free training to learn more about it.
You don't need any special skills to become a virtual personal assistant. Though, 4 skills that will help you in accomplishing the tasks they generally do are:
Communication
Time management
Organization
Creativity
How Do I Become A Virtual Personal Assistant?
First, you will want to create a business plan. Next, you will set up your business legally. And last, create all your business processes. Use the LFA business checklist for a simple guide to get started.
To work as a freelance virtual assistant, you will work with a client for a set amount of hours per month. The client will share the tasks they want you to complete by a pre-determined and agreed-upon deadline. Then it will be up to you to complete those tasks for the client.
Do you want a step-by-step guide that walks you through the entire process? Sign up for the Live Free Academy course! With training videos, workbooks, brainstorming activities, and plug-and-play templates, the LFA course will guide you in starting and building a virtual personal assistant business!