EPISODE 93: SHOW NOTES
It is an exciting week around here as my revolutionary program, Overwhelmed to Overbooked (OTO), is open for enrollment! To help you decide if OTO is for you, I asked current and past OTO moms to share their favorite parts of the program, how it's changed their lives, what they love about being work at home moms, and tips for brand new students like you!
I hope you love hearing these real moms share how the decision to join Overwhelmed to Overbooked changed their lives. I am so excited to welcome new moms to the OTO community this month! Whatever your decision is, I want you to be confident in it so if you have any questions, please reach out! Send me an email at [email protected] or connect with me on Facebook or Instagram.
I am here for you now and will be here for you every step of the way. Thanks for listening today and talk to you soon!
**This post about OTO moms may contain affiliate links, which means if you click one of our affiliate links and decide to make a purchase, we receive a tiny commission from the seller at no additional cost to you. We only share products and services we have used, tested, and love ourselves!**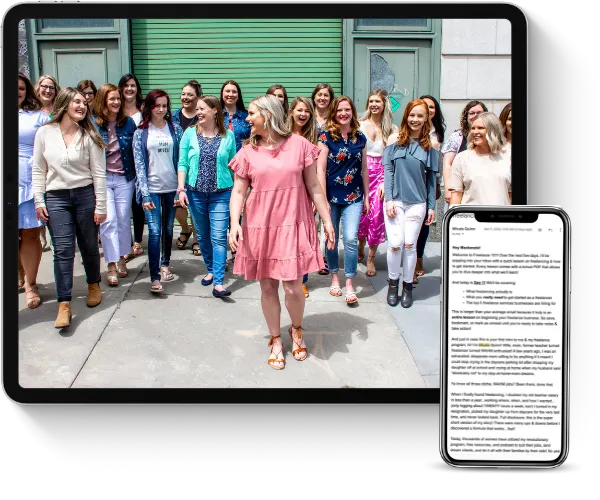 Learn how to earn $3K a month+ as a freelancer working less than 25 hours a week even if you think you have no experience.
This FREE crash course will teach you all about the freelance industry, so you can finally end the family vs. finances battle.
In this episode, we cover:
OTO moms' favorite parts of the program,
How OTO has changed their lives,
What they love about being work at home moms, and
Tips for brand new students like you!
Resources and links mentioned in this episode: