It's the elephant in the room isn't it? 
You joined me for my free workshop, were ready to go all-in, until you saw the cost to enroll in Overwhelmed to Overbooked. 
First, let me be upfront. This program is expensive. It is not cheap. 
However this program is not just an expense, it is an investment in your future and if you put into action what I teach, this program will make you money and open up doors you never thought possible.
You will be able to replace the rushing, running, & stressing with a life full of freedom & flexibility. 
Overwhelmed to Overbooked is not only an investment in your brighter future- it is a declaration to yourself, your family, & your network that you mean business.
This is not a throwaway PDF or a project you pin on Pinterest that you start and let sit half-finished in your basement.
This is your chance to take action and design a life you love. And that is priceless.
So before you write off this opportunity as too expensive and decide to stay stuck in your current career or decide to try the DIY route and see if it works… I wanted to help show you what your investment in Overwhelmed to Overbooked can do for you in just a few months. 
Can you afford to NOT enroll in this program?
I've received countless emails, DMs, texts and comments on FB saying I would love to start freelancing but I can't afford your program, it's too expensive. 
I never want to be pushy because you really never know someone's real financial situation, but on the other side I see SO many women who sign-up despite the investment and go on to say how Overwhelmed to Overbooked has changed their life. 
SO my question to you is… Can you afford to NOT enroll in Overwhelmed to Overbooked. 
The DIY route and staying stuck in your current situation is cheaper today, but what will it cost you six months from now? A year from now? Five years from now? Fifty years from now?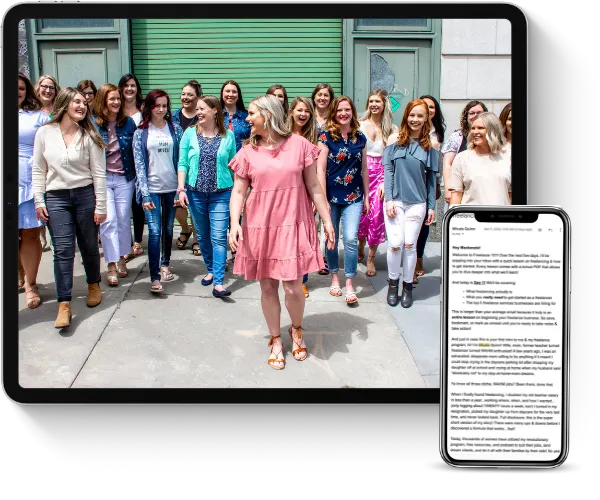 Learn how to earn $3K a month+ as a freelancer working less than 25 hours a week even if you think you have no experience.
This FREE crash course will teach you all about the freelance industry, so you can finally end the family vs. finances battle.
No one in their deathbed is going to say, wow I'm really glad I didn't spend that money on that one program back in 2020. 
No on your deathbed, instead you may regret the chances you didn't take, the time you didn't spend with your family, and the misery that you chose to live in. 
I'm not trying to say you are miserable… I'm only speaking from my experience from five years ago when I was desperate to be a stay at home mom. 
If I would have let my fear and refusal to invest in myself and my future have the final say, I'd still be stuck teaching, still rushing everywhere, still angry and resentful of my husband. 
Sure not enrolling is cheaper today, but what will it cost you a few months from now?
The first thing not enrolling in Overwhelmed to Overbooked will cost you is money. 
This isn't even the most important thing, it's just the most practical thing and how most of us make our decisions. 
Now this only works if you are going the DIY route. Let's say you do go the DIY route, and you have a similar experience to mine… it takes you 7 months to land your first client and that first client is a retainer client at $500 a month.
Sure you saved the cost of enrolling in Overwhelmed to Overbooked, but you still landed a client at $500 a month! The DIY route is NOT impossible it just takes longer! 
Here's how it actually ends up costing you money in the long run. 
Let's say you enrolled in Overwhelmed to Overbooked today, dove in and followed my typical scenario for making back your investment and landing clients. 
I tell people not to plan on getting a client their first month and while that CAN happen, it's best to spend the first month getting a solid foundation built. This doesn't mean don't take action on opportunities that come up — just let that be the icing on the cake if it happens!! 
So month 1 is laying the solid foundation, month 2 is all about taking action and putting what I teach in step 6 into motion. 
If you do this consistently it is very realistic to land a client by the end of month 2. 
Let's say you do land a client at the end of month 2 and that client is a $500 a month retainer. 
(Again a retainer client is a client that is going to recur month to month as long as it remains a great working relationship between both parties).
By the end of month 7, that one client (if all goes well between you too), is worth $3,500. 
And that's just if you land ONE client. 
If you remember from the workshop, I say landing 1-2 clients a month is realistic. The first one is THE hardest, after that, they kinda just start rolling in… it's not out of nowhere though… All your effort from implementing my strategies from step 6 turns to momentum and starts paying off. Not to mention your current clients, if you implement what I teach in step 7 about working with and wowing your paying clients, they will start to send you referrals! 
And referrals are WORTH gold. 
If you land 1-2 clients a month at $500 retainers each here's what that could look like six months from now… 
$2500 a month to $5000 a month in retainer income. 
Chances are some will be higher, some will be lower… but hopefully, this helps illustrate how your investment in OTO will have an ROI in a few short months. 
The next thing not enrolling in Overwhelmed to Overbooked will cost you is time. 
If you do go the DIY route… OTO from my example above not only costs you money, but it is also going to cost you time! 
Wasted time spent googling everything from how to make your business legal, how to set up a website, how to land clients, how to run a discovery call, how to send a contract, etc… 
One of the great things about enrolling in Overwhelmed to Overbooked is ALL of this + more is laid out for you in an easy to follow step-by-step plan, so you don't have to waste 1000 hours googling. 
The other reason why the DIY route costs you time is instead of enrolling in Overwhelmed to Overbooked and having ONE person's step-by-step proven plan, you will be piecing together LOTS of people's advice and opinions… you know what they say about too many cooks in the kitchen right? 
It's terrible! 
When you decide to go all-in with me, you have the luxury of cutting out all the extra noise and plain bad advice out there from others. 
When I went the DIY route to start (because I had no clue there were people or resources to help me) it took me SEVEN LONG MONTHS to land my first client. 
SEVEN. 
I'm shocked I didn't throw in the towel and give up as such was my personality prior to starting a business. 
And after those SEVEN months, it took me ANOTHER SEVEN to replace my income, but I still had to keep working since I was on a teacher contract. Luckily, I went on maternity leave early, so I was able to be done about two months early. 
I wish I had a program to work through from the very start instead of navigating this on my own in the beginning. ( I eventually found one eleven-months later shout out to Julie Stoain of Create Your Laptop Life and this investment was a major catalyst in what my life looks like now)
But going the pure DIY route on my own for a while, I learned a lot. Like what mattered most and what was just noise and a waste of time. That's why in Overwhelmed to Overbooked, I teach you how to land clients from the very beginning as you are building your business. 
No website needed. No crazy social following. 
Just people with problems and you offering the solution. << THIS is what matters most and enrolling in Overwhelmed to Overbooked will provide you the shortcut to get your business up running and profitable.  
Which is perfect for those of you who are saying, I want to quit my job like yesterday! 
The last thing not enrolling in Overwhelmed to Overbooked will cost you is your happiness and sanity. 
I know this sounds a bit dramatic, but I had one of those groundhog day experiences a few weeks ago. 
At the beginning of January, I volunteered to go help a mom from my program teach an interim class on entrepreneurship to some high schoolers. 
It was the first time I had to wake up to an alarm in a really long time. It was still pitch black out and my body just wanted to stay in bed and cuddle miss Mclaren who sneaks into our room in the middle of the night. 
But I had to get moving. 
Coffee. Shower. Get Mclaren ready for school. Feed Tommy. Give him lots of love and snuggles. And run out the door to Thomas' wailing for mommy cries. 
It was painful. 
But I wasn't done. I still had to rush Mclaren to preschool and good lord when mom is in a rush kids do not cooperate!
I still had to drive 30 minutes through traffic to make it just in the nick of time. 
This experience took me back to when I had to do this 5 days a week August – May. 
The stress, anxiousness, and rushing. 
I hated it. I do not miss it one bit. This time was a little different because it is volunteering, and had a real quick end date in sight… 
3 days is doable. A lifetime? Nope. Nope. Nope. 
This is the most costly thing. 
You are here for a reason.
If you look at where you are at right now in your life, are you happy here? Is this where you want to be 6 months from now or even a year from now or fifty years from now?
I am going to assume that the answer is no. Otherwise, you wouldn't be reading this post!
Maybe you hate your job and are sick to your stomach every day you have to drive into work.
Maybe you are sick of asking permission to attend your kids' school parties or take them to the doctor or chaperone them on their field trip.
Maybe you are sick of the majority of your paycheck going to daycare.
Or maybe you already left your job, but you miss working, you miss being a part of something more and the adult conversations and helping people.
Or maybe there's no drastic reason, you just want a couple extra hundred dollars a month to spend towards the extras or to save or pay off debt.
Whatever your exact reason is…you are looking for something better. Something more.
You are in desperate need of a career that allows everything that makes you shine. You want to be that fun mom, always at the class parties & pool playdates. And you want to be that mom & partner that is making an impact on the family budget. 
You want it all. You can have it all! 
Life is too short to stay stuck and to settle.
Freelancing saved my life. 
I'm not being dramatic here. I have three children (and one on the way), but only two of my children are living. My middle child, my first son, George passed away when he was 8 months old, out of the blue, with no warnings. 
This was just over two years ago, and I am still very much in a grieving period. I will be my whole life. BUT the fact that I was at home his entire life… the fact that I was his only caregiver other than a grandma here and there… the fact that I had eight of the most wonderful months at home as a mom to two babies with complete control over my time, my schedule, and how I spent my days… those memories saved my life. Those memories gave me peace and comfort and still do. 
Every day was practically the same. Wake up at 5 am — get some work done. George would wake up around 7ish, I'd nurse him in his bedroom, his big sis would wake up shortly after, and I'd carry both babies down the stairs, one on each hip. We'd stop at the bottom of the stairs and look in the mirror in the entryway, and Mclaren and I would say together… TWO BABIES!! Giggle. Have breakfast. Breakout in dance parties, go explore our city, come home for lunch, naptime for the kids and work time for me. 
This was so boring and mundane, but it was everything I ever wanted with Mclaren, and I got that with George. And now I have that with Thomas and Mclaren and I will never go back to working for someone else and give up control of my time and freedom.
I'm not sharing this for pity or sympathy, but I'm sharing it so that when you see me talk about motherhood and working from home and perhaps want to criticize me for over-romanticizing it… you can understand my perspective and life experience and why I think this way.
I also share this to illustrate the cold hard truth that life is too short. You are never guaranteed tomorrow. 
Spend each day how YOU want.  
Now if only we didn't need money to live and buy things and pay for the roof over our heads and all the experiences we want our children to have… 
I can't control the fact that most of us do need money to survive and give our kids the life we want them to have, but I can help you figure out how to take back control of your life, how you spend your time, and how you choose to create a career on your terms. 
And the best way I can help you is through my proven program, Overwhelmed to Overbooked. 
With Overwhelmed to Overbooked, you will have everything you need to go from wishing, hoping, praying for your freelance business to work out to having the exact plan in a step-by-step format that has worked for over 1,500 other women. 
Check out some of our reviews here and listen to the student success story episodes here on our podcast! 
Overwhelmed to Overbooked is NOT a throwaway PDF. 
It is not just a course. 
Overwhelmed to Overbooked is a group coaching program that includes: 
>> step-by-step content to build your business (check out the curriculum here) 
>> over 10+ skills trainings and walkthroughs from my expert team so you can confidently get started as a freelance beginner 
>> 6 months access to our OTO student lounge to get the daily support from our amazing veteran community and to build relationships with other like-minded women on this same journey with you
>> 6 months access to weekly coaching calls with me to work through your challenges directly with me 
But Micala, I just can't spend $997 on a program right now. 
I get it. Not many people have an extra $997 lying around. I sure as heck didn't when I was teaching… and most of the women who sign-up for Overwhelmed to Overbooked are in the exact same position as you. 
They want this, but the cost… 
That's why I offer a payment plan. You can get started today for just $197. 
And if you dive in, implement what I teach, and take action in spite of your fear, you could land your first client within the first month or two and the rest of the program will literally pay for itself. 
And after that, your business income is all profit! 
I know if you look over your budget it might seem impossible to add this in, but is there anywhere in your budget you can cut back this first month or two in order to prioritize your business and create a brighter future for you and your family? 
Here's how you can afford Overwhelmed to Overbooked.
Short term sacrifices for long-term gains. 
How many subscriptions do you have right now to Netflix, Spotify, Hulu? 
How much do you spend on your hair care? 
Or Date nights? 
Or random, pointless trips to Target? 
Or extracurriculars for your kiddos? 
Or new clothes for kids? 
How much are you setting aside each month for retirement? For vacations? For kid's school?
What does your husband spend a month on eating out with work? (this was a HUGE budget eater (pun intended) and I got Colin on board to cut back while I was building my business) 
As moms, some of us are so ingrained in caring for others first, that we never prioritize our own needs and desires. We are naturally sacrificing humans, but it is necessary to sometimes prioritize YOU so that you can continue to care for your family to the best of your ability. 
Are there any areas here where you can borrow from in order to make it work? 
Yes — AWESOME! Here is the link to enroll! 
No — Shoot! Let's think through this some more. 
Do you have a savings account you can borrow from? 
Do you have a credit card you can put the first payment on? 
Do you have family members you can ask for help from? Perhaps a birthday gift? Valentine's gift? Late Christmas gift? 
When there's a will there is a way. 
Desperate to join, but none of the options above are options for you? 
Can you perhaps pick up a side gig temporarily to get the first payment? 
>> an extra shift at work? 
>> sell some of your kid's old clothes or toys?
>> sell old furniture just hanging out? 
If you are able to find a way, I'm sure the next thing on your mind is… 
Is this guaranteed? Am I absolutely guaranteed that if I sign-up I will land clients? 
The Overwhelmed to Overbooked Guarantee
That is a very valid question and as much as I wish I could guarantee your success, I can't. 
I don't know your work ethic. I don't know what you will do once you sign up.
My course is not a magic pill or bullet. There is work and dedication required. 
But for those who sign up, work through the curriculum, and decide to be successful… my program is proven. 
Yes — the control is in YOUR hands. 
If you want to ensure your success, here is what you need to do:
Dive in and take action.
Just purchasing my program is a waste of money. BUT if you purchase AND actually…ya know…get started- that's where the magic is! Work your way through the first lesson, implement my advice, & you'll see just from step ONE that you're really doing the dang thing! 
Be decisive- make decisions and move on.
So many people get stuck in analysis paralysis- picking the perfect name, picking the perfect logo, the perfect colors, the perfect title, the perfect everything. Perfection is a lie and will only prevent you from taking action. I am very much a proponent of "done, not perfect."
Yes, you want to do your best and look professional- but instead of asking if something is perfect…focus on if it's good enough for now! 
Everything can be revised and refined later on. If you pick a name or a logo to start & change your mind down the line- switch it up!  Know what you cannot change? Wasted time. 
Believe in yourself.
This is super hard, especially when you are a beginner.
You may not know everything- but are you smart? Are you a problem solver? Can you seek out new information & solutions? Can you watch a YouTube video to learn how to use a new software?
I KNOW the answer is yes. You are smart! You can problem-solve, Google, and follow a video.
With every new experience …you'll gain confidence. And next thing you know you'll be an expert! 
Utilize the community.
I 100% believe the exclusive, OTO members-only community is the TRUE secret weapon of my entire program. My program alumni are seriously LEADING the pack in the freelance field. And yet they return to our private Facebook group every single day. To offer advice & encouragement. To share wins & lessons learned the hard way. They'll hold you accountable & tag you in job postings. They will transform your life. 
Attend the weekly coaching calls.  
Do not stay stuck. Do not do this alone. Along with our community, you have a chance every single week to get on a call with me and get 1:1 feedback on where you are stuck or what move to make next. 
Need help identifying your services. I can help!
Need suggestions on who your ideal client should be? I can help!
Want me to provide feedback on your pitch? PLEASE! Let me help! 
And so much more! I've helped people customize their offers, create their pitch list, work on their messaging, tweak their branding, and work through mindset blocks. 
So can I tell you exactly when you will hit your income goal or how many times you will hear no before you get that yes? Of course not.
But I can tell you that if you listen to my advice & follow the 7 steps, if you attend the group coaching calls & lean on the ladies in our community to advise & inspire you- it will happen for you, too.
You will land clients (probably even your dream client!). You will reach your goals. You will have the freedom, flexibility, and financial stability to be the mom you want to be. To live the life you want to live.
It will happen. And I will be there every step of the way. 
And so will our growing community. 
You just have to be ready to jump in, do the work, & enroll before we shut the doors!