Let me tell you about my journey to becoming a work at home mom.
My story first begins with me searching "how to be a stay at home mom" while I was on my lunch break.
All I found in that search was learning how to budget and minimize your budget.
Tips like, sell one car, downsize your house, cut your grocery bill in half.
I did not want to be stuck at home all day with no car to get out and experience our city with my daughter. And I most definitely did not want to wake up, get my daughter in the car, drive 45 minutes one way just to drop my husband off at work to drive home hang out a couple of hours and then pack back up the car with my daughter to drive 45 minutes one way to pick him back up and then drive 45 more minutes home (but probably more like an hour because of traffic… thanks I35).
We just bought our house. It was a house we could grow into. And I distinctly remember my husband saying as we were house hunting… "if we buy this house you HAVE to work… you won't be able to stay home."
I really wanted that house so I kept saying, "ya, of course, I love working"… when secretly I was plotting my way out of a job.
Needless to say, we bought the house I wanted. And my husband was right. I HAD to keep working if we wanted to afford bills and food and fun.
I was mad.
And now the grocery bill. I am embarrassed at how much my family spends on food a month. I've tried everything. Meal planning. Online grocery shopping (which yes does help), but I am still spending an astronomical amount of money on food for a small family.
And we like to eat out.
I quickly, begrudgingly realized the SAHM life was not in my cards. So, I started looking for work at home jobs.
Here is what I found:
1. Join an MLM. Sell Mary Kay. Sell Plexus. Sell Pampered Chef. Sell anything.

I know lots of moms are very successful in their MLM careers, but I have been tainted by a few of the bad ones. I constantly get random Instagram messages or Facebook messages of people offering me to join their team, a discount to try products, and one time someone even offered to help me lose my "baby weight." I did NOT want to be those people, so MLM was out for me.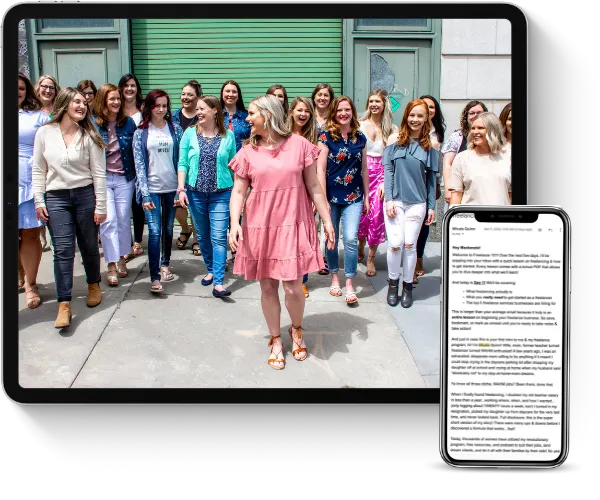 Learn how to earn $3K a month+ as a freelancer working less than 25 hours a week even if you think you have no experience.
This FREE crash course will teach you all about the freelance industry, so you can finally end the family vs. finances battle.
2. Some companies hire work from home positions. Mostly for customer service type roles.

They call these "flex jobs." But they weren't that flexible. They wanted you to have a quiet environment (new baby doesn't exactly scream quiet environment) and be at your computer from 8-5. And they paid like $10 an hour. Nope. Not for me.
3. Someone suggested I start a daycare.
While I love kids and yes this would have gotten me home, I wanted to be at home with MY kids. I wanted to have the freedom to go to the park, go to the zoo, go to the museum, run to the gym. Not be locked in a house all day, outnumbered.
4. Another option I found was handmade products and selling on etsy.
This I tried. I started making and selling hair bows. Like really, really big ones. I was hopeful this was going to retire me from my day job. It didn't. It took a lot of time and you can't really sell bows for more than $10 a pop. My back ached. My fingers were burnt from the glue gun. So I slowly let this one go.
Things were looking bleak… hopeless… and I just felt stuck.
And the feeling of feeling stuck is one of the worst out there. I like to have control. I like to do what I want. I don't like being forced to do anything.
And I felt like I was being forced to work. And I started to hate work with a passion.
This passion for hating work was not really about hating work, it was really about hating not having the control to have a working schedule that fit my needs and fit my family's needs.
I wanted a flexible schedule.
I wanted the freedom to work where I wanted… (from home).
And I wanted to make a good income.
Is that too much ask for?
If you are shaking your head like yep that doesn't exist.
I want to tell you that it does.
There is another option that most moms don't know about.
5. This secret, hidden gem of an option for work at home moms is freelancing!
What is a freelancer?
A freelancer is an independent contractor who offers services to businesses on a project basis or a monthly retainer.
A freelancer is NOT an employee and does not receive the traditional business benefits from their clients, like a 401K, health insurance, paid vacation.
But the benefits freelancers DO get far outweigh (in my opinion) what they don't get.
Freelancers do get:
Freedom
Flexibility
Financial stability
Who hires freelancers?
Do you shop online? Do you read blogs? Do you search for recipes or DIY projects on Pinterest? Do you watch funny mom videos on Facebook and share them with your friends? Do you follow influencers on Instagram? Do you listen to podcasts?
Shaking your head yes?
Cool — well behind all of the categories above is an online business.
And to successfully run, grow, and scale an online business, it takes a lot of time and energy. And in order to make it happen, entrepreneurs build and grow their team with a variety of freelancers.
They might hire out for tasks they hate doing, tasks that take too much time, or tasks they don't really know how to do.
How to get started
I always tell moms to start by figuring out what service you could start your business with. There are lots of different options and industries you can get into as a freelancer, but it makes the most sense to start with something you already know how to do.
You have SO many talents, skills, and expertise and I can help you uncover your unique gifts and show you how to package them up into a profitable freelance business today. Just grab my Ultimate Freelance Guide and I'll walk you through my step-by-step process!
If you are thinking but I don't have a business degree or a marketing degree or I've never done anything remotely close — DO NOT WORRY! I didn't either. I went to school to become a teacher and taught high school English for four years.
I literally had ZERO business skills…
But what I did have was
creativity
organization
planning
Heck I created the Pre-AP English curriculum from scratch as a first-year teacher AND I could get kids excited and engaged in conversation about Oedipus, Beowulf, Antigone, The Iliad, and many other ancient texts.
So how does this translate to a freelance career you ask?
Well grab the guide and I'll show you how I was able to turn my greatest strengths as an educator into my greatest strengths as a freelancer and how you can too!
And believe me, there is something for everyone, no matter if you are currently a working mom or a stay-at-home mom. Check out this previous post of my top five favorite work from home mom freelance jobs to get an idea of some of the options!
Together we can turn your talents and skill set into a profitable work from home career today!