"You are going to bankrupt this family!"
A few short years ago, my money-stressed, worried husband slammed a stack of medical bills down on the counter and stormed out of the room after I announced (again!) that I had found (yet another!) way to make money and stay home with our daughter.
Let me explain. Exhausted and desperate, I was a mom willing to try anything if it meant I could stop crying in the daycare parking lot after dropping my daughter off at school and crying at home when my husband said "absolutely not" to my stay-at-home mom dreams.
I hated dropping off my daughter at daycare each morning, and the early morning rush to get to school (I was teaching back then).
To become a stay-at-home mom was all I wanted, but my husband wasn't convinced it was an option. We needed the extra income from my salary.
So, I started doing research and found a lot of options to become a stay-at-home mom and still make money.
Start an in-home daycare
Join a multi-level marketing business
Make and sell bows
Learn to live on a small budget
I even tried to find a job that offered remote work. Back then (pre-Covid) those jobs were just not super common to find. Plus, I would have been expected to be at my desk, working 8-5, with zero interruptions from my kids throughout the day. Which was not realistic for me!
None of these were going to replace my teacher income allowing me to be home with my kids.
Finally, I dug deep enough and found freelancing. This hidden gem that no one wanted to talk about.
It would allow me to determine my hours, rates, clients, and how I could spend my time.
So, I started researching and then researched more; eventually I was sold!
After starting a freelance business, I showed my husband how I could replace my teaching salary!
Finally, I was able to quit my teaching job and stay at home with my kids, all while working on my freelance business.
Options to Stay at Home and Make Money
What opportunities are there to stay at home and still make money?
When I started researching this (before I found freelancing) there was hardly any information about freelancing or working from home.
There were other options, though none of them made me super excited.
As I considered each, I found a reason why these options would never work for me or our family.
Budgeting

Don't get me wrong. This option works for a lot of people! But this would have been a major lifestyle adjustment for us, and it was something I was not ready to explore.
Blogging. I admit this would have been a fun option. The time commitment would have left little time for me to be present with the kids when I was home with them, though.
Uber/Lyft driver. You keep only a small portion of what you make on each drive, increasing the hours I would have had to work to replace my full-time income.
Grocery shopper. I wouldn't have been able to be at home with the kids or take them along with me – which meant putting them in daycare.
MLM. I did not want to pressure my friends and family into buying my products after joining an MLM.
In-home Daycare. I wanted the ability to go to the park with my kids. That would have been difficult when watching 10+ kids during daycare hours. There was just no flexibility with this option!
Start a small business. I did start a bow business, but the product margins were thin and it was a tough business to break into. I would have needed to sell A LOT of bows!
So, I kept digging.
Buried deep in the internet archives I found freelancing. A solution that it seemed no one wanted to talk about.
It was like this little secret that was the answer to the question I had been searching for!
Financial Ability to Stay-at-home
When I was working full-time and looking to stay home, running through the numbers went something like this.
Working 50-60 hours a week as a teacher I was taking home about $1,000. That was after paying taxes and daycare expenses.
I listed our expenses and monthly income (after taxes) and used it to calculate how much I needed to make to live comfortably. This fancy calculator is helpful!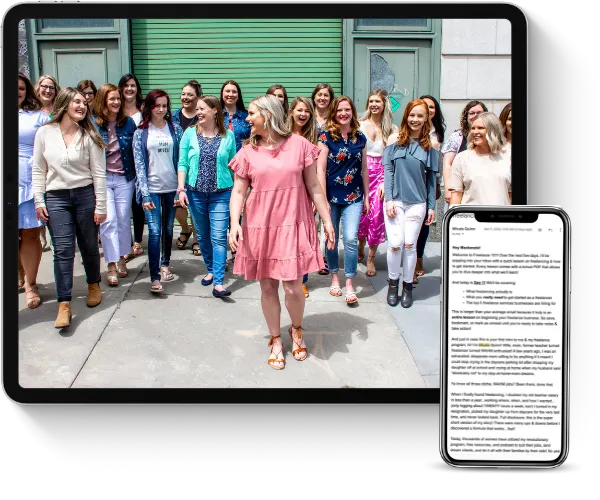 Learn how to earn $3K a month+ as a freelancer working less than 25 hours a week even if you think you have no experience.
This FREE crash course will teach you all about the freelance industry, so you can finally end the family vs. finances battle.
Freelancing allowed me the freedom to make as much money as needed.
I set my rates and decided when to raise them.
And since I raised my rates with every new client I onboarded, I was able to make more than my 9-5 income. Fast!
Actually, it was 3x more than my full-time teacher salary!
And I was ONLY working 15-20 hours a week. The perfect work-life balance.
For me, the decision to stay at home was based on wanting to be at home with my babies, and the financial freedom of replacing my full-time teaching income.
Have you done the math to figure out how much money you need to make to stay at home with your kids?
How much will you need to make a week to live comfortably?
What will you need to set aside for taxes?
How many clients will you need to onboard to make your weekly income goals?
I can help you figure out all this and more inside my Live Free Academy. But if you're just getting started and looking for a free resource, start with the Freelance Guide.