EPISODE 92: SHOW NOTES
Have you gotten started as Virtual Assistant, Social Media Manager, or Online Business Manager and learned that you you love having a leadership role in your client's business? Then today's episode is perfect for you because I am interviewing operations expert, Natalie Gingrich, on operations as a freelancer!
If you haven't gotten started, this is still a great episode for you too because it will show you another potential path your business could take!
Natalie is here to talk about niching down into operations as a freelancer in the online space. Operations is one of the highest paid, hourly, freelance roles and Natalie walks us through the pillars that make up Operations.
Natalie spent 15 years in corporate operations and leadership at a Fortune 150 company and when given the opportunity to leave, she put the knowledge, certifications, and experience to work by creating her own consulting firm as well as a certification.
One of my favorite things about freelancing is that the business you start out with isn't the business you end with! The opportunities in the online space are limitless and this episode will show you yet another direction you can take your business.
Thanks for spending time with me today! Don't forget, Overwhelmed to Overbooked will be OPEN on January 17. Join the list here so you don't miss a thing!
Have questions? Send me an email at [email protected] or on Facebook or Instagram! Talk to you soon!
**This post about operations as a freelancer may contain affiliate links, which means if you click one of our affiliate links and decide to make a purchase, we receive a tiny commission from the seller at no additional cost to you. We only share products and services we have used, tested, and love ourselves!**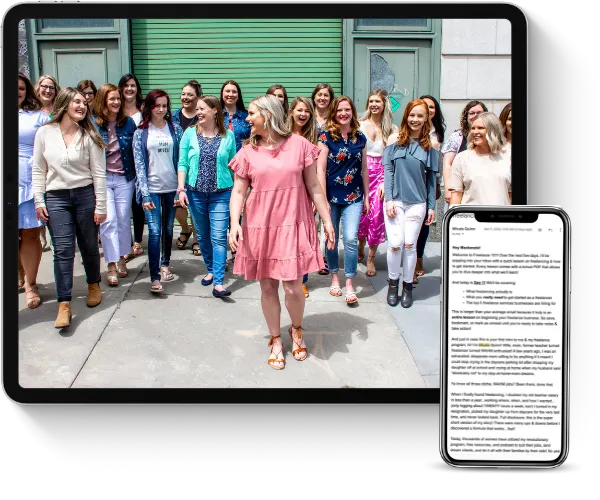 Learn how to earn $3K a month+ as a freelancer working less than 25 hours a week even if you think you have no experience.
This FREE crash course will teach you all about the freelance industry, so you can finally end the family vs. finances battle.
In this episode, we cover:
the pillars of operations and what operations looks like for a freelancer,
what characteristics a Director of Operations has,
the role that operations plays in each online business, and
how to determine if operations would be a good fit for you
Resources and links mentioned in this episode: