When a business owner is ready to grow their business, they know it's time to hire an OBM (online business manager). What is an OBM, and what do they do?
Online business managers' tasks manage all aspects of a business. They assist with operations, projects, people, and metrics. Unlike a VA and a project manager, an OBM helps a business by providing strategic insight into the business.
Learn more about an Online Business Manager's tasks below!
What is an Online Business Manager?
What are the tasks of an online business manager? An online business manager (OBM) differs from a VA and a project manager in what services they provide to a business.
A virtual assistant provides administrative support. They help with things like email correspondence, calendar management, social media scheduling, and preparing reports or presentations.
A project manager provides support for projects and teams. They will organize, plan, and even execute projects managing due dates, budgets, and schedules to ensure the project is completed within the required timeframe and budget.
An online business manager helps by preparing a strategy for the business. They can help implement systems, manage projects and people, create strategic marketing plans, and manage processes.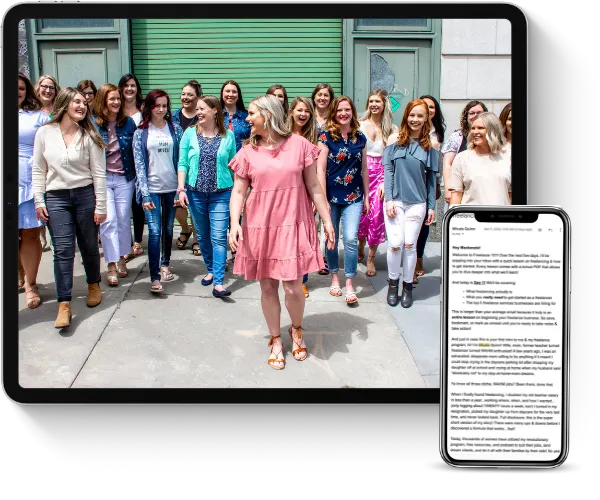 Learn how to earn $3K a month+ as a freelancer working less than 25 hours a week even if you think you have no experience.
This FREE crash course will teach you all about the freelance industry, so you can finally end the family vs. finances battle.
5 Online Business Manager Tasks
1. Implement and Manage Systems
An OBM helps manage a business's systems by identifying tasks and processes needed. They manage and track the project's workload and upcoming projects. The OBM will track these projects and tasks, ensuring each piece moves through the process on time.
2. People Management
OBMs also delegate and manage different teams and team members. OBMs manage the process of introductions and create an avenue for communication and collaboration between teams, organizations, and contractors.
3. Organization
An OBM will help with organization within the business. They will help organize SOPs and documents; manage team members' tasks, and schedule project tasks. An OBM develops systems to organize files within the software and sends documents to team members.
4. Strategy
Creating a strategic plan and implementing it is a task of an online business manager. It helps the business owner realize and put in place their ideas and put the business on a path to meet the business owner's goals.
Depending on what the business needs are and what goals they want to accomplish will change the strategy and implementation of the strategy provided by the OBM. It could need an internal organizational overhaul of the processes and systems within the organization. Or it could be a new digital marketing strategy that focuses on the avenues of increasing traffic and furthering people down the marketing funnel.
Whatever the goals are, the OBM will help make decisions and coordinate the day-to-day operations for the owner.
5. Technological Issues
An OBM will set up and troubleshoot basic technology issues. Knowledge of project management software and communication software will help set up processes. It will also help to create training videos and teach employees how to use the software. Most technology platforms have great training videos on their websites and YouTube!
What an Online Business Manager Does
In summary, the online business manager's tasks are to support the business owner and business goals. An OBM helps make decisions that are best for the business, challenging the owner when necessary and focusing on what is best for the company—then supporting those decisions through execution and management of tasks of the business's processes.
Do you have the skills to help businesses as an OBM? Then, check out the Live Free Podcast Episode 54; you will learn about the process of becoming a certified OBM!
Ready to start? Set up your freelance business today with the Live Free Academy Program!