So you've successfully started your freelance virtual assistant business with all the things. You've determined your business name, figured out your ideal client, and worked out all the messaging to speak to your ideal client, begun networking in Facebook groups.
Maybe even started to get some replies on your pitches!
Now what? What comes next? How do you get this potential client to actually want to work with you?
The next steps are a portfolio, discovery call, and proposal. But in what order? Today I will walk through the steps you should take to send out a portfolio, book a discovery call, and get your proposal signed–turning that potential client into a paying virtual assistant client!
This blog post will help you learn the onboarding process with what steps to take to turn your potential clients into paying clients.
How To Sign Virtual Assistant Clients: The 6-Step Process
Step 1: Determine an opportunity
In step 1, you become aware that there is a potential opportunity. And you recognize that you want to take advantage of it or try to pursue it.
In this first step, you want to determine the opportunity by figuring out how you can help the potential client. Can you save them time by doing some of the backend tasks for their business?
Maybe you follow the potential client on social media, and see that you could help them with answering comments or creating more posts for their account.
You could even be on their email list and see that their newsletters or lack thereof could use some work.
Whatever it is, you see a need and how you could potentially fill it.
Step 2: The pitch
So you express interest, which could be in a few different forms.
If it's in a Facebook group, that may be sending your pitch in the comments. Responding to someone in an email. Or sending an email pitch through cold outreach.
The goal of this step is to get the potential client on a discovery call. So, you want to write up an email or a pitch to do a couple of things.
It introduces who you are.
It tells the potential client what you see a need that they need help with.
It paints a picture of how you could help with that, and why you are the best person to help with that need.
In this email, you will want to include your contact information and try to get a phone call or video call scheduled for a discovery call or fitting call.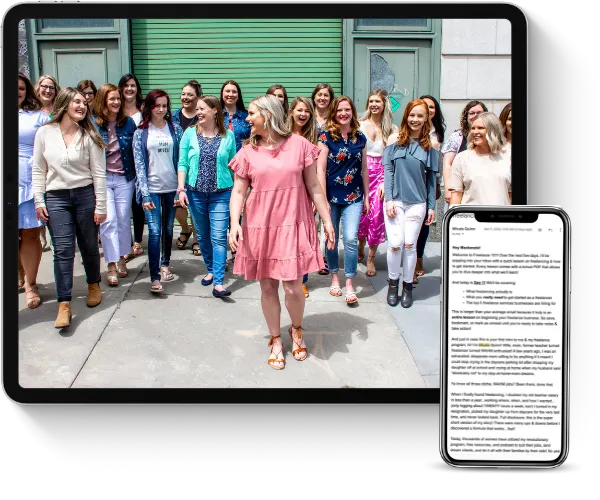 Learn how to earn $3K a month+ as a freelancer working less than 25 hours a week even if you think you have no experience.
This FREE crash course will teach you all about the freelance industry, so you can finally end the family vs. finances battle.
Step 3: Research the business
In step 3 of the onboarding process, you will research the business. This should include the initial research you did in step 2, but should go beyond that.
If you don't already follow them on social media, haven't signed up for their emails, or checked out their website and blog post – go do that now. Make notes on all that you see and read.
Prepare some questions for the discovery call that will help you learn more on the call from them.
Why did you start your business?
Who is your ideal client?
What are you looking for in this position?
These would also be good questions for a pre-discovery call form. If you choose to send one out, can be a good way to also gather information about a potential client before your discovery call.
Other questions you might want to include…
What are your goals with this position?
Is there anything I need to know before we chat?
Just remember that no one wants to spend 10 minutes filling out forms, so keep it simple!
Use all this information from the form and the research you do on their website, social media, and emails to come up with a plan for the call.
If you want more help to prepare you for the discovery call, and are not a Live Free Academy student, check out The Discovery Call Script in the Freelance Template Shop! You can purchase a 6-part script from inside the LFA course that will help you with exactly what to say during the discovery call part of the onboarding process.
Here's the flow of how your call should go!
Step 4: The discovery call
In the discovery call to sign virtual assistant clients, you are going to have your pre-prepared information from the research and prep stages.
As the service provider, you are the one that should run the call. Be prepared to take the lead, ask questions, and be a good listener.
You will listen to the potential client's pain points, you will do question asking, and listening so that by the end of the call you can show them why you are the best fit for the job.
To schedule the discovery call use a calendar scheduling tool like Acuity or Calendry. It will so the client your available appointments so you don't have to schedule back and forth through email.
Once scheduled, send an email to the potential client. In this email include a link to either a phone meeting or a video meeting that you both can click into. These are easily obtained through tools like Zoom.
After you click schedule meeting, edit all the details like start time, length, invitees, and name of the meeting. Once scheduled, you will get a screen like this below with a summary, and an option to easily copy the video invite link, so you can email it to the potential client.
Step 5: Proposal and contract
During the process of signing virtual assistant clients, if you and the potential client both determine that you are a good fit you would send them a proposal and a contract in a follow-up email.
If they say no, you will want to send a follow-up email thanking them for their time.
If you determine they were not a fit for you, you could provide them a referral of someone else they could work with.
Step 6: Invoice
Once you have the contract signed, you will send an invoice for your services. Do NOT start work until that invoice is paid!
I suggest you do not start working before the invoice is signed and paid! I have seen so many people get burned from either not having a contract or not having the client pay the invoice before doing work.
Or the client starts to take advantage because they saw the service provider was willing to do work for free in the beginning.
So you just want to set it up in the best possible way in the beginning.
Do you want more guidance or support in building your business and turning a potential client into a paying virtual assistant client?
Come check out my program The Live Free Academy! It includes access to modules that will guide and teach you the strategy to build your business.
Plus, it includes all the extra support you need like a guest expert, course group-only connections, the Live Free Academy job board, and coaching from me, Micala Quinn!