Age is just a number! Nikki helps prove that freelancing can be for anyone in any stage of life! In this month's success story episode, Nikki is sharing her story about how she started her freelance business, the struggles she faced, and her commitment to never giving up.

Nikki's Story
Nikki is a lifelong resident of Michigan where she lives with her husband of 16 years and their 13-year-old daughter.
Nikki had been a stay-at-home mom for 13 years when she heard about Overwhelmed to Overbooked at the grocery store! She learned about this idea of freelancing from her daughter's former first-grade teacher — so she did a little research for herself and decided to purchase the course in October of 2020.
With one independent daughter moving into her teens, Nikki was looking to find a purpose beyond parenthood. She had worked as an administrative assistant for her local government before her daughter was born, and she decided to use those skills in a virtual assistant role. 
Nikki had to push her initial fears aside to accomplish her goals. She relied on the weekly coaching calls and the support from the OTO group to push her through.
"You are your own worst enemy. You see all these wins and you're so happy for them. But then it can be very depressing because all these people are succeeding and I'm not succeeding."
Nikki quickly realized that she needed to stop the comparison game, kick that self-doubt to the curb, and focus on herself! But she also recognized it was important to share the losses as well as the wins. When you are in a group of such like-minded women, it's so easy to get support, encouragement, and advice. 
From A Rough Start to a Happy Ending 
As Nikki says, "it's not always sunshine and roses." Her first client turned out to be less than ideal. She had a rough experience in which the client actually wanted her money back! Even though Nikki did nothing wrong – she actually did exactly what the client had asked – she still felt defeated. So once again, she turned to the OTO ladies to boost her spirit and lead her in the right direction.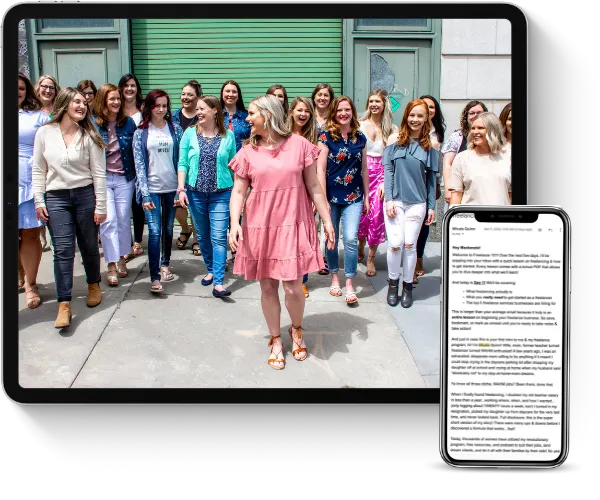 Learn how to earn $3K a month+ as a freelancer working less than 25 hours a week even if you think you have no experience.
This FREE crash course will teach you all about the freelance industry, so you can finally end the family vs. finances battle.
Nikki was lucky to work with a wonderful second client! She learned a lot through her and through the tasks she had to complete. And by working with her second client, Nikki learned that being a virtual assistant actually wasn't the right fit for her. She found something that better suited her personality and decided to sign up for a bookkeeping course. 
"So things don't always work out like you think they might, but if you keep your mind open — you just never know where life's going to lead you."
Nikki reminds us that "life's too short to do what you don't like to do." She had to reevaluate what made her happy and find her passion. As a former administrative assistant, she loved numbers. She loved the black and white aspect of it. Now, she is halfway through her bookkeeping course and about to land a payroll client! 
Client Breakdown
Through creating and launching her business Facebook page, Nikki landed her first client through a personal connection.

Client #2 came from a referral from Client #1!

Client #3 should be coming soon from her interest in bookkeeping.
And that is how Nikki found her purpose through freelancing! 
Nikki leaves us with some wise advice: 
"You will be overwhelmed to begin with. But if you push through that and listen to the ladies, even if your head is saying, 'Nope, I can't do this'. Don't listen to that voice. Listen to Micala, listen to the ladies in the group, and believe in yourself."
Nikki's Tips for Success
Tackle self-doubt.

You are your own worst enemy. 

Surround yourself with supportive people.

Positivity and like-minded people can make a huge difference not only in your business but in your spirit! 

It's okay to change your mind.

Your business can look completely different a month or two down the road. 

Get an accountability partner

. This can be a game-changer for your confidence and success! 
Are you ready to join Nikki and the thousands of other women who have ended the battle between freedom and finances…forever?!