Are you wondering how some women double their income when they start working from home? Seems like magic, right? Or a scam. Spoiler: it's not magic or a scam! This week's LFA success story is about Kiaya Sinclair, who exclaims, "My income doubled!" going from a full-time corporate job to working only part-time hours!
Are you wondering how she did it? Let's jump in with Kiaya Sinclair to learn how she built a freelance business allowing her to work only part of the hours and double her income compared to her corporate job.
How Kiaya Doubled Her Income
As a mom of 2 kids, a six and an eight-year-old, Kiaya has been working in customer service for about 10 years. When the pandemic started, Kiaya was able to work from home and really fell in love with the freedom it allowed for.
Post-pandemic the company she had been working for wanted everyone to come back into the office, but Kiaya liked being home and being present and was not interested in going back to the office. So, she started looking for another way or another job, or something different.
After reaching out to a friend, who is in the LFA group and often posts on social media about her freelance journey, Kiaya was referred to the Live Free Academy course. She decided to invest and says it was a life-changing decision!
After landing clients, my income doubled
At Thanksgiving 2021 she took the course and finished it in 3 weeks. Starting at the end of 2021 in November, Kiaya put in her notice at the end of March 2022, and was out of her job by April!
The week before Christmas, Kiaya remembers landing her first client. And was still finishing up the course. After that, she booked 3 more clients in January 2022.
Now Kiaya has 8 retainer clients, and says, "My income doubled that I was making from corporate!"
Work schedule
Since her kids are in school all day, Kiaya can work from 8 AM – 1:30 PM during the school year. And says she will work a couple of hours on the weekends because a couple of her clients are international.
Kiaya says she loves the flexibility of her schedule now! She can work a few hours, then stop and take the dogs for a walk, and then work a few more hours before the kids get home.
Strategy for Landing Clients
In the beginning, Kiaya started finding clients on her own and then did the land a client challenge later on. Saying she had about 8 years of social media experience from doing MLM work before freelancing, which gave her tools to reach out to people and connect with them. She started reaching out to her network and on social media to make connections.
Kiaya made a list of personal connections that she was already friends with who owned businesses that she could reach out to.
Her first few clients came from personal connections and personal referrals.
Services
Working as a social media manager, Kiaya offers the following to her clients:
Schedules posts on social platforms mostly on Instagram, Facebook, and TikTok.
Creates a content strategy with a whole month's worth of content ideas that her client can take to create content.
Writes captions for clients, which includes research for hashtags and trending content ideas.
Creates graphics and static posts.
Find trending video reels and send them to clients to give them an idea of what they should create, and edit the recorded video.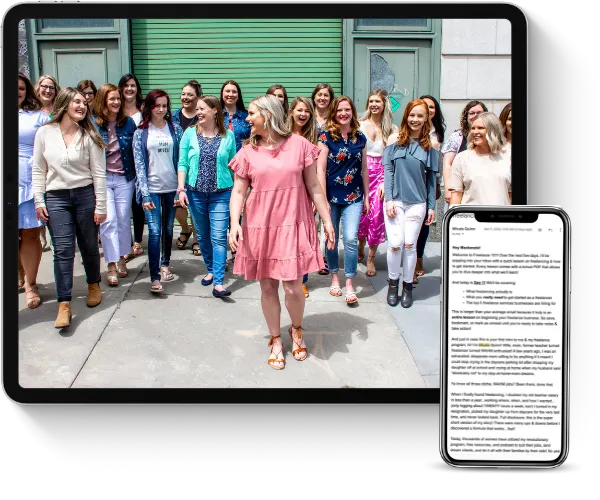 Learn how to earn $3K a month+ as a freelancer working less than 25 hours a week even if you think you have no experience.
This FREE crash course will teach you all about the freelance industry, so you can finally end the family vs. finances battle.
Skills
Kiaya says she has two degrees in marketing which gave her a background in content strategy.
She also worked for 8 years with a direct sales company that helped her develop skills in content creation and graphics.
Then after finding Canva, Kiaya took some of the free skills training videos they offer.
Finally, after she decided what services she wanted to offer to clients, she dove into learning the platforms that corresponded with those skills. For example Canva and Trello. She researched some creators and learned what platforms they use, then learned them.
How amazing is Kiaya's story? She remade her life in 4 months by working on her social media business which allowed her to double her income by working part-time hours!
Take a second and imagine your life 4 months from now. What could you accomplish in that time span?
Could you be the next guest on The Live Free Podcast telling us, "My income doubled"? How different could your life look just 4 months from now? If you follow Kiaya's timeline by signing up, diving in, and getting started with the challenges–you could do this!  Learn more and enroll in the Live Free Academy here!