EPISODE 41: SHOW NOTES
It all started with one! In this episode we have Julie Calcote on the podcast to share how she turned her first client into multiple clients and multiple clients into being booked!
I love Julie's story because just like you, she didn't have experience (or so she thought!) BUT she gave herself time to get her feet wet and jump into the world of freelancing.
Julie's tips on going above and beyond and getting referrals from clients are gold. This isn't an episode you'll want to miss!
I so appreciate you spending part of your day with me. If you haven't, consider writing the show a review on Apple Podcasts! I'd love to hear what you're enjoying and what you think we could improve on. Thanks for listening!
**This post about a success story may contain affiliate links, which means if you click one of our affiliate links and decide to make a purchase, we receive a tiny commission from the seller at no additional cost to you. We only share products and services we have used, tested, and love ourselves!**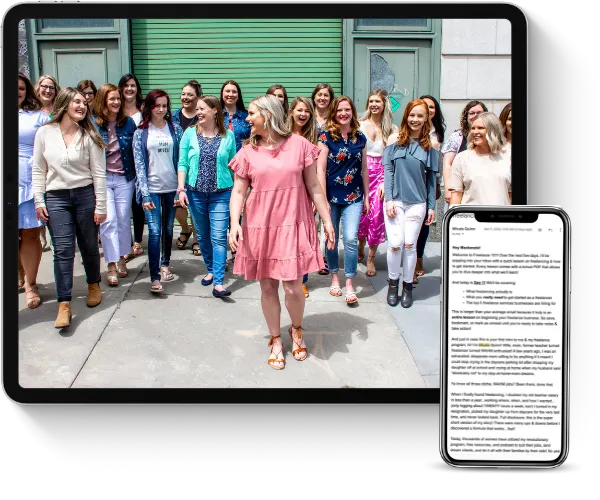 Learn how to earn $3K a month+ as a freelancer working less than 25 hours a week even if you think you have no experience.
This FREE crash course will teach you all about the freelance industry, so you can finally end the family vs. finances battle.
In this episode, we cover:
how to go above and beyond for your clients,
when you should niche down, and
why it's important to know who you're targeting
Resources and links mentioned in this episode: