EPISODE 72: SHOW NOTES
Can you imagine how many missteps and mindset shifts you would make after being in business for 8 years?!
Samantha Johnston is back on the podcast and I'm so excited for you to hear from her again! You may remember her from episode 4, our first guest interview! In that interview, Samantha told the story of how she took her hobby and made it into a design business, and with no design degree or professional experience!
In this episode, Samantha shares 3 of the missteps and mindset shifts she has made over her 8 years of being a freelancer. These are so good and I know that whether you're just starting out or not, you're going to learn a lot!
Check out Samantha's 6 month Designer in Demand program here! Enrollment ends this friday, September 27!
Don't forget that this is the last week of our big giveaway! You've still got time to collect enough points to be a winner so don't miss out! Head over to MicalaQuinn.com/giveaway to sign up!
Thanks so much for spending time with me today, I really do love it. If you learned something from this episode, let us know in the Live Free Podcast Mastermind fb group! Talk to you there!
**This post about missteps and mindset shifts may contain affiliate links, which means if you click one of our affiliate links and decide to make a purchase, we receive a tiny commission from the seller at no additional cost to you. We only share products and services we have used, tested, and love ourselves!**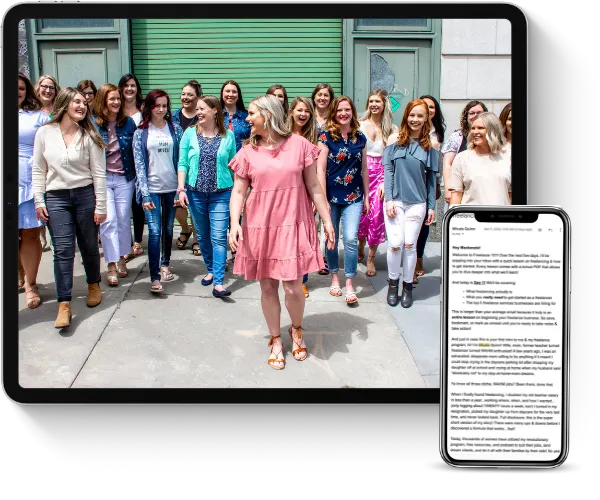 Learn how to earn $3K a month+ as a freelancer working less than 25 hours a week even if you think you have no experience.
This FREE crash course will teach you all about the freelance industry, so you can finally end the family vs. finances battle.
In this episode, we cover:
what needs to happen when you increase your price,
how to balance working on your business and in your business, and
what to do about the hills and valleys of certain freelance work like design
Resources and links mentioned in this episode: