Sometimes daycare just isn't an option. Are you ready to lift that childcare weight off of your shoulders? Listen to this! In this month's success story episode, Miranda is sharing her story on how she escaped childcare stress for freelance success! 

Miranda's Story
Miranda was born and raised in a small town in Southern Georgia and has two young children.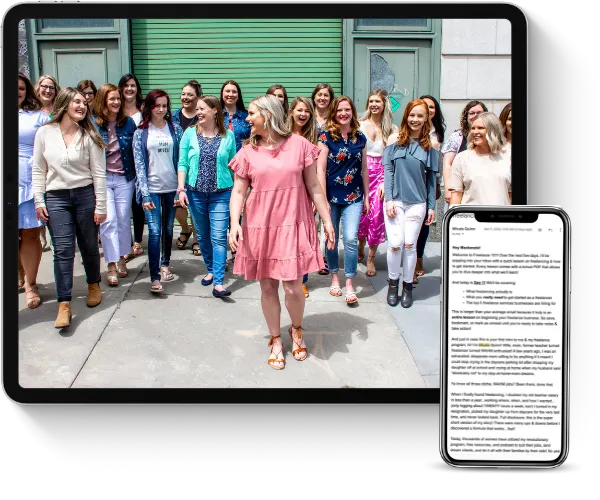 Learn how to earn $3K a month+ as a freelancer working less than 25 hours a week even if you think you have no experience.
This FREE crash course will teach you all about the freelance industry, so you can finally end the family vs. finances battle.
Miranda worked in retail before becoming a bank teller. She wanted to go back to school, but her school schedule wasn't compatible with her work schedule, so she knew she would have to quit her job to pursue nursing school (a life-long dream of hers!). She had heard about
Overwhelmed to Overbooked
months prior but was too scared to really dive in. But after she put in her two-week notice at her corporate job, she thought
why not
? 
"Once I finally got into the course, I decided that I didn't even want to go to school anymore. And then once I started my freelance business, I realized that my growth was limitless without having to work all of the long, hard hours."
Miranda hit the ground running. She developed her brand, created a Website, launched her social media pages, and started networking! She landed her first job as a virtual assistant through the OTO job leads board. After about six months working with this first client, she realized this wasn't what she truly loved to do. She needed to find her niche! 
"And then I came across a coaching client, a business coach, and it hadn't really dawned on me to do coaching. But once I actually started doing the work, like writing the blog posts, doing the email marketing and stuff like that, I realized that this was my calling."
Ever since Miranda found her ideal client, she is completely booked with business coaches! She has even started her own online boutique! 
TikTok Tips
When Miranda realized she wasn't finding her ideal clients on Facebook or Instagram, she turned to a new platform: TikTok! She used TikTok to show other people how to start their own online business after she found success with her boutique. Now she has over 33,000 followers! 
"I've gotten so many DM's on Instagram and on TikTok and on my Facebook page from people wanting to hire me out to help them with those kinds of services."
Miranda says there are many business coaches on TikTok! The app is intuitive and user-friendly, with great features like voice-overs and comment filters. Miranda has two helpful tips for those wanting to use TikTok as a networking platform: 1) use hashtags and 2) post content that people want to see (specifically, instructional videos!).
Client Breakdown
Miranda landed her first client from the OTO job leads board as a virtual assistant. 

Miranda now has two business coach clients she landed through referrals. 

She has also started her own online boutique!
And that is how Miranda escaped childcare stress for freelance success! 
"I just love the coaching industry. I fell in love and it's just been a whirlwind. I'm just so happy. I have reached my personal goals."
Miranda's Tips for Success
Jump in.

You just have to dive in and learn all you can!

Your personality is a selling point

. People want to hire you because of

you!

Make connections.

Referrals are huge! This is how Miranda has landed most of her clients. 

Find new avenues.

Find what platform works for you. Miranda loves TikTok! 
A typical day in the life

Miranda is fully booked with only two clients. She works about 20 hours per week while her daughters nap or play. Miranda was able to replace her corporate income and then some! She doesn't have to worry about childcare expenses and now she is able to live free! 
"And you know, for their birthdays I can take off. I don't have to worry about putting in a notice at work for those days. I can just say, 'Hey, I'm not working these days,' and it'll be fine. So it's been amazing — amazing being able to be home with them."
Are you ready to join Miranda and the thousands of other women who have ended the battle between freedom and finances…forever?!