This post about mindset shifts may contain affiliate links, which means if you click one of our affiliate links and decide to make a purchase, we receive a tiny commision from the seller at no additional cost to you. We only share products and services we have used, tested, and love ourselves!
Episode 04: Show Notes

You are in for a real treat today. I get to introduce you to an amazing entrepreneur and friend, Samantha Johnston.
And we discuss her journey from hobby side-business and doing work for free to finally starting to charge for her expertise to quitting her corporate job and now being an influencer in the branding and design space.
Now if you want to be in the design and branding space, OR you already are and want to grow and scale that business, this episode is for you.
BUT if you aren't in the design space and don't want to be, this episode is still for you because Samantha so generously shares with us her story and how she went from hobby business making pennies to a scaling, thriving business that not only provides for her and her family but others as well!
And there are 3 key mindset shifts that we can take away from Samantha's journey and these can be applied to whatever business it is that you are working to launch, grow, or scale!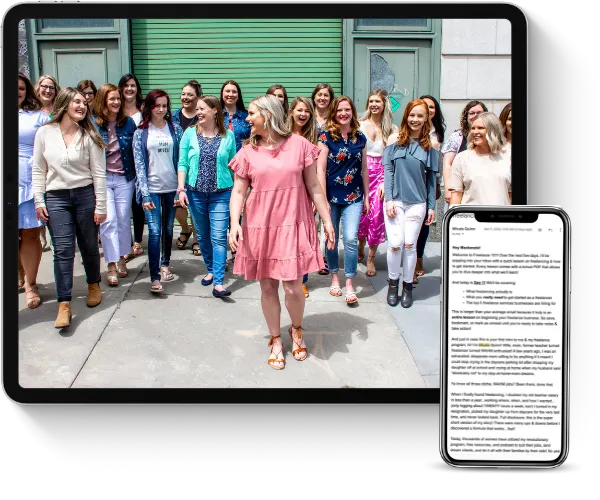 Learn how to earn $3K a month+ as a freelancer working less than 25 hours a week even if you think you have no experience.
This FREE crash course will teach you all about the freelance industry, so you can finally end the family vs. finances battle.
Meet Samantha
Samantha Johnston is the delightfully quirky, creative techie behind Neapolitan Creative, empowering female entrepreneurs to smash glass ceilings and achieve every crazy, beautiful vision of theirs by delivering mind-blowing branding and functional, gorgeous websites that scream "watch out world, here we come"! As the host of her own 6-week program, The Business Blend, Samantha teaches other creatives the in's and out's of starting their own design and branding businesses, inspiring them to take success into their own hands and never look back.
Ultimately, it's Samantha's passion to support other ambitious and socially conscious women that dare to dream big to use their talents, seize the opportunities before them and enjoy every ounce of excitement and adventure life has to offer- all while creating sustainable businesses for the financial freedom and flexibility they deserve.
Samantha's Journey from hobby business to making the leap to full-time entrepreneur
Samantha's business started as a hobby in 2009 where she just helped people, mostly family and friends, build websites for free! She did this for about two years, and then while she was on maternity leave with her second she started to shift and charge people and slowly began to build a business on the side. When it was time to go back to work, Sam worked for Apple, she worked with her boss to only work weekends and built her design business on the side M-F. However, in 2011, Sam's dad committed suicide and that was a real eye-opener. She decided to go back to corporate, get a 9-5, mostly due to the mindset shift that family is number one and her current setup did not allow her family to spend any time together. She felt like passing ships through the night. In 2013, her 9-5 became an extremely toxic environment. She came home one day crying and her husband said, enough is enough. You are quitting tomorrow.
At this point, Sam's design business was bringing in half as much as her full-time salary. She did not have a safety net, no huge savings, but just leaped!
Sam suggests at some point you just have to recognize when enough is enough and make that leap.
Side note: one month after giving her two weeks, Sam finds out she is pregnant!
How Samantha built her business and landed clients
Most of her clients came from online communities like Facebook groups, but a few were local clients.
Samantha's best advice on landing clients (and I agree too! This is a HUGE focus of my Overwhelmed to Overbooked Program) is to build relationships. It's natural, comfortable and leads to authentic sales. She also does mention to always have a business card handy and tell anyone and everyone you meet or come into contact with about your business. You never know who can refer you to a friend or who might be looking for you themselves!
First year as a full-time business owner did not go as planned
Her first year in business was as she described it definitely a rollercoaster. From finding out she is pregnant one month after quitting her corporate job to giving birth to her son, who was born blue and limp and had to immediately be resuscitated (he is rambunctious as ever and thriving now, thank God). And then one week later, her husband had to have an emergency appendectomy. In his surgery, they found growth on his kidneys and there was a 50/50 chance of cancer Plus ten days later, he was rushed to the ER and found to be bleeding out internally.
Thankfully her husband and son are both still happy and healthy today, but at this time it was extremely hard to run a business and not to mention Sam did not have the most supportive clients. They knew she was in the hospital and husband was sick and they were demanding their stuff.
That is the great thing about owning your own business. You have the freedom and power to walk away from clients who do not respect you, your family, and or share your same values.
So at the end of 2014, Sam started to evaluate things and looking back she can see that she made 3 important mindset shifts to move from hobby business to thriving business.
3 key mindset shifts Samantha made
Mindset shift #1 – Treat your business like a business
Mindset shift #2 – Turn your weaknesses into strength
Mindset shift #3 – In order to scale, you've got to be willing to invest in both training, courses, coaches, programs and building a team
Links and resources referenced in the episode
Sam's Program: The Biz Blend