EPISODE 12: SHOW NOTES
Today, we are talking all about maternity leave and how to plan and prep for maternity leave as a freelancer!
Our guest today, Meghan Dicklin is going to walk us through this process, so that we can both take a maternity leave, and STILL bring in an income as a service based business!
I can't wait for you to meet Meghan, she is sweet as can be and really does give us a wealth of information in this episode!
Plus she has an awesome story from corporate power career to motherhood to freelance to an online business owner and is another awesome story of a mom with a dream who is making it happen!
**This post about how to prep for maternity leave for freelancers may contain affiliate links, which means if you click one of our affiliate links and decide to make a purchase, we receive a tiny commision from the seller at no additional cost to you. We only share products and services we have used, tested, and love ourselves!**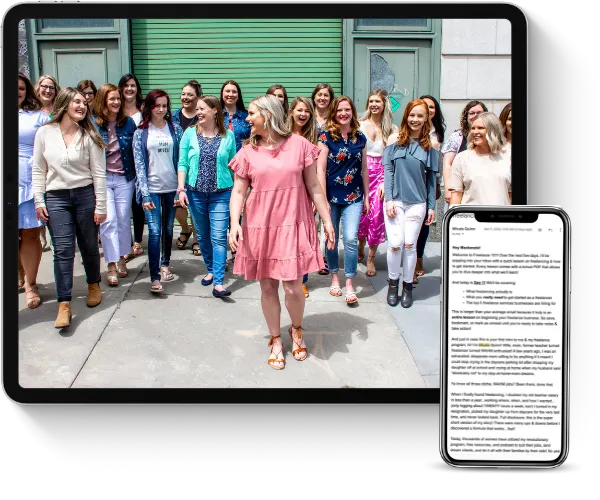 Learn how to earn $3K a month+ as a freelancer working less than 25 hours a week even if you think you have no experience.
This FREE crash course will teach you all about the freelance industry, so you can finally end the family vs. finances battle.
Meet Meghan
Meghan Dicklin knows it's possible to run a business and raise a family without losing your mind, but knows it takes dedication and a great support system.
She's lived at the intersection of marketing, business operations, and innovation for over a decade and uses this expertise to create more time, more wealth, and more connections for business owners raising young children.
Through coaching, project management, and systems design, Meghan helps entrepreneurs gain clarity, focus, and space to re-engineer a business to serve their personal and professional goals. This may be designing the perfect maternity leave for a solopreneur or bringing on a team for a growing operation. She believes in investing in a plan and structure today leads to the freedom and flexibility that business owners crave.
What we chat about in this episode:
the different options for moms when it comes to being a service based freelancer or online business owner and taking maternity leave?
the different ways to pay yourself during maternity leave as a service-based solopreneur
what needs to be done to prepare your business for your leave and when to start
telling your clients and/or bringing this up on potential client calls
the transition back to work with new baby in tow
Wrapping up:
I hope you took notes because I sure did!
There are SO many options out there to build your business on your terms and keep it running and generating revenue even when you are on maternity leave!
We have all of Meghan's resources and links ready for you below!
And if this episode was helpful for you, reach out to Meghan and let her know! It's always nice to get happy emails 🙂
Alright, stay with me because up next, week our guest is Jennifer Elia and she is sharing with us all about homeschooling, freelancing, and how to make learning fun for our kiddos!
Resources and links mentioned in this episode: