Highlights:
A marketing data analyst gathers information on marketing data to help answer questions for a business that determine the marketing strategy.

3 marketing data analytics you want to track in your business: source medium report, all pages report, and session duration.

3 mistakes businesses make when measuring marketing data: not using metrics at all, getting too caught up in the number variances, and not taking action based on the marketing data.
Learning about marketing data analytics is enough to make anyone's head spin! With all the various marketing data metrics to track and the increasing knowledge we can get ahold of can be challenging to know which metrics to track.
Whether you are a data nerd or they make you want to run for the hills, you will want to read today's blog post because we are digging into marketing data analytics with Jennifer Grayeb to decipher what metrics you want to track to build your business (or your clients)!
Jennifers Background:
Jennifer runs a data company specializing in sales and marketing data analytics to help business owners understand the results of their marketing activities.
English Lit Major
Jennifer majored in English Literature and worked in human resources while working in corporate. While there, she worked her way up the corporate ladder. When she landed the job she had worked so hard for, but realized that was not what she wanted.
Online businesses
Being involved in the online space through blogging and working on her own business, Jennifer realized she needed to make a change and could not handle the stress of being in the corporate world any longer.
Leaving Corporate
After that, she began working in operations management for a friend. When Jennifer decided to leave corporate for good, that friend told some friends to help Jennifer fill up her schedule. Jennifer also started telling all her friends about what she wanted to do. Eventually, she had enough clients to fill her schedule and make enough money to provide for her family.
Jennifer says she did not love operations work but knew it was a good exit strategy from corporate. So, she began working with clients and figuring out what she actually liked.
Work as an Operations Manager
While working as an operations manager for her clients, Jennifer was helping them manage the day-to-day and doing anything she could to help support them. She started to see many of their decisions were based on what everyone else was doing.
For example, her clients were focusing their attention on Instagram and Facebook content rather than looking at what was working for them specifically.
Beginning to look at data
Working for a blogger at that time, Jennifer noticed her client was spending hours every day on different organic Facebook activities.
Jennifer remembers, "I think she could be getting a lot more results on Pinterest." So, she started clicking around in Google Analytics to see what she could figure out. When doing that, she realized that 80% of the blogger's traffic was coming from Pinterest, but they weren't doing anything on Pinterest.
Meanwhile, she was spending a ton of time and resources on Facebook, where only 20% of her traffic came from.
Hooked on data
When Jennifer showed her client that, they put resources into Pinterest which fueled the fire. After that, she realized how much she liked data and was hooked on learning more!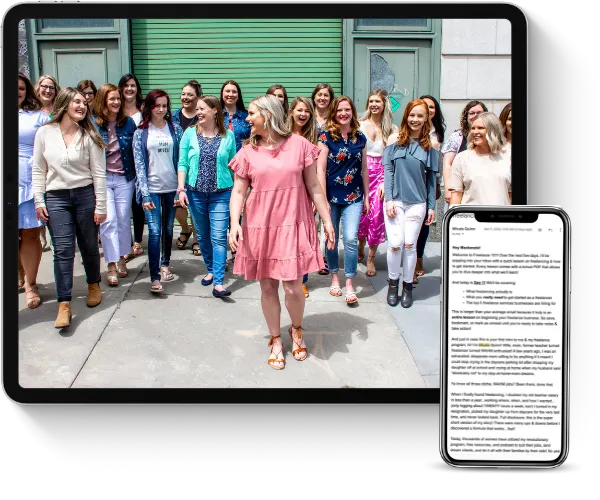 Learn how to earn $3K a month+ as a freelancer working less than 25 hours a week even if you think you have no experience.
This FREE crash course will teach you all about the freelance industry, so you can finally end the family vs. finances battle.
What Does a Marketing Data Analyst Do?
Most people want to make marketing data analytics this big scary thing where you need to be techy and know algebra, but that is not the case.
Really it is about understanding what questions you are trying to answer and gathering information to help answer that question. It is that simple.
Day-to-day tasks for a marketing data analyst
So day to day, Jennifer tries to understand the questions clients have about their sales and marketing data analytics. Which is usually,
"Where is my traffic coming from?" and, "Which of my traffic sources come to my website, what are they doing, and do they go on to buy?"
So, Jennifer will use Google Data Studio and Google Analytics to help answer those questions.
Marketing Data Analytics Common Mistakes
Mistake #1: Not using metrics
The most common mistake is: not using metrics at all.
People will open Google Analytics, see all the data, and think, this is a lot. Feeling overwhelmed and not knowing what most of it means, they just ignore it.
Mistake #2: Getting too caught up in comparing metrics
The second most common mistake is that people get too caught up in reconciling the various platform metrics.
For example, WordPress says 101 people came to my website, but Google Analytics says 104 people came. Digging into that too much.
Jennifer's advice.
"Do not obsess over your numbers. Realize it's not about perfect accuracy, but use them as a guide."
Mistake #3: Not taking action based on the numbers.
People will notice they are getting more traffic from one platform but not act on it.
Rather, you need to ask what can we change to get the results we want to get using this information.
Stats Business Owners Should Be Looking At
Source medium report
In Google Analytics (GA), you will go to Acquisition, all traffic, and source medium.
That report is the report you need to track. It will tell you traffic information, how many people are viewing your page, how long they are on it, and where they are coming from.
All pages report
Also, in GA, click on Behavior, site content, and all pages.
This report will tell you which pages and/or blog posts on your website are getting the most traffic. So that you know which content is the most popular on your or your client's website.
Session duration (time on page)
This is a metric from the Source medium report in GA. Go to Acquisition, all traffic, source medium.
This metric is important to know because if someone comes to your website and then leaves in 15 seconds, which means they are not buying, scheduling a call, or reading a blog post. So, that tells you there is something on that page that is not making them stay.
Learn More About Your Marketing Data Analytics
Whether you are ready to grow your business or your clients and want to learn more about data analytics
Jennifer can help. She has a traffic insights dashboard if the idea of opening Google Analytics stresses you out. It is a report that pulls from GA but will spit it out to you in a way that makes it easy to understand!
Live Free Academy
If you are looking for someone to show you what to do in building your freelance business and want some support along the way, I would love to support you!
Inside my program, The Live Free Academy, you will have everything you need to get started, up and running. To start landing and working with clients ASAP.
You learn how to build your business from the ground up with modules about legal contracts and taxes, determining your ideal client, finding clients, landing clients, working with clients, and more!
There is even skills training so that even if you are a beginner and have no experience (which I don't think is true) you can be prepared to do work confidently from paying clients.
When you sign up you will get access to all the bonuses like coaching calls, access to exclusive freelance job leads from business owners every single day, access to the best student community, templates, monthly challenges, plus ongoing learning opportunities.
I would truly be honored to be by your side and be the one to support you in building your business in reaching your income goals.  If you're interested and ready to make that future commitment to yourself and your future business click here to go to the enrollment page.