If you've taken cold pitching off the table, this episode may just change your mind! In this month's success story episode, Maria is sharing her story on how she landed clients through cold pitching!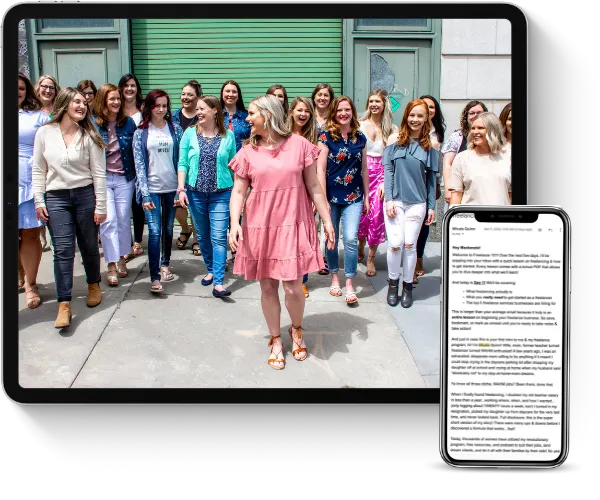 Learn how to earn $3K a month+ as a freelancer working less than 25 hours a week even if you think you have no experience.
This FREE crash course will teach you all about the freelance industry, so you can finally end the family vs. finances battle.
Maria's Story
Maria lives in Cincinnati, Ohio with her husband and 10-month-old daughter. 
Maria is a former middle school writing teacher. She got married in June 2018, and a few months later, she found out she was pregnant with their first baby! 
She and her husband had discussed childcare options, and they knew most of Maria's teaching paycheck would have gone to childcare expenses. Maria started searching for work-at-home options. 
One day while scrolling through Facebook, Maria saw an ad for the OTO program. She researched the course and utilized all the free resources. After consulting her husband and discussing their goals, Maria joined Overwhelmed to Overbooked in January 2019. 
She networked for several months, marketing herself as a virtual assistant. 
Maria completed a few one-off projects for clients in the beginning. She wrote a blog post for one client and absolutely loved it — after all, she is a writing teacher! It dawned on her that writing should be her focus. She re-worked her portfolio and packages with that in mind, and within a few weeks, she landed her first retainer client.
"I think one of the overarching themes of building my business is getting comfortable being uncomfortable. And that's how I've grown and that's how I've been successful. It's just pushing myself into situations where I'm doing things that I've never done before, but I had to adapt to the mentality of, well, it's worth a shot. Right?"
Maria is still working with her very first client to this day! She has become like a mentor to Maria. It started off as a one-off project and then grew into a monthly retainer. 
Cold Pitching Can Be The Answer
Maria considers herself a pretty introverted person, so she never saw cold pitching as a reasonable option. Oh, how things have changed! 
She first put all of her time and energy into Facebook groups, but she found that most clients didn't have the budget for the services she was offering. After many unfruitful discovery calls, Maria realized she needed another avenue. 
She stepped out of her comfort zone and cold-pitched a parenting coach that she followed on Instagram! Maria believed in this coach's business and already used her resources, so why not try to work with her? She worked up the courage to send her ideal client an email offering to help her with her email content for her email list. Maria got a response: I'm not interested right now. But then a few weeks later, that no turned into a yes! 
Maria was flooded with confidence! 
"And so that was when I kind of decided I'm going to try this whole cold pitching thing because the people that I really want to work with, I'm not seeing them posting in Facebook groups. And so I'm just going to find them and I'm going to reach out and see what happens." 
Maria's Cold Pitching Process and Tips:
Maria takes a day or two to collect around twenty email addresses for potential clients.

Then she sends an initial email introducing who she is and what she offers — she also slides in a suggestion that she thinks could help their business.

Maria makes sure to include a personal connection in the initial email — she believes it shows a genuine interest in their business and a commitment to helping them grow. 

Maria also identifies something they could do to strengthen their content strategy or their copywriting.
Maria's main goal with this initial email process is to get on a discovery call. Maria says that follow-up emails are a must! Sometimes she doesn't hear back from a client until the 5th email! 
Mixmax is Maria's go-to tool! It is a mail tracker with great email templates. She uses these templates for her initial emails as well as her follow-up emails. She can send as many as eight emails to one client! Maria says that potential clients can easily fall through the cracks simply because you can't find a time to meet. Mixmax helps solve this problem! It allows you to automatically insert your calendar directly into your email; this makes it much easier for clients to schedule a discovery call. 
Maria now has five retainer clients! 
"So now what I'm doing is helping my clients create their content plan so that all of their content across emails, blogs, social media — it's all very cohesive and it connects together and it's strategic and it's using all of the best digital marketing trends and tools. And that's what sets me apart."

Client Breakdown
Landed first client in February 2019 through a Facebook group — blog writer! 

Landed her second client through cold pitching a parenting coach on Instagram! 

Maria now has 5 retainer clients through cold pitching and also does multiple one-off projects! 
And that is how Maria used cold pitching to land clients!
"I learned the value of just showing up for people. Just keep checking in, just keep following up. You never know when things are finally going to land, but don't just let people kind of fall to the wayside because sometimes it takes a minute for people to be ready to take on what you offer."
Maria's Tips for Success
Know your strengths.

Utilize what you are good at! 

Push yourself.

Get comfortable with being uncomfortable! 

Plant a seed.

A small project can lead to a bigger one! 

Follow-up is crucial.

Maria usually doesn't hear back until the 5th email! Consistency is key. 
Are you ready to join Maria and the thousands of other women who have ended the battle between freedom and finances…forever?!