Ever feel like there is just not enough time in a day to get all the things done? 
Or find yourself wishing and praying for more time…
Everyone is busy. Everyone has a million things to do. And if you are a mom you have a million things to do PLUS juggling all the millions of things your husband and kiddos have to do!
Unfortunately, I can't give you more time in a day… But what I can do is teach you how to effectively manage your time… or at least the time you do have to grow your business!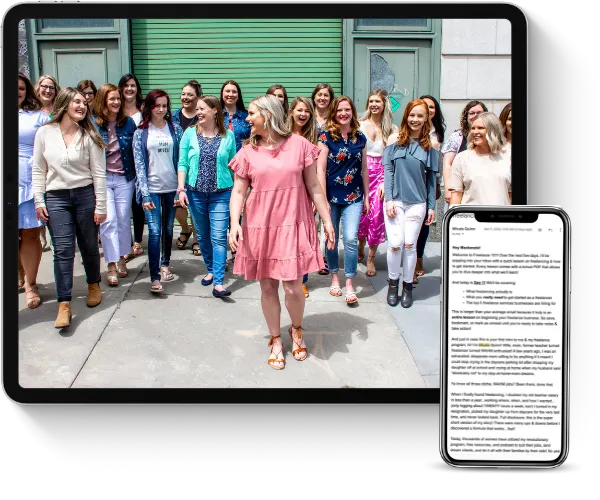 Learn how to earn $3K a month+ as a freelancer working less than 25 hours a week even if you think you have no experience.
This FREE crash course will teach you all about the freelance industry, so you can finally end the family vs. finances battle.
This post is for you if you are a work at home mom who needs a little more guidance on how to manage your time for maximum productivity and/or if you are a mom who wants to become a work at home mom but struggles with finding the time to fit working on your business in to your already busy day!
My Three Musts for a Productive week.
I must have a to-do list.
I must know when I am going to work.
I must know what exactly I am working on during each work chunk.
And just so you know, I am NOT perfect. I don't implement this system EVERY week, but the weeks I do, I notice way less overwhelm, way less confusion on what do I need to work, and way more productivity.
And this is the same system that I used when I was building my business as a full-time teacher, what worked for me when I quit teaching and freelanced only from home only, plus what STILL works for me as I manage and grow Live Free Mama.
Okay. Let's dive in to each time management MUST a bit more.
My FAVORITE tool to manage my weekly to-do and weekly calendar is the Erin Condren Planner! Check it out here! If you create an account… using this link, they will send you a $10 off coupon! (This is my affiliate link, if you purchase using my link, not only do you get a discount, but I get a little reward at no cost to you, also!!)
I must have a to-do list.
Every Sunday, I set aside some time while my daughter is napping, or once she has gone to bed for the night and plan out my week.
I start by doing a massive brain dump of all the tasks I need to accomplish that week.
Business tasks

Household tasks

Errands

Kid items

Husband items

Personal tasks
Then I look at my calendar and add any scheduled appointments or meetings I have that week.
Next, I schedule out each day. I start with the must-do's (any appointments, events or meetings that are scheduled and set in stone. Then I add the "have to stuff" like make dinner, take kids to school, clean up all the household stuff. And then I will add the things I want to do that week like workout (blah), take Mclaren to a certain outing, meet husband for lunch, play dates etc.
And finally, then I schedule out all of my work tasks for the week, which takes me to my next MUST.
I must know when I am going to work.
As a work at home mom right now who is building a business part-time, I do not have a typical 8-5 schedule. I fit the work in around my family's schedule. This is a very purposeful and intentional decision. To me family is my number one priority. Doesn't mean I never hire help or enroll my daughter in part-time daycare to give my schedule some consistency, it just means that as a work at home mom, I get to pick my schedule and right now I want the benefit of working AND being flexible to be there for my kids each day… on my terms.
I share this because my work schedule might change from week to week.
It used to be a little more hectic before I enrolled my daughter in PDO 2 days a week, and I was primarily working the naptime hustle… but this system helped provide structure to my chaotic days.
Sidenote: the naptime hustle is when you work around your kiddos sleep schedule… early am, naptime, once they go to bed. It's fun, tiring, and amazing all at the same time!
Back to the must… to be productive and manage my time effectively, I had to schedule out each week when I was going to work. My goal is to fit anywhere from 15-25 hours in each week.
And personally, I like working in 1-2 hour chunks.
When I was solely a naptime hustler, I had an early am chunk (5:30-7:30), a naptime chunk (1:00-3:00), and an evening chunk (7:30-9:30) if need.
I also could squeeze in a bonus 1-2 hour chunk by checking the kids into the gym daycare and working in the cafe while they played!
So anyway, in order to be successful I had to know when I was actually going to work each week and add that to my schedule.
Otherwise… I would just say, "I need to work 5 hours today" but when I just said that, nothing would get done because it wasn't actually on my schedule.
Moral of the story: if it's not on the schedule, it doesn't get done!
And lastly… my third must.
I must know exactly what I am doing during each work chunk.
This ties back to my first must… must have a to-do list…
But having just a to-do list isn't enough. Otherwise, when I get to one of my work chunks, I waste time trying to figure out what to work on and that is a HUGE productivity killer.
So each Sunday I schedule out my to-do's for the whole week, and then either at the end of the day in preparation for the next day or first thing in the morning, I schedule out my day hour by hour, chunk by chunk. So I know exactly what I am supposed to be doing all day!
No wasting time trying to figure it out or remember what I am supposed to be doing or trying to prioritize tasks on the fly. It's all scheduled and written down and all I have to do is follow my schedule and cross those to-do's off.
Such a satisfying feeling! Am I right?
I hope sharing what works for me is helpful to you in your work at home juggle!
Plus go check-out the live I did on this topic on my business page… I include a BONUS productivity hack for planning your to-do list 🙂
Got any questions or specific scenarios you need some time management tips for? Drop them in the comments! Happy to help problem solve!
Another post that might help you out… especially if you are just starting to figure out how to become a work at home mom is this one on how to get started!