EPISODE 24: SHOW NOTES
Managing your money as a freelancer may not be the most fun part, but it's crucial!
Just like making a profit – that's important too if you want to replace your full-time income!
In this episode, Emily Volz talks through the essential components of an effective money management system that you need to reach your goals! This might sound hard, but it doesn't have to be.
No matter where you're at in your business' growth, it's never too early or too late to set up a good money management system! And if you want or need a personalized plan, connect with Emily here!
If you haven't already, consider writing us a review on iTunes! You can do so by going here and clicking Ratings and Reviews!
**This post about how to build your freelance business on the side may contain affiliate links, which means if you click one of our affiliate links and decide to make a purchase, we receive a tiny commission from the seller at no additional cost to you. We only share products and services we have used, tested, and love ourselves!**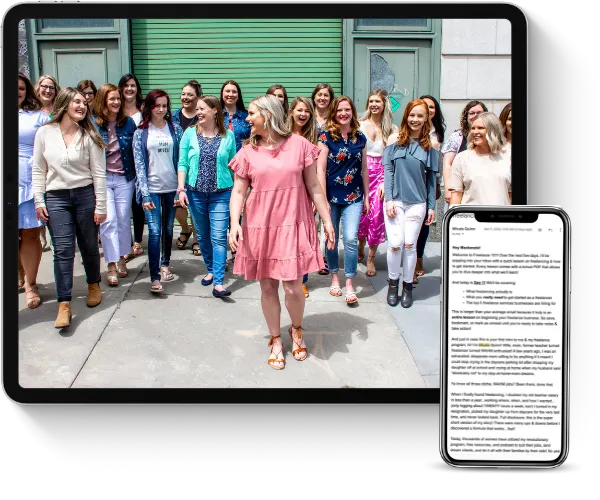 Learn how to earn $3K a month+ as a freelancer working less than 25 hours a week even if you think you have no experience.
This FREE crash course will teach you all about the freelance industry, so you can finally end the family vs. finances battle.
In this episode, we cover:
Emily's number one tip to make your finances easier (now and at tax time!)
the 3 essential components of an effective money management system
Resources and links mentioned in this episode: