Are you looking to make money from a hobby? What if your hobby could make you money working from home?
Do you remember hearing this old saying?
"Do what you love, and you'll never work a day in your life."
It's true! If you do what you love, you will be excited to work.
Imagine waking up and not dreading going into the office, doing the morning rush getting everyone out the door on time, or having to do the dreaded daycare dropoff.
Did you know that you can make money from a hobby as a freelancer?
Yes, it's true! As a freelancer, you can make a business out of a hobby. A business that is flexible!
Freelancing gives you the freedom to work the hours you want and do work you love.
So, how do you make money from a hobby as a freelancer? And what hobbies can you turn into a freelancing business? Stick around to learn!
8 Hobbies You Can Make Money From as a Freelancer
1. Writing
There are many things you can do as a freelance writer. Companies need content for blogs, social media, newsletters (print and email), and more. Writing takes a lot of time, so it's a huge freelance industry. Many business owners do not enjoy writing or want to spend their time doing it. Offering these services as a freelancer, if you enjoy writing, can be very lucrative!
2. Editing and proofreading
When you read something do any mistakes stand out to you like a sore thumb? If editing or proofing comes naturally to you, it might be something you should explore as a freelancer.
Not only do companies need help with writing (since it takes up a lot of time). So does editing and proofing. And in an age where companies are trying out AI writing apps, they will need human editors to make sure that content is fit for humans.
3. Photography and photo editing
Photography and photo editing are also hobbies that take a lot of time. If you enjoy it, you can make a great freelance career doing what you love. A few types of photos companies may need to include professional photos, product photos, and stock photos.
4. Graphic design
If your hobby is graphic design, there are many things within a business that you can do as a freelancer. From logos and branding, print and advertising, social media and website graphics, and apparel design to UX/UI design. Graphic design is a skill many business owners do not have or want to learn, and they will pay good money to have you do these things for them!
5. Social media
Do you have a love of social media? Businesses hire a social media freelancer to help run their accounts. You can manage a social media account by running ad campaigns, planning content, and researching new content and keywords. Or you can do social media VA work by creating images, writing posts, scheduling content, and responding to comments.
6. Podcasting
Love listening to podcasts? Learn to edit episodes, manage guest appearances, write copy, upload shows, and create audio graphics for businesses. There are a ton of courses (free and paid) you can take to learn these skills. Then use those to make money on your love for podcasting by helping clients to create and edit podcast episodes.
7. Video editing
If you like watching videos and have an interest in creating them or editing, you can learn how to edit with a free or paid course. Then you can start helping business owners edit and create videos for YouTube, TikTok, or Vimeo. We know video is becoming more (and more) popular, and the market for videos is only growing. So, there is a lot of potential to make money from your hobby of video editing!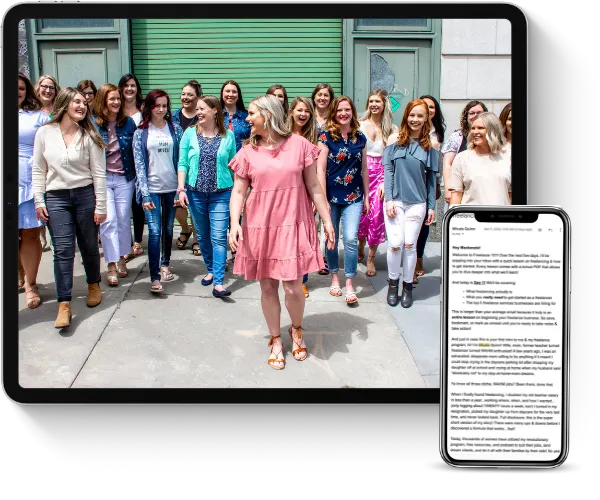 Learn how to earn $3K a month+ as a freelancer working less than 25 hours a week even if you think you have no experience.
This FREE crash course will teach you all about the freelance industry, so you can finally end the family vs. finances battle.
8. Web design
Do you like building or designing websites? In an age where businesses have websites to interact with customers, most businesses have one. From aesthetics to functionality, creating a website is a skill that owners will pay good money for!
How to Make Money From A Hobby as a Freelancer
Teach others about your hobby
To teach others about your hobby, create an online course for people to learn about. The Live Free Academy course was created and has always been about teaching moms about freelancing and how to freelance!
Sell products related to your hobby
You can sell products related to your hobby to share with others and make money from. For example, if you like writing, you can sell blogs or articles to content creators.
Or you can create digital files for business owners to purchase. For example, if you love social media, you could create and sell a digital social media plan calendar template for business owners to purchase.
Sell services related to your hobby
Another option is to freelance and sell your hobby as a service. When you sign up for the Live Free Academy course, you'll learn how to turn your skills and interests into a freelance business! Running a freelance business, doing what you love, on your own time and hours. What could be better?
FAQ
What is the most profitable hobby?
A simple Google search for "what is the most profitable hobby" will show you results varying in everything from photography to acting to writing. In this digital age, you can turn any hobby into a profitable business.
Ultimately, the most profitable hobby for you is going to be one that you are interested in. One that you are always wanting to learn more about. And one that you are willing to put some work into to turn into a business.
What hobbies are trending?
Content writing, web development, digital marketing, social media marketing, and podcasts are among some of the hobbies trending.
There are so many to choose from, so don't worry about what is trending and what isn't.
Take one of your hobbies, and put in a little time, effort, and creativity to figure out how you want to turn that hobby into a profitable business.
How can I start to make money from a hobby?
First, determine the hobby you want to make money off of, and the skills you have related to that hobby. Download the crash course to get a brainstorming activity to help you (it's free)!
Then determine how you want to make money off your hobby. Do you want to freelance, create digital files for purchase, or create a course to teach others about your hobby?
If you choose the freelance route (or want to learn more about freelancing), micalaquinn.com and check out the free resources tab. It's full of resources to help you start a profitable freelance business so you can make money from a hobby. Plus, they are all free for you to use!