Are you looking to start a freelancing business? Maybe you are already successfully freelancing and want to niche into more specialized services.
This post is all about how you can make money as a freelance writer, all from home! You can get paid to write for business owners that don't like to or don't have the time.
So if you're wondering what kinds of writing you can do or what type of clients would hire a writer follow along!
Different Ways You Can Make Money as a Freelance Writer
When you dive into the world of freelance writing there are several niches within the freelance writing umbrella that you could potentially do.
1. Copywriting
When I think of freelance writing, the main thing I think of is: copywriting. It took me a while to understand what copywriting was. A copywriter is a freelance writer who specializes in writing sales-focused content for businesses. It will be a very direct response with a heavy sales component. This could be like website copy, email sequences, sales pages, and social media captions.
2. Content writing
Content writers are more focused on writing educational content. This could look like blog posts, an ebook, or newsletters that are informational-based.
3. Ghostwriting
A lot of content writing can be done under a ghostwriting guise. That means you may write something, but your name isn't published. You can add it to your portfolio to get credit for it, but when published it will look like it was written by the business. Usually, this type of writing is very hush-hush with NDA and legal documents that you cannot share with anyone that you wrote the content.
4. Proofreading
Another service that you can offer to make money as a freelance writer is proofreading. As a proofreader, you are usually just checking for grammatical or spelling errors in the content before publication.
Sometimes this task can fall to a content or copywriter or be completed by a virtual assistant too.
5. Editing
An editor will correct the writing at the core of it. This would have more of a focus on sentence construction, improving readability, and the tone of the text. It will be a more thorough review by looking at the piece and questioning whether the goal was accomplished or if it could have been delivered better.
Typically a freelance writer will focus on one or two of these areas, but sometimes they overlap. So someone might offer multiple services to make money as a freelance writer.
3 Questions to Know if You Would Make a Good Freelance Writer
You don't need a fancy degree to begin freelance writing. A few questions to help you decide if you would like to freelance as a writer might be:
Do you like writing?
Do you have any job experience with a writing component?
Do you naturally notice errors when reading content or when speaking to someone?
If you do these things naturally, you might enjoy freelancing writing.
Even if you don't have a ton of experience or background in writing, it is okay. It isn't necessary to have. Everyone has to start somewhere!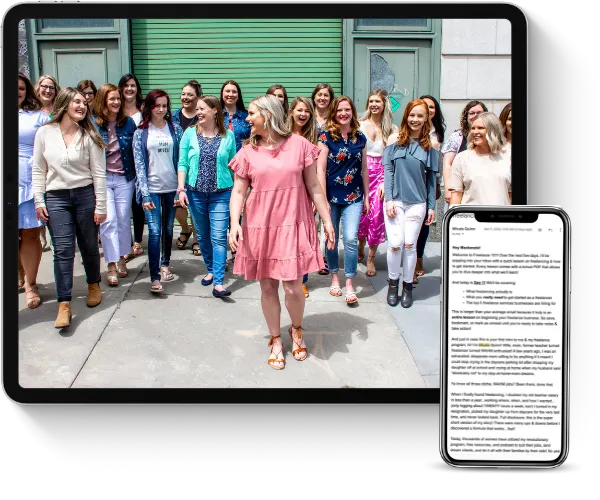 Learn how to earn $3K a month+ as a freelancer working less than 25 hours a week even if you think you have no experience.
This FREE crash course will teach you all about the freelance industry, so you can finally end the family vs. finances battle.
Types of Clients You Will Work with as a Freelance Writer
Every day there is so much writing that happens within a business, like social media content, emails, blog posts, etc.
When these things need to happen, but a business owner dislikes to write, it takes them too much time, or they are not good at it, they will hire a freelance writer.
All businesses will have the potential to hire writers.
In the online community, a lot of bloggers and course creators will hire out for a freelance writer.
More traditional businesses and product-based businesses will hire freelance writers. Basically, anyone who has customer-facing content could potentially have work to be hired out by a freelance writer.
Freelance Writer Rates
Usually, as a freelance writer, a lot of the components are done per deliverable and not by the hour.
Check out the Editorial Freelancers Association website to find rates broken down by rate per hour, rate per word, and average pace. This ranges from $.09-.50 per word.
So, let's do an example of an email package. Let's say an average email has 300 words x $.20 per word. So that would be $60 an email. If you have a package of 10 emails, multiply 10 x $60 to get a $600 package.
Now maybe it takes you 6 hours to write those emails, that's $100/hour!
Another way to do freelance writing packages is to do the day rate model. With this model, you would start and complete a project in 1 day for a client. The rates for these types of packages can range from $500 per day to $2,500 to $5,000! It will depend on your pricing, the services you offer, and the type of work you do. If you want to learn more about the day rate model, I just interviewed Leann Zerr in this podcast episode. She changed her business to the day rate model and shares all the details with us in the episode!
If you are wanting to start making money as a freelance writer, but are not sure where to go to begin or what comes next. Go check out the free resources at MicalaQuinn.com and The Live Free Academy program. I would love to help you and support you along the way. From taxes to legal to figuring out your niche, pricing, and packages. I will teach you how to do all that step by step in the LFA program. Go check it out today!