Want to know how to transition your teaching skills to freelancing? Become a freelance copywriter!
That is what Amber Kindler did a little over 4 years ago when she transitioned from teaching to freelancing. She figured out that her teaching skills transferred to freelance copywriting and began working with clients.
Today, we are checking in with Amber to see how her business has evolved in her 4 years of freelancing. She is now a freelance copywriter and director of marketing, and is going to share with us how she makes a consistent $6k a month!
Amber's Journey to Become a Freelance Copywriter
Amber was a kindergarten teacher back in 2019 and found out she was pregnant. It turned out, that that was the motivation she needed to start looking for a career that would work with her schedule.
Starting her business
Amber learned about freelancing and how to become a freelance copywriter with the help of the Live Free Academy course. Which she had learned about from a friend.
She jumped right in and started landing clients right around the time she had her baby in 2020. Amber onboarded her first client just 2 days before she gave birth to her son!
After that, Amber didn't start as a freelance copywriter, she began freelancing as a virtual assistant. She dabbled in social media management but ultimately found her niche in freelance copywriting.
After niching her business, Amber eventually quadrupled her income from her days as a teacher. It wasn't all sunshine and rainbows though, she had doubts about leaving her current job as a kindergarten teacher.  Read about Amber's full journey to begin freelancing here in her original Student Success Story post!
How It's Going as a Freelance Copywriter
In the first year of Amber's business, she was working with 8 or 9 clients and was working around 40 hours (sometimes more) a week. She knew it was becoming too much for her to handle and couldn't continue it.
After finding out she was pregnant with her daughter, Amber knew she needed to make a change. So, she started making shifts to her business by letting some clients go.
Amber also decided to take a Director of Marketing course. After taking this course, Amber figured out what she liked doing for clients. So, she began to whittle down her services to premium pricing while taking on a smaller client load doing only the services she really enjoyed!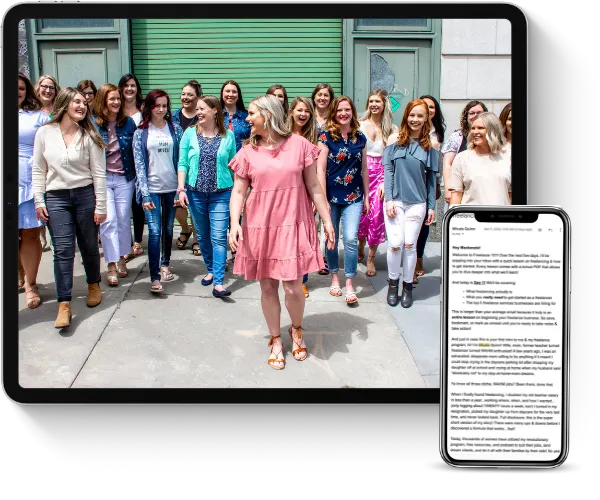 Learn how to earn $3K a month+ as a freelancer working less than 25 hours a week even if you think you have no experience.
This FREE crash course will teach you all about the freelance industry, so you can finally end the family vs. finances battle.
How Amber's Income and Client Load Has Transitioned
Income
In the beginning, when Amber was working about 40+ hours a week, she was making $8-$9k each month.
Amber says the money then was great, she had quadrupled her teacher pay! However, she began to realize her son was starting to see her working on the computer all day, and that wasn't how she wanted him to grow up.
Now, Amber works with 3 clients and makes between $6k and $7k each month working 25 hours a week. She has begun to ask for help with her 2 kids a couple of days a week. Her husband also helps more as well.
Determining Which Clients to Keep and Let Go
Skills she had outgrown
Amber says she had a few clients whom she was doing copywriting for, but her skills were beyond what she was doing for them.
For these clients, she felt that someone who was just starting in copywriting would excel at these jobs, and her skillset and pricing had outgrown the work she was doing.
So those were the clients she let go of first.
Services she no longer enjoys
She was also doing social media management for clients, which had become something she didn't enjoy anymore. She decided to let go of those clients next because they didn't light her up anymore.
She then decided to lean into the clients and services that she enjoyed doing which was freelance copywriting. And clients that were growing, and who had a growth mindset.
Learn more about Amber's daily freelance copywriter role here in her "A Day in the Life" post!
Asking For Help to Balance Freelance Copywriting and Mom Life
Amber mentioned that she asked for help after doing it all herself from November 2019 to January 2022.
Childcare
First, Amber asked her mom for help watching her son 2 days a week. This gave Amber time to work 2 days a week while she was prepping for maternity leave.
After having her daughter in May, she kept the baby at home and worked and her toddler son kept going 2 days a week to Grandma's house.
Now her son is going to start going to preschool as well.
Husband help
Amber's husband has started to help with the kids more when he's doing tasks that the kids can be a part of. As a farmer/rancher, it can be hard to find tasks he can bring the kids to do with him. So, if he's checking cows, running errands, or going to pick up parts he picks up the kids and brings them with him.
Future Plans for Her Freelance Copywriting Business
Magazine feature
Amber says she has always enjoyed writing, it is part of what led her to freelance copywriting. She has also always wanted to start a blog, and just recently Amber is getting the chance to share her story through a rural magazine.
This story will be something for her freelance copywriting business, instead of writing for clients!
Marketing agency
Amber says one of her dreams has been to open a marketing agency with local friends who have also taken the Live Free Academy course! With a co-working space that has an area for the kids to play.
This course is my step-by-step program that showed Amber how to begin her freelance copywriting business! When you sign up for the course you will get everything you need to start your business. Everything from modules about legal contracts, taxes, determining your ideal client, and how to find clients and land clients!
It also includes skills training so you can get experiences and confidence, even as a beginner so that you feel prepared to work with paying clients.
I would be honored to support you in building the business of your dreams and helping you to reach your income goals. Click here to enroll in the Live Free Academy today!