EPISODE 87: SHOW NOTES
Kendra Hennessy, podcast host and founder of Mother like a Boss, is on the show today to bust through the excuses and scenarios that are preventing us from living our best life as moms and and business owners.
If you haven't heard of Kendra yet, you are going to love hearing her no-nonsense and realistic approach to managing our homes, families, and businesses! She is a home management expert and positive motherhood enthusiast. Kendra puts a fresh, modern twist on homemaking so that moms feel confident managing their homes and families no matter where they are in their motherhood journey.
Kendra and I talk about her journey from owning a house cleaning business to starting Mother like a Boss. Plus, how she has partners with her husband to create a low stress home life and what she thinks about mom guilt! Kendra and I have such similar missions in wanting to support and encourage moms to live their best life.
Find Kendra at MotherlikeaBoss.com to learn more about her awesome podcast and courses. If you enjoyed this episode, let me know in a review! Thanks for listening and talk soon!
**This post about living your best life may contain affiliate links, which means if you click one of our affiliate links and decide to make a purchase, we receive a tiny commission from the seller at no additional cost to you. We only share products and services we have used, tested, and love ourselves!**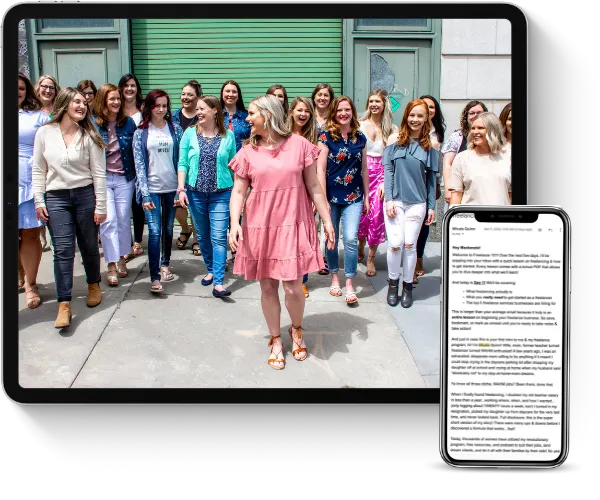 Learn how to earn $3K a month+ as a freelancer working less than 25 hours a week even if you think you have no experience.
This FREE crash course will teach you all about the freelance industry, so you can finally end the family vs. finances battle.
In this episode, we cover:
how to work with your spouse when building a business,
why investing in yourself needs to be a priority, even from the beginning, and
Kendra's view of mom guilt and how it effects her work and home life
Resources and links mentioned in this episode: