Think earning six figures a year is impossible as a freelancer? Think again! In this month's success story episode, Lindsay is sharing her story on how she reached six figures as a freelance marketing consultant.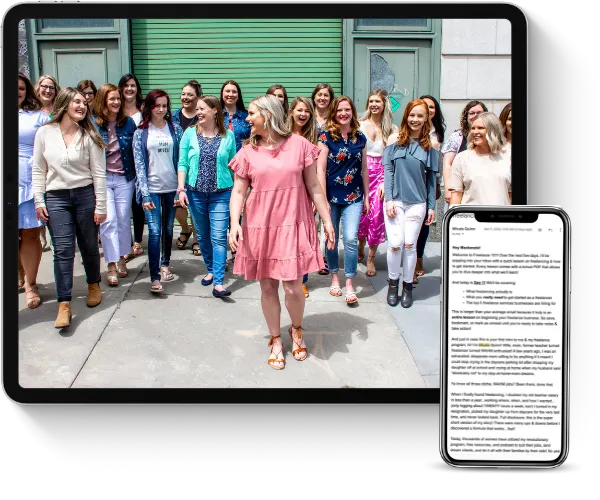 Learn how to earn $3K a month+ as a freelancer working less than 25 hours a week even if you think you have no experience.
This FREE crash course will teach you all about the freelance industry, so you can finally end the family vs. finances battle.
Lindsay's Story
Lindsay worked in corporate America for seven years. She did corporate marketing for a Fortune 500 financial services firm. Lindsay felt like she was climbing the corporate ladder in terms of title and responsibility, but not in terms of salary. She and her husband were both working so many hours, and she knew she needed a change if they wanted to start a family soon! 
Lindsay dipped her toe into freelancing (before she discovered OTO), but she wasn't having much success with clients or lucrative jobs. 
Finally, around Thanksgiving 2018, Lindsay found OTO. She joined the free Facebook group and started soaking it all in. This felt like the right avenue for her! In December, she gave a six-week notice to her firm, and in January 2019, Lindsay was an official member of Overwhelmed to Overbooked.
Lindsay hit the ground running. She gained the confidence she needed when she landed Harvard business school as her first client! Now that's an ideal client! 
She continued to gain momentum through networking and was able to land a retainer client. Then another. Then another. She now has 4 retainer clients! 
"Almost all of my clients have been referrals from either someone I've worked with in a freelance capacity or from someone that I have told in the past, 'Hey, I'm a freelancer now. And I offer digital marketing services.'"
Lindsay creates custom packages for her clients by helping them figure out their budget and their marketing strategy. 
She's dabbling between package-based and retainer hourly-based prices; this has been beneficial because it gives her the capacity to grow. She also keeps Micala's advice close to heart: "If you're not uncomfortable when you're giving someone your hourly prices, then you're priced too low."
Balancing a Six-Figure Business with Motherhood
Lindsay found out she was pregnant in February 2019—one month into OTO—and had her son in November 2019.
She learned early on that her son suffered from severe food sensitivities. Lindsay says, looking back, she would have taken more time off to create a better balance. She has already planned to do things differently for the next baby! She encourages moms to find a schedule that works for them. 
After her son grew out of most of his food sensitivities at around 5 months old, Lindsay decided to get a babysitter a few times a week so she could block out a specific time to work on her business. She said that was the best thing she ever did! This gave her the structure she was so desperately craving! 
"I feel like I'm a better mom because of it. I am so much better at taking care of him and giving him the mom that he deserves to have because I have that time for myself and for my business."
And with that structure, she grew like crazy! Lindsay has so many ideas of where she can go from here and what services she can offer. Where will she pivot her business next?!

Client Breakdown
Harvard business school was her first client — a two-month marketing project! 

Lindsay got the ball rolling and landed her first retainer client. 

She landed her second retainer client through a referral from her husband's boss. 

Retainer clients #3 and #4 came from referrals as well! 
And that is how Lindsay reached six figures as a freelance marketing consultant!
"I'm the kind of person where if I don't know how to do something, I'm not scared to learn how to do it and jump in. And I think that's how a lot of women are. And just knowing that about yourself means you have so many skills. You have unlimited skills because you know that you can learn how to do something if you need to."
Lindsay's Tips for Success
Overcome fear.

You can do this. Jump over the mental obstacles. 

Don't put yourself in a box.

You have more than one skill to offer. 

Get a business buddy.

Find someone who will encourage you.

Plan ahead.

Prepare for your future so you feel comfortable taking risks!

Structure is key.

When you structure your day, you can get so much more accomplished! 
Are you ready to join Lindsay and the thousands of other women who have ended the battle between freedom and finances…forever?!