If you are not familiar with the series, the "a day in the life series" is where we follow an LFA alumna for the day to learn about how they work as a freelancer.
These are featured on Instagram Stories, so you may have seen other LFA alumni talking about their journey! And if you haven't, follow @Micala.Quinn OR watch the full video.
Today, we are learning about a day in the life of a freelancer with Tiffani Bouwhuis.
Tiffani does social media management. She is showing us a typical day in the life of a freelancer making pillar content for her clients.
A Day in the Life of a Freelancer
Tiffani wakes up at 5:30 to get a workout in. She says it's a new habit, but has been worth the early wake-up time!
Introduction to Freelancing
Tiffani then tells us a little about how she began freelancing in 2020 when The Live Free Academy course was called OTO (Overwhelmed to Overbooked).
Tiffani says, "It has changed my life by giving me financial freedom while being able to stay home with my boys."
When she started as a freelancer, she offered virtual assistant services working with health and wellness entrepreneurs because that field is her passion. She would help clients with any backend tasks they needed.
But she quickly learned she didn't love most of the backend work that came with being a virtual assistant. So she shifted to a creative virtual assistant/social media role.
So far, she loves her life as a freelancer doing social media management!
Freelance Social Media Tasks
Working in Canva making graphics for Instagram and Facebook
Editing Reels
Creating guides
Creating workbooks
Creating worksheets
Creating presentation slides for masterclasses
Helping with Facebook group management
Helps with content creation and content calendars
Market research to figure out the ideal target audience, pain points, and goals for clients
A few months ago, Tiffani decided she wanted to scale her business to help clients more in their marketing. So she signed up for a director of marketing course.
This course will help Tiffani pivot from just making content calendars, which she was already doing, into helping clients create pillar content for their calendars.
Creating pillar content
Pillar content is high-end quality content such as blog posts, videos for YouTube, eBooks, Guides, Articles, and more. Then repurpose that content to use as content on their social media, using their content strategy plan as a guide.
Morning Schedule of a Freelancer
Tiffani gets in a morning workout waking up at 5:30 AM.
Next, in the life of a freelancer, she has time to write in her journal and do personal development.
Then she fits in about 1½ to 2½ hours of work before her kids wake up. (Sometimes her kids wake up early, but Tiffani's husband is home to help out until she finishes the tasks she needs to do.)
Sharing more about her day in the life of a freelancer, this morning, Tiffani had a kick-off call with a new client. She will help this new client put together a strategic plan and one piece of pillar content.
Her boys do a kids' workout while she does a bit of Facebook group management for a client.
Lunchtime
They head outside to eat lunch since it's a decent weather day.
Calendar
Tiffani gives us a sneak peek into each day in her life as a freelancer by showing us her calendar!
Today is a little different than most days working as a freelancer, she says. Her oldest usually goes to preschool, but today school was canceled.
Afternoon
While her youngest takes a nap and the oldest watches some shows, she does some client work.
And shows us a peek into what she's working on today!
Evenings
Tiffani shares a screenshot of their late afternoon walk after work. Then starts making dinner.
While dinner is cooking, Tiffani talks about getting started as a freelancer. She graduated with her degree around the same time she had her first son. Wanting a job where she could work from home, she started searching.
One day she came across a Facebook ad for The Live Free Academy program! She says if you are on the fence, she was too, but this program has allowed her to work from home and make enough money to buy their house and make their monthly mortgage payments!
Tiffani says she was on the fence at first, too. She also had doubts about getting started–doubts like how to find clients.
Then she shares some of the ways she found clients when she was starting as a freelancer.
Cold pitching


Tiffani found a couple of clients by sending cold pitches. She started browsing her Instagram followers that could possibly need some help in their business. She sent an email introducing herself and what she loved about their posts. She also gave them advice on how she could help them and the offers she had. While these clients didn't become long-term clients, they were a great opportunity to gain experience when she was just beginning as a freelancer.
Facebook groups
There are so many job opportunities in Facebook groups! Tiffani says one thing that helped her stand out in the comments was to leave a link to her portfolio and mention something about the work they do.
Referrals
Once you gain a few clients, you will be surprised at how many referrals you get from them!
The opportunities are out there! If you are on the fence, Tiffani's advice is to, "just do it!"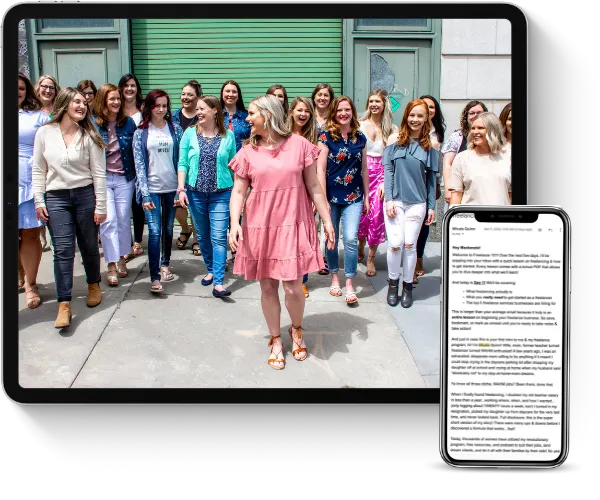 Learn how to earn $3K a month+ as a freelancer working less than 25 hours a week even if you think you have no experience.
This FREE crash course will teach you all about the freelance industry, so you can finally end the family vs. finances battle.