EPISODE 62: SHOW NOTES
Ok guys we're going deep on this episode with the legal basics for freelancers! Biz attorney Ashley Meyer was kind enough to walk through the must-dos to make your business legal and legit. So no matter if you're just starting out or have been in business for years, the information she shares is so important. Find her checklist here and check out all of the other links and resources mentioned on the show notes!
Do these topics kind of freak you at like me? Let's continue this conversation, and share what small steps you're taking, in the Live Free Podcast Mastermind! We're in this together so don't stay out there just lurking – join the convo!
Thanks for listening and spending time with me today! If you liked this episode, let me know in a review on Apple Podcasts or tag me on instagram! I love hearing from you. Talk to you soon!
**This post about the legal basics for freelancers may contain affiliate links, which means if you click one of our affiliate links and decide to make a purchase, we receive a tiny commission from the seller at no additional cost to you. We only share products and services we have used, tested, and love ourselves!**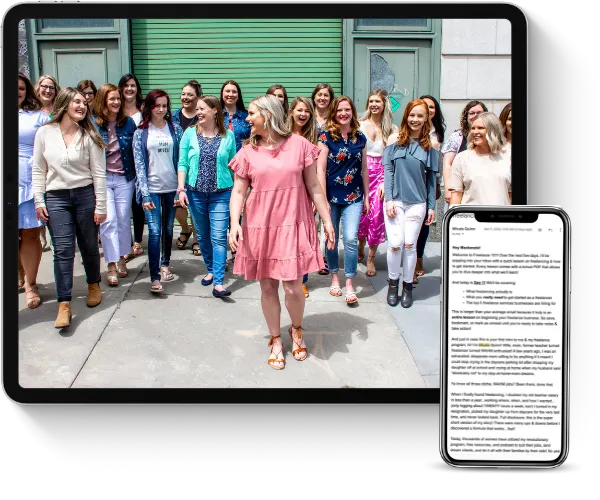 Learn how to earn $3K a month+ as a freelancer working less than 25 hours a week even if you think you have no experience.
This FREE crash course will teach you all about the freelance industry, so you can finally end the family vs. finances battle.
In this episode, we cover:
the difference between being a sole proprietor and Limited Liability Corporation (LLC),
if you should get a business license and/or business insurance, and
which clauses are needed in contracts
Resources and links mentioned in this episode:
Don't miss last week's episode on the 6 tips to help you confidently price your services!
Download the Ultimate Become a Work At Home Mom Starter Kit by clicking below!