EPISODE 30: SHOW NOTES
Have you set a goal to leave your 9-5? If you're like me, I desperately wanted to be home with my daughter but I couldn't leave teaching before I replaced my salary.
Leaving your 9-5 can be so exciting but also feel so far off if you haven't set concrete goals.
In this episode, I interview Val Breit on how to financially prepare to leave your 9-5! One of her tips is to know your number – know exactly how much you need to be making in your freelance business to say GOODBYE to your job!
You can do this! But first you need a plan.
Have you set a date to leave your job? Share it with us in the Live Free, Mama Facebook group! We're here to support you and cheer you on and tune in to episode 31 where we talk about setting goals in a way that WORKS! Thanks for listening!
**This post about financially preparing to leave your 9-5 may contain affiliate links, which means if you click one of our affiliate links and decide to make a purchase, we receive a tiny commission from the seller at no additional cost to you. We only share products and services we have used, tested, and love ourselves!**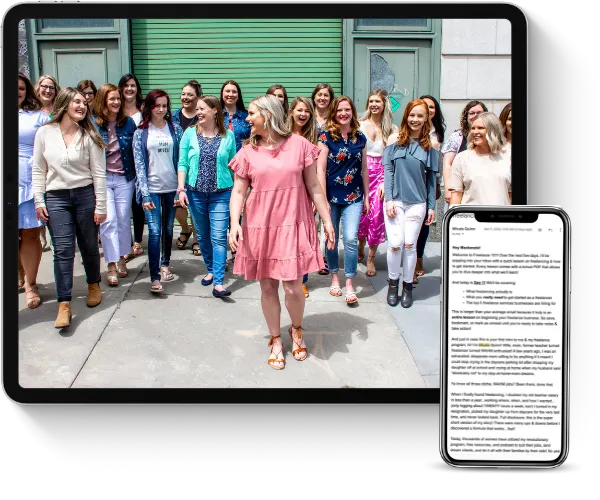 Learn how to earn $3K a month+ as a freelancer working less than 25 hours a week even if you think you have no experience.
This FREE crash course will teach you all about the freelance industry, so you can finally end the family vs. finances battle.
In this episode, we cover:
Val's best tips on financially preparing to leave your 9-5
small and big ways to save money short term, and
why knowing your WHY is so important
Resources and links mentioned in this episode: