If you've had launching a freelance biz on the brain but keep allowing fear & doubt to hold you back…trust me. This year is going has been HUGE for businesses & entrepreneurs hiring freelancers. And the best news? That trend is continuing all summer! Summer is always a HUGE hiring time for freelancers!

Biz owners are ready to spend the summer with their families, enjoying vacations and more time spent outdoors without worrying about their business!
This means they need to hire freelance moms just.like.you. To keep their biz running and successful!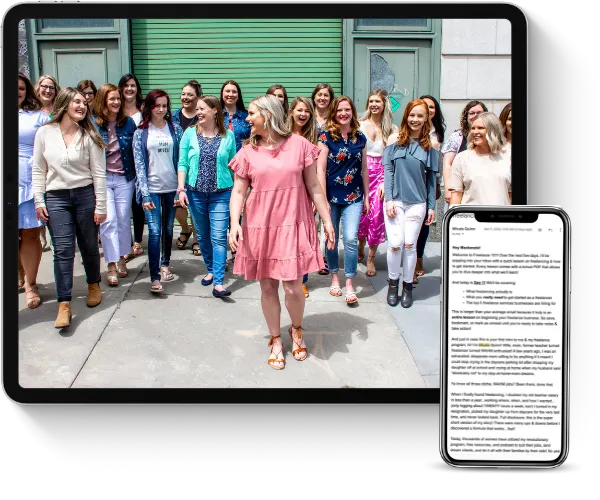 Learn how to earn $3K a month+ as a freelancer working less than 25 hours a week even if you think you have no experience.
This FREE crash course will teach you all about the freelance industry, so you can finally end the family vs. finances battle.
I KNOW you can do this…& best of all?!
You don't need thousands of $$$ or hours to get started.
There are only FOUR things you truly need to get your freelance business up, running, & profitable!
Before we dive in, am going to give you permission to NOT focus on everything. Because you don't need every.single.component. To announce your biz, share your FB page, or even land clients! The ONLY thing you truly need is confidence…and a few other essentials! And if you try to take in business advice from every single expert, social media guru, or YouTube content creator…you're just going to be exhausted before you even get started. Pick the entrepreneurs that you connect with and trust the most and follow their advice.
The Four Essentials you Actually Need to Start Your Freelance Business:
A service to offer.  It's time to get super clear on what you love to do, and how that solves a problem for your ideal client. Check out this podcast episode for more information on finding a service that works with your interest and skillset!
Visibility.

You cannot be hired if no one knows your business exists! There are FREE ways to get noticed and hired. You can tell your friends and family that you've started a new freelance business & ask if they know anyone looking to hire. You can post on your Facebook page & announce to your entire network that you are taking on new clients this year. You can network in FB groups & hopefully one day in person again!

Clients. There are so many ways to find clients, & I KNOW this is going to be a huge hiring year for businesses to hire freelancers. Scope out job leads on Facebook, Instagram, and LinkedIn. Find a few key Facebook groups and really dive in to providing value in those groups. As you become the go-to gal on XYZ topic, others WILL take notice and start reaching out to you with job leads! And of course if you are an OTO member, you have access to our exclusive job leads board – new job leads are pouring in…we almost hit capacity in December!
The right mindset.

You

have

to make launching and growing your business a priority. I know it can be hard to find the time – but there is a REASON you want to freelance and there's a REASON you are right here, right now.! Maybe you have to wake up super early before work or maybe you will have to stay up later to get this business off the ground…if you can find 20 minutes in your day to work on something business-related…you can launch your business this year!
For ALL my thoughts on the four essentials you need to launch a freelance business, check out the free video training below! Looking for more free trainings and tips? Follow me on Instagram!