This week on the Live Free Blog we are featuring another episode of the Student Success Stories Series about persistence and landing freelance clients!
If you've followed along the past couple of weeks you've seen many other stories about building a vision for your business and how you can build your business for your family.
Today we are going to meet Kelsie Trujillo. Kelsie is a mom to three boys, 3 years old and under! Holy moly, that is a lot! She started building her business in October of 2022, just a few short months ago, after her husband pushed her into freelancing.
I hope you enjoy Kelsie's story of being on the brink of giving up before she pushed through and landed her first client–which then snowballed into landing 3 more freelance clients!
Kelsie's Background
Kelsie is a mom of 3 boys, ages 3, 2, and 1. She has prior experience in special education and as a nanny.
After her first son was born, she started taking care of an Alzheimer's patient. But when she had her second baby, she started watching another little boy so she could stay home. Eventually, she was watching 4 boys under the age of 3 from home every day.
When her best friend joined The Live Free Academy program 2 years ago, she learned about it but was hesitant. Her husband started mentioning that he thought she would be good at freelancing and thought she should look into The Live Free Academy.
Kelsie was hesitant because it was something new and scary. But when they felt they needed to have more income coming in, Kelsie realized she didn't want to be watching other kids anymore so she joined the LFA course!
After 2 weeks, she landed her first discovery call and thought it went really well! She was on her way to landing freelance clients. Then she heard that first dreaded, "no".
So, Kelsie brushed it off, kept going, and landed another discovery call. But again, she received another "no". Doubting herself after these two no's, she became discouraged and didn't believe she had what it takes to land freelance clients.
After one of the discovery calls told her that she had what they were looking for but lacked confidence so she decided to go on the Swap It Sunday's posts on Facebook, to gain experience and confidence. Kelsie landed some projects there and did a few projects for people in her network.
When Kelsie found out it was her last month watching the other kid she had been nannying from home, she was left feeling super discouraged that she was out of time to land freelance clients.
So, in panic mode, she started looking for other kids to watch and was ready to throw in the towel.
Landing freelance clients: the first client
Then right before the new year, she received an email from one of the discovery calls she had had months prior who wanted to move forward with Kelsie!
Clients 2, 3 & 4
1 week later she received another email from the person she had the first discovery call with wanting to work with Kelsie too! The third client, Kelsie found and applied to HireMyMom.com.
Lastly, most recently, she landed her 4th client.
These 4 freelance clients helped her to replace the income she was making with her other job!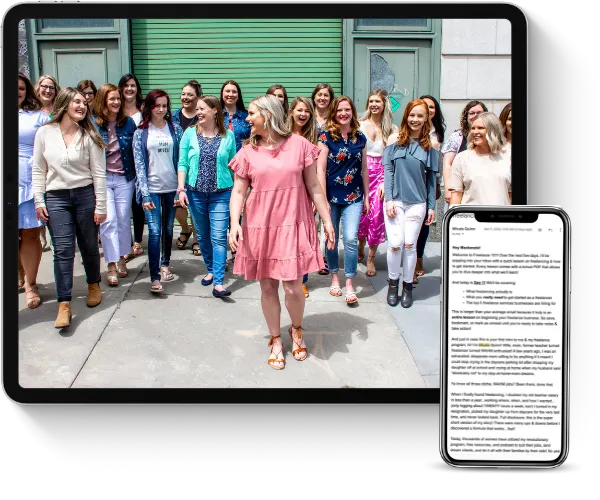 Learn how to earn $3K a month+ as a freelancer working less than 25 hours a week even if you think you have no experience.
This FREE crash course will teach you all about the freelance industry, so you can finally end the family vs. finances battle.
Client Tasks
Kelsie describes her roles for most of her clients as social media roles.
For one client, she just upped her monthly package of hours. For this client, she is calling people, social media posting, and organizing. She describes it as very specialized tasks that are more hourly-based versus the package-based projects she has with her other clients.
But says that she does both virtual assisting and social media management.
Gaining Experience After Landing Freelance Clients
Kelsie says she learned by doing. A lot of the tasks she does for her biggest client is given to her with detail from the client.
Other tasks she does are in Canva, which she had used before. However, she says the biggest thing for her was just asking. She would ask, "Is this what you are looking for?", or just check in with the client.
Kelsie's advice:
"Even if you don't know how to do something, just try it. Do not skip applying because you don't know how to do something, you can absolutely learn along the way!"
Q&A
Q: How do you balance all the clients and not get overwhelmed?
A: Kelsie says that her biggest freelance client is 30 hours per month. But before she started landing freelance clients, she sat down and made a calendar of her day outlining the pockets of time where she could work.
She blocked out about 25 hours per week, then divided it up into days. After working the math it comes out to about 1 hour per day per client. Her actual working hours are about 17 hours per week with her 4 clients.
Q: Have you reached your income goal?
A: I would like to make more, and I'm hoping with this client I'm interviewing with that I can get there. But I don't want to overwhelm myself either. With 3 kids at home, it's not always easy!
Q: When do you work and what does that look like for you?
A: So, my oldest is in preschool for 2 half-days a week. So, I work during that time, and during nap time.
I also do a lot of work when they go to bed, which some people may not think is not fun, but the work I do I enjoy so I don't mind it. And sometimes it's just easier when they are sleeping.
I also sometimes do work on the weekends, but I just try and fit it in during the day. Using those pockets of time.
Q: How has life changed when comparing freelancing to watching kids in an in-home daycare setting?
A: The hours look very different. Watching the other boy, I was working a lot more hours, but a lot of times they were self-entertaining. With this, I'm more engaged and have to do something. Sometimes it is harder to balance being a stay-at-home mom trying to do the laundry and all those other things because now I'm more engaged on the computer.
So, that is something I'm still trying to figure out now. It's challenging in some ways but in the best ways. I enjoy engaging in all these things and still be able to be home with my kids!
Q: How do you do client calls to land freelance clients with kids in the background?
A: Most clients are good with it. It's mostly my little one that is on the calls because I usually schedule during naptime. They usually just sit there and watch, and everyone is okay with it.
And if there was a client that isn't okay with that, then I probably don't want to work with them.
But that is something I always put in my emails when I apply, I'm a mom of three boys, 3 and under so they know I have that going on in my life too!
Q: What's next for you and your business?
A: I'm hoping eventually to take more on, especially as my kiddos get older and are in daycare and preschool longer. Right now, I'm just going to keep doing what I'm doing and hope to land maybe 1 more client depending on how many hours. But right now I'm pretty happy with where I'm at!
If you are on the verge of giving up like Kelsie was and are not landing freelance clients please reach out! Come to the coaching calls so I can help! Please don't stay in the struggle space, you don't have to do this by yourself.
You can do it, don't give up!
The Live Free Academy can help you step by step and at every stage of starting your business and landing freelance clients. Inside this course, you get full access to how-to build your business course so you can land freelance clients ASAP!
You will get all the tools and templates, skills training, and the most supportive community of freelancers on the internet by your side! Plus, you get weekly coaching calls, freelance job leads from the exclusive LFA Hire Form available only to the LFA community, and monthly land your client goals challenges.