EPISODE 18: SHOW NOTES
Today is a special day… because we are bringing on another LFM student to share not only how my OTO program has helped launch her freelance career, but also to share with us all of her knowledge and wisdom on cold calling to the right people to land clients for your freelance business.
**This post about how to land the right freelance clients may contain affiliate links, which means if you click one of our affiliate links and decide to make a purchase, we receive a tiny commission from the seller at no additional cost to you. We only share products and services we have used, tested, and love ourselves!**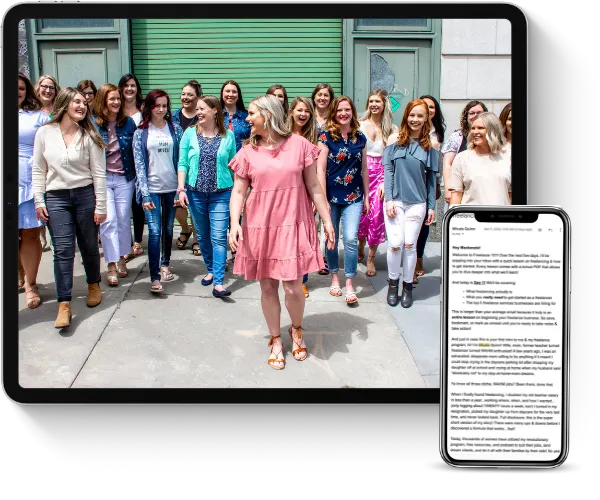 Learn how to earn $3K a month+ as a freelancer working less than 25 hours a week even if you think you have no experience.
This FREE crash course will teach you all about the freelance industry, so you can finally end the family vs. finances battle.
Meet Dalaina
I am a nurse turned businesswoman who enjoys cold calling and the chase! I started as a VA in early 2018 and within the first 3 months had 9 clients and since then I have added 6 more! My passion for sales began while working for a Medicare Home Health Agency. I had to walk into Doctor's offices and get through the gatekeeper to speak to the doctor about why my Agency was the best. The first time was terrifying but thrilling and I have been hooked ever since! Now it has become a game for me and it truly is addicting!
Dalaina's success in our program
She signed up for the program in March of 2018, and in less than 3 months was making over $2,500 working part-time hours from home!
Initially, she joined because she looking for a way to be able to keep her daughter out of daycare and still be able to contribute to her household income.
Her biggest lesson learned since starting her own business: I deserve this. I have worked my butt off my whole career for others and I finally am putting that effort into me and my own business. Believe in yourself & never set a limit for yourself!
What she says about how the course has impacted her: All I have ever wanted to be was a mommy, so when my husband and I found out we were pregnant, I spent months racking my brain on how to keep her out of daycare. With the help of Micala and the program, I had the tools and encouragement I needed to make the jump and start my own business!
September 27th, 2018: Update on Dalaina
I just got done interviewing her for the podcast and six months in, she is making $3.5K a month working 17 hours a week and loving what she's doing and the opportunity out there!
What we chat about in this episode
steps to start cold calling
how to get started cold calling
tips and strategies to be effective
examples of what the process should look like
measuring and organizing progress
Resources and links mentioned in this episode:
Book a strategy session with Dalaina
Connect with Dalaina: Community |