Feeling discouraged at times is totally normal! If this is the stage you're in right now, this episode is for you! In this month's success story episode, Kristen is sharing her story on how she went from a discouraged virtual assistant with 1 client to niching down into social media management and landing 4 clients in 5 weeks!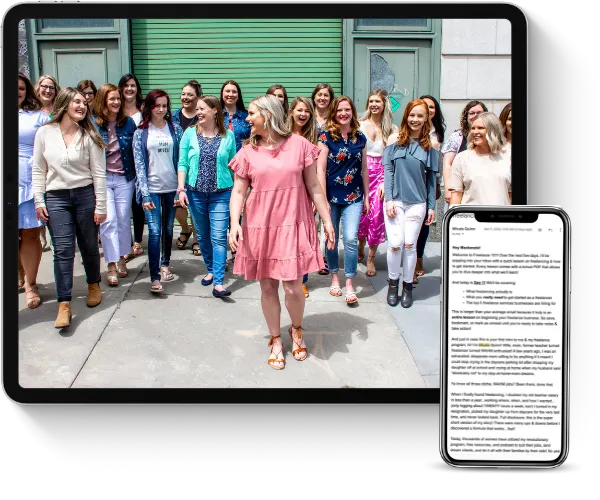 Learn how to earn $3K a month+ as a freelancer working less than 25 hours a week even if you think you have no experience.
This FREE crash course will teach you all about the freelance industry, so you can finally end the family vs. finances battle.
Kristen's Story
Kristen currently lives in Colorado with her husband and son. 
Kristen previously felt stuck in a traditional, corporate marketing job. There wasn't any room for growth in that little cubicle! She didn't feel challenged. She knew she needed a change, but she also wanted the freedom to stay at home once they started a family. 
She heard about the OTO course through a Facebook group, and started listening to the Live Free Podcast in her cubicle! She listened for a few months and soaked it all in — dreaming about her own business. Then as soon as Kristen found out she was pregnant in August 2019, she signed up for Overwhelmed to Overbooked that same week! Time to get to work! 
Kristen decided to start out as a virtual assistant to get an idea of the services she wanted to offer. When she felt overwhelmed at first, she got some sound advice from Micala:
"Don't rush yourself. Just start taking action and work. And don't focus so much on what you need to specialize in, just get out there and get working." 
Kristen took that advice to heart: she put herself out there, started a business Instagram page from scratch, and landed her first client! Though she hadn't quite niched down like she wanted yet, she was proud to get started and gain experience. 
After Kristen had her son in March 2020, she had fully expected to stay home with him and grow her business. Unfortunately, a terrible back injury forced Kristen to put him into daycare. And daycare meant she needed more money. The clock was ticking, the daycare bill was looming, and Kristen needed clients fast! 
The OTO group came to the rescue. She reached out and the ladies delivered. After receiving encouragement and advice, Kristen bounced back! Her accountability partner played a huge role in her transformation as well. She encouraged Kristen to niche down to social media. 
Kristen created a Website, put together some packages, and started networking on Instagram with this newfound social media management lens. 
Instagram For The Win
It was nerve-racking at first… starting an Instagram page with zero followers is scary! But Kristen stayed committed and started engaging with other people — and very quickly, the ball was rolling. 
"One thing I made sure to do was to just keep showing up no matter what. And I started noticing the momentum picking up."
If you are just starting out, Kristen recommends looking through hashtags in your niche and engaging with the people you want to work with: follow them, talk to them, and comment on their posts regularly. 
Kristen posts about her family — she says it builds trust and gets engagement. She also believes in showing social proof: creating graphics that have her testimonials in them, sharing in her stories, and continuously reminding people what she does and why she does it. 
"I make sure to post at least three times a week. I usually create my content for a whole month and then schedule it out so I can just kind of let it go. And then I post on my stories at least a few times a week, but daily is best honestly." 

Kristen is getting a lot of engagement by incorporating more videos in her stories. And Reels! 
Client Breakdown
Kristen's first client found her on Instagram (less than a month after starting the course!)

Kristen took on her second client after her son was born (also by connecting on Instagram).

Client #3 came from Kristen's OTO accountability partner! 

By revamping her Instagram page, she landed Client #4.

Client #5 came from the OTO job leads board.
And that is how Kristen got 4 new clients in 5 weeks! 
Kristen's advice if you are feeling discouraged:
"I would definitely say to lean on your community. You can raise yourself up so much higher with other women who are doing the same thing. Take advantage of that."
Kristen's Tips for Success
Share your struggles.

Reach out for help when you need it! 

Get an accountability partner.

This will keep you balanced and may even lead to a job!

Be consistent.

It's a process! Stay the course. 

Just start working

. The more you work, the easier it will be to determine what you love! 
Are you ready to join Kristen and the thousands of other women who have ended the battle between freedom and finances…forever?!