EPISODE 29: SHOW NOTES
Being an entrepreneur and freelancer is a roller coaster ride that will have you on top of the world one minute and wanting to throw in the towel the next minute.
That's the truth but believe me – it's so worth it!
So how do you get through the times that make you want to quit? Knowing your why!
Use these 4 questions to identify your why. Try to move past your initial, superficial why to uncover your true motivation for starting a freelance business!
Why did you start your own business?
What will starting your own business do for you?
What will starting your own business do for your family?
What will you tell yourself when the going gets tough and you want to give up?
Head over to the facebook group to share your why! We're here to support you and cheer you on. Thanks for listening!
**This post about knowing your why may contain affiliate links, which means if you click one of our affiliate links and decide to make a purchase, we receive a tiny commission from the seller at no additional cost to you. We only share products and services we have used, tested, and love ourselves!**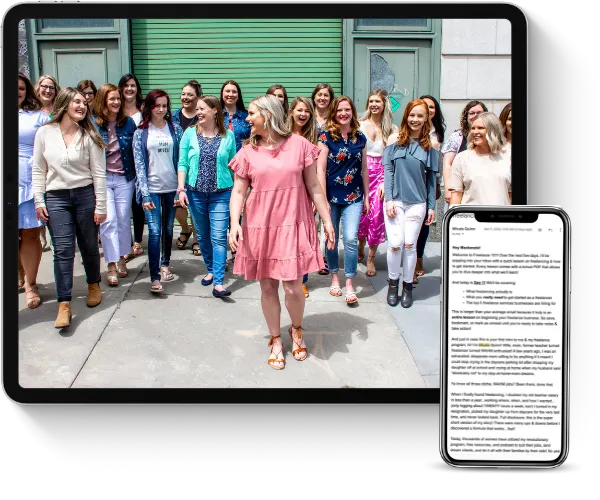 Learn how to earn $3K a month+ as a freelancer working less than 25 hours a week even if you think you have no experience.
This FREE crash course will teach you all about the freelance industry, so you can finally end the family vs. finances battle.
In this episode, we cover:
the reality of freelancing
how to identify your superficial why and your deeper why
why it's okay if your why changes over time
Resources and links mentioned in this episode: