Do you feel overworked and undervalued in your corporate job? Use your specialized skills in the online space! In this month's success story episode, Jessica is sharing her story on how she launched her freelance business by helping Etsy and Shopify store owners. 

Jessica's Story
Jessica worked in the food industry for 10 years; she started as a sales and marketing assistant and moved up to a sales and marketing administrator. At that point, she felt like she hit a wall and didn't see any room for future growth.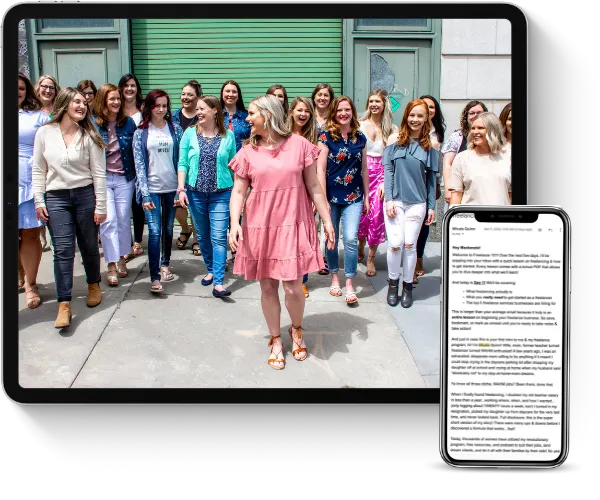 Learn how to earn $3K a month+ as a freelancer working less than 25 hours a week even if you think you have no experience.
This FREE crash course will teach you all about the freelance industry, so you can finally end the family vs. finances battle.
One day, her boss asked her for some marketing help on a small side project. Jessica agreed to take it on. 
"And that's how I started building the Shopify store for them and basically building out the e-commerce channels. So I did everything from figuring out the logistics of everything, packaging, how we were going to send out the product, social media, email marketing, even creating SOP's for the fulfillment side of the business."
Wow! What a side project! After all that work, Jessica had the courage to tell her boss that she wanted to transition into an e-commerce manager position. Her wish was granted and she only grew from there! Jessica enhanced her e-commerce knowledge by listening to webinars and taking digital marketing classes. 
After eight months in this new position, she realized this wasn't actually what she wanted—it was so much work! She didn't have a team to fall back on and she felt swamped with responsibilities and deadlines. 
She knew she could translate her skills into the freelance world (giving her more time and flexibility), so she went to Google to find the right avenue. She found Overwhelmed to Overbooked and joined in December 2019. 
From the Corporate World to the Online Space
Since Jessica had such a specialized skill set, she knew the services she wanted to offer. 
"I knew that I wanted to work with Shopify and Etsy stores because that's where my knowledge comes from. I've owned an Etsy store before. So I felt very confident in that. So I wasn't going in there and searching for general VA postings."
As Jessica was searching for jobs, she also became very active in the OTO Facebook group. She commented on job postings, answered other students' questions, and started to make herself known in the group as the e-commerce expert. 
Because of her resilient networking and online presence, Jessica landed her first client in February 2020. In the following two weeks, she landed two more clients! 
"After my first job, I felt super confident. And I think once I did that, I was like, 'I can do this.' And I was on fire. I felt super, super proud of myself for being able to take your course, apply all the techniques, and all the strategies."
Client Breakdown
Client #1 came from connections in the OTO group.

Landed clients #2 and #3 within two weeks of her first client! 
And that is how Jessica used her e-commerce skills to create a freelance business! 
"I can't believe that I'm building the lifestyle that I envisioned."
Jessica's Tips for Success
Speak up for yourself.

Know your strengths and don't be afraid to ask for what you want. 

Have a plan.

Preparing yourself for the future is pretty liberating! 

Vibe with your clients.

If you don't feel a connection with your client, it's okay to pass on a job! It's more important to feel happy and appreciated. 

Raise your rates.

What you bring to the table is worth it!
What's next?

With only 4-5 months of freelancing under her belt, Jessica has already almost doubled her rates! She is now working on managing her time more efficiently and creating a good work-home balance. She also runs her own e-commerce site, Xula Handmade. 
"My main purpose for jumping into the freelance space was to set a foundation. When I do eventually get pregnant and I have my children, I don't want to be in that position where I have to choose between going to work and feeling bad about asking for a day off to take my kid to an appointment or just spend time with them. So I'm thinking way ahead of myself — but hopefully next year we're going to start trying to have kids."
Are you ready to join Jessica and the thousands of other women who have ended the battle between freedom and finances…forever?!