Introversion is a characteristic of one's personality. And it's more common than you think; estimated that introverts make up 25% to 40% of the population.
It's easy to think that being introverted is a flaw in someone's personality or something one must overcome. It's quite the opposite, though. Being introverted is part of who you are, and knowing the traits of being introverted can give you knowledge on how to become more successful as an introvert in your virtual assistant business!
Today's post discusses identifying as an introvert and tips for becoming an introverted virtual assistant. Also, we have an exciting interview with Emilee Fry, who dives into being an introverted virtual assistant!
Am I an Introvert?
Introvert means you tend to focus on your thoughts and feelings and gain gratification internally (from yourself) rather than externally (from others).
Do you feel energized by having alone time? Do social activities feel draining to you? If you answered yes, then you might have introverted characteristics in your personality type.
If you would rather stay home than leave the house or prefer to text over phoning a friend, you might be introverted!
How to Be Successful as an Introverted Virtual Assistant
5 Tips for an introverted virtual assistant
Prepare mentally
When working as an introverted virtual assistant, it may help to mentally prepare before client meetings, discovery calls, or other interactions. Getting into the right mindset can help you succeed in these interactions with clients and help you be prepared to say what you want.
If you get clammed up speaking in front of people or clients, prepare notes you want to discuss or talk about before getting on the call or going into the meeting. That will help you feel more relaxed about the interaction and prepared.
Socializing
Socializing seems intimidating as an introverted virtual assistant, but it doesn't have to be!
Networking: You want to network and know that it's necessary to find new clients in your business. However, starting a mindless conversation with a stranger stops you in your tracks.
Find other ways to network. Often, introverts find it easier to reach out and make connections through social media. Start by finding a few Facebook groups and interacting in the comment section. That is a more low-key way to make connections. Still offer advice and show your expertise without so much pressure of keeping a conversation going with cold pitching or in-person networking.
Client calls: this might sound like your worst nightmare as an introverted virtual assistant, and that is okay—some things you may just not like to do. Write up a script or talking points, then practice them out loud. The more you practice and the more calls you have, the more comfortable you will get with speaking to clients.
If possible, schedule your client calls with one person, for example, the business owner or manager. It will be easier to speak to them one on one.
Client communication: Because introverts tend to be very independent, it's easy to get stuck doing everything on your own. Not asking for help, asking questions, and having closed lines of communication will make your client reach out to get information more often. So, if you want fewer client questions, leave the lines of communication open. Giving more information will make for fewer questions!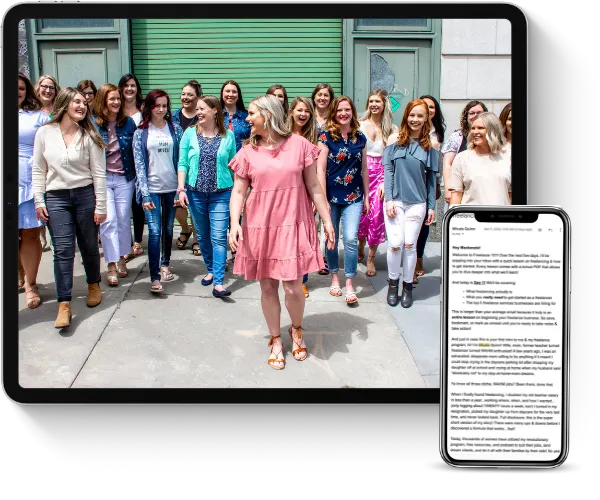 Learn how to earn $3K a month+ as a freelancer working less than 25 hours a week even if you think you have no experience.
This FREE crash course will teach you all about the freelance industry, so you can finally end the family vs. finances battle.
Build in decompressing time breaks & recharge
If client communication, networking, client calls, or other aspects of client work drain you mentally or emotionally, take breaks. Build in time to recharge and unwind from a client call before starting a new task.
Often, introverts will reflect on what was spoken about on a call or after a meeting, so take time to review all the details. Reflect on the conversation, and make a mental list of talking points you may have forgotten or to-dos and jot them down.
Once all this is out of your system, you can move on to other tasks without being distracted by the could of, would of, and should ofs from the meeting.
Take on fewer clients with more hours
If it's draining to meet or talk with clients, try taking on fewer clients with larger-hour packages. You will, in turn, have less client meetings to prepare for and dread each month.
Connect with other introverted virtual assistants
Even if socializing with others is at the bottom of your list, find an online group of introverted virtual assistants with whom you can connect. People who understand you and may be going through the same battles you are in your business or who have unique viewpoints on growing your business as an introverted VA!
An Interview with an Introverted Virtual Assistant
This interview is from Episode 152 of the Live Free Podcast: How to Succeed as an Introverted Freelancer with Emilee Fry. Emilee Fry shares how to work and succeed as an introverted freelancer.
Listen to the full interview to hear more about what skills work with being an introverted virtual assistant and the difference between being shy and introverted!
3 limiting beliefs Emilee worked through as an introvert
Believing she didn't have the skills. Just out of college and without corporate experience, Emilee thought she didn't have the skills to start a business or become a business owner. Admitting that, she did a lot of work on her mindset to fulfill that role and become a leader as a business owner with expertise that could guide and support clients.
Because of her introverted tendencies, she thought she couldn't run a client call confidently without sounding rehearsed. She didn't think she could ask for the sale or state her prices to potential clients. Emilee says she was wrong and attributes the success to repetition and practice.
Emilee believed she would never get comfortable posting on social media, getting visible, and posting her services within a personal network. Thinking people would judge her posts and what she was working on. Once she realized these personal connections didn't pay her, she overcame this fear of posting and getting her business visible.
10 Advantages of Being Introverted
Very Intune with one's self.
More likely to be "real" with you and give it to you straight.
Tend to be great listeners.
Less dramatic and prefer less dramatic situations.
May have fewer friends, but those friendships are authentic and more profound.
Likely to be more studious.
May think more creatively or out of the box.
Are more self-reflective and observant.
Tend to be more independent.
Speak when they have something to say and make it impactful when they speak.
Are you ready to start your business as an introverted virtual assistant? You can do this, and the Live Free Academy can help you! This 8-step course will guide you step-by-step through creating and starting your business–from selecting the services you want to offer to focus on mindset to overcome the limiting beliefs holding you back!