When the pandemic hit, and we were all forced to work from home, it continued a worker revolution that started several years before the pandemic. It also led many more on a search to find a way to stay at home providing different answers to the age-old question: how can I work from home? The solution includes two popular choices, influencing and freelancing. Learn about influencing vs. freelancing, the pros and the cons.
Both influencing and freelancing from home have gained traction in the past few years and are not slowing down.
If you are looking for ways to make money, you may wonder what the difference is. Is there a freelance or influencing career path? What are the pros and cons of both freelancing vs. influencing?
What is Freelancing?
A freelancer works as an independent contractor rather than an employee. Freelancers offer specific services based on their knowledge and skills to business owners under self-employment.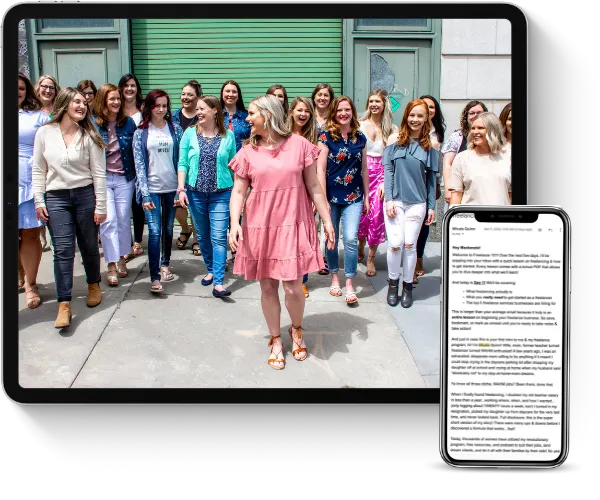 Learn how to earn $3K a month+ as a freelancer working less than 25 hours a week even if you think you have no experience.
This FREE crash course will teach you all about the freelance industry, so you can finally end the family vs. finances battle.
Freelancers can work on a project-by-project basis or a monthly retainer choosing what services they want to sell and how they want to charge for those services. Some freelancers charge their services on an hourly basis, while others package their services and charge a flat rate per package.
Check out the FAQ: What is Freelancing? blog post for more information on freelancing!
Pros of freelancing from home
The freedom and flexibility of freelancing are a no-brainer! You can decide when, where, and how you want to work. For example, freelancing from home!
You can start with little to no website, degree, or training to start freelancing. Then, using the skills you have, you can start today!
You decide if you want to continuously learn new skills or stay in one niched area on the clients and roles you take on.
One of the easiest and best ways to find clients is through referrals. So, you can spend most of your time working (making more money) and obtain more clients through client referrals. This saves you time by not developing marketing funnels to add new clients.
Freelancing from home can be a

 

career booster

.
Cons of freelancing from home
You'll sometime find clients to be demanding or challenging. You can set boundaries by learning about them in the discovery call, defining the work in your contract, and if both fail to replace a problematic client with someone easier to work with.
Since most freelance work is done from home on a computer, there is less interaction with people leaving some to feel isolated.
It can be challenging to stay motivated when the honeymoon vibes of your new business wear off.
What is Influencing?
Influencing is a form of marketing using social media, websites, and endorsements to sell a service or product. For example, an influencer will grow their following on social media, then receive products from companies to endorse. When the influencer's followers purchase products, she then makes a commission off each product that is sold.
Pros of influencing
The flexible work schedule.
Building and connecting with a community.
You don't need a huge budget to start and can sometimes see swift growth in this industry!
Cons of influencing
The work-life balance can be challenging to maintain because you constantly create content for your audience.
It's more than just taking cute photos for social media. There are deadlines, clients to juggle with specific assignments, and brand requirements. You have to pitch daily and build up pipelines and funnels yourself.
It's a constant learning curve with social media apps and trends constantly changing. So you need to keep up with it, plus be aware of which posts are doing well and when to post.
There isn't a clear influencing career path, but you can transition to full-time or freelancing marketing work.
Influencing vs. Freelancing From Home
Now that we've covered the basics and pros and cons of influencing and freelancing from home, you can begin to sort out why freelancing or influencing is the right path for you.
You can do both influencing and freelancing from home on your schedule. However, there are more options for you with a freelancing career than with an influencing career.
With freelancing and influencing growing in popularity with moms who want the flexibility to be home and work on their schedule, now is the time to get started!
Are you ready to jump into freelancing? Learn more with the Live Free Academy to start your freelance business today!