Working from home can be difficult if you don't put systems in place to balance work life and home life. To increase your productivity and time management, you want to think about and create a plan before starting to work from home. To help with this is time management and productivity expert, Megan Sumrell!
Megan explains that as moms we often talk about how we are excellent at multi-tasking, but "context switching" is throwing a wrench in the multi-tasking system.
As we dig into the topic more, Megan reveals why traditional planning systems fail us, work-from-home moms.
Megan shares so much on this topic we had to break it up into two parts, so be sure to check out Part 2: to learn Megan's system for planning each week that will help to increase your productivity!
2 Reasons You Can't Increase Your Productivity
1. Context switching
Context switching is when we switch between work and motherhood without ever being able to fully focus on one thing at a time. This can make you feel constantly overwhelmed and unproductive.
Women often feel like they are good multi-taskers while their male counterparts are not. Megan once said that to her husband, only to receive a response about how he multi-tasks all day long. After thinking about it a bit more, Megan realized he is excellent at multi-tasking, with a caveat.
It's within one context—in front of his desk with his "work hat" on he can juggle 10 fire drills, phone calls, and texts all work-related.
The difference for women, we are often "context-switching" at the same pace. Where we are doing something as a mom, then something for the home business, now something for the school, and now back to the business. It's very different when comparing context switching to juggling different tasks within 1 single hat.
2. The Work-life balance movement
Megan says the work-life balance movement causes more harm than help to a working mom looking to increase your productivity. The planning-productivity community sees there is a problem, but the solution of a work-home life balance movement is not the answer. If you Google images for "work-life balance", you will see the perfect makeup, a perfectly dressed model with a smiling baby in her lap at a table with a computer. In other words, a mom who is perfectly balancing everything in her life. Which is a little unrealistic.
Megan says she instead likes to focus on work-life harmony. Which she compares to an orchestra. When you see an orchestra playing, not every instrument is playing at all times. Some are playing when others are not, and some are not even featured, but in the end, it creates something harmonious.
Harmonious means "a pleasing arrangement of parts".
She says, wouldn't it be great if when we looked at our calendars for the day, we felt it was a pleasing arrangement of parts? Maybe that means one day you don't work at all, while another day you are working 90% and the other parts are taking a break.
That's what working moms need,
"to create a calendar that is harmonious, not balanced."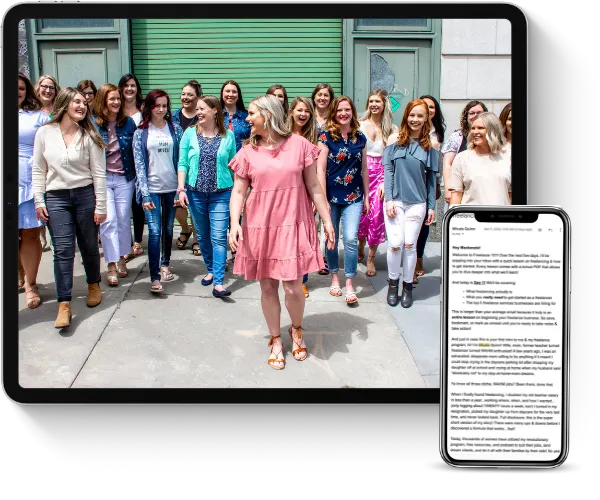 Learn how to earn $3K a month+ as a freelancer working less than 25 hours a week even if you think you have no experience.
This FREE crash course will teach you all about the freelance industry, so you can finally end the family vs. finances battle.
How to Increase Your Productivity with the "Bottom Up" Planning System
Megan says there are two fundamental things we usually see in the traditional planning systems that are problematic for working moms.
These systems start with identifying all the goals you have. Even in traditional planners, the first page is often goal planning. So you spend all day planning and dreaming about these amazing goals you want to accomplish. You break them down and create milestones and get all excited about these amazing things you are going to do.
Then you go home and walk into the realities of your life, and a kid is throwing up. So you plan to start on your goals tomorrow. Then tomorrow school is canceled, so you push it back another day. In this scenario, you are not equipt with having the time and the space to increase your productivity.
The other thing we are told is to wake up, do a brain dump of the daily task list of everything that is on your brain for the day, then circle the top 3 to focus on. Once those are finished, you can focus on the rest of your list.
Well, that works really well when you've got 1 hat on with 8 or 9 hours to work on that list. But when your realities of life are juggling the household, the kids, the schedules, the doctor's appointments, and all the things. There are days when none of the top 3 priorities are touched.
The issue with these scenarios is that they are generally planning from the top down, but Megan's system plans from the bottom up.
We will learn more in-depth about Megan's 5-Step System to increase your productivity in Part 2: How To Increase Your Productivity As A Work At Home Mom.
So you can get on top of the daily overwhelm, and back in control of your calendar. That way when the time comes to start setting goals or want to increase your productivity to accomplish those goals, you will have the tools and systems in place to fit that into your life.
Are you ready to accomplish your work-from-home goals, but it all sounds a little intimidating to you? If you are not yet a member of The Live Free Academy, join today! This is the course that will help you in every stage of starting and growing your business. You get tools and templates, skills training, and the most supportive community of freelancers on the internet!
Plus, weekly coaching calls and freelance job leads from the exclusive LFA Hire Form that is only available to LFA community members. And monthly land your client goals challenges. Check it all out + the free resources available to you at MicalaQuinn.com!