Determining what services to offer as a virtual assistant can feel overwhelming. What are the most in-demand virtual assistant services? Does being a virtual assistant mean I am only offering administrative work? What other services are there?
Many factors go into deciding what's right for you! Read on to learn what in-demand virtual assistant services you can offer, how to choose virtual assistant services, and how to get started working from home as a virtual assistant!
What Do Virtual Assistants Do?
Virtual assistants do recurring tasks for a business that need execution daily, weekly, or even monthly.
Sometimes virtual assistants can be a "jill of all trades" by doing many different tasks for the business. And other times will niche down and perform one specific service for a business.
Want to learn more about what a virtual assistant is? Check out this blog post, FAQ: Virtual Assistant Jobs! You'll learn all the basics of virtual assisting and the most commonly asked questions.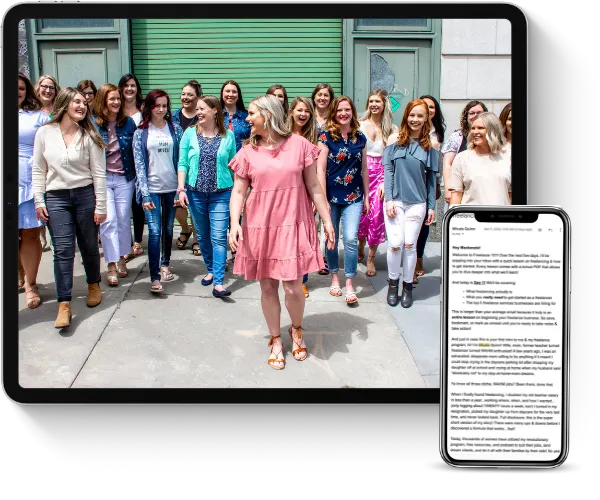 Learn how to earn $3K a month+ as a freelancer working less than 25 hours a week even if you think you have no experience.
This FREE crash course will teach you all about the freelance industry, so you can finally end the family vs. finances battle.
5 In-Demand Virtual Assistant Services
In this post, we gave 100 ideas of services you could offer as a virtual assistant. That's bound to get you thinking creatively about how to package your services.
Here are the top 5:
General administrative services
Marketing
Podcasting
Bookkeeping
Customer service
Now obviously, you don't need to offer all of them, but having one of these in-demand virtual assistant services in your offering is a great idea!
1. General admin
General administrative tasks a virtual assistant can do are email management, inbox management, creating templates, appointment setting, and supply ordering.
These tasks are the backend of the office—the administrative part of the business that keeps the business running.
2. General Marketing
General marketing can encompass various tasks like marketing research, sales funnel creation, social media management, SEO, and lead generation.
Digital marketing is something a business cannot do without, so it's one of the most popular niches that virtual assistants can turn to. There are a lot of marketing options that you can learn about and specialize in!
3. Podcast
Podcast management is growing like wildfire! But it takes a lot of work to produce and air every show. So, business owners and podcast hosts find virtual assistants to help them execute some of the work.
It can be researching guest opportunities, creating show notes, pulling content and sound bites for promotions, or creating landing pages.
4. Bookkeeping
This is one of the most critical parts of running a business! And it's something many business owners hire a virtual assistant who loves accounting to help them with.
A bookkeeping virtual assistant can help with payments and invoicing, orders and refund processing, payroll, or tracking income and expenses.
5. Customer Service
Customer service could easily fall into the general administrative bucket, but with so many specialized services, it deserves its own category. Business owners need help with customer service by responding to emails, chats, and messages on social media, taking product orders, or managing product records.
How Do I Choose In-Demand Virtual Assistant Services?
When you start a freelancing or virtual assistant business, it's a good idea to begin by offering a broad range of services.
After landing a few clients and doing various tasks for them in different service areas, such as social media scheduling, inbox organization, and calendar management, you will get a feel for the tasks you like to do. You will also get a feel for the tasks you do NOT want to do.
Then you can start to position your services around the tasks you enjoy. (Life is too short to do work you hate, right?)
You can start replacing clients that you currently have with clients more related to your service niche.
How Do I Get Started as a Virtual Assistant?
You can get started as a virtual assistant by taking these four steps.
Name and legally set up your business
Create your services and packages
Determine how you will find clients
Define your process to wow clients
Easy enough, right?
You could start digging through blog posts and podcasts on various websites to find bits and pieces of information on how to start your VA business and start building in a few months.
OR you can sign up for The Live Free Academy and get step-by-step instruction videos + workbooks that teach you exactly what to do to start a profitable virtual assistant business ASAP!