One surefire way to get new clients as a freelancer is cold-pitching.
Some freelancers love this method, and others hate it. Many are too scared to try it. And others swear by it.
It's not everyone's cup of tea, but if you decide to give it a go, you will need to know how to write a pitch.
In this post, we will talk about how to write a pitch, the parts of a pitch template, and a few simple tips. So you can be ready when you decide to take on the cold-pitch strategy!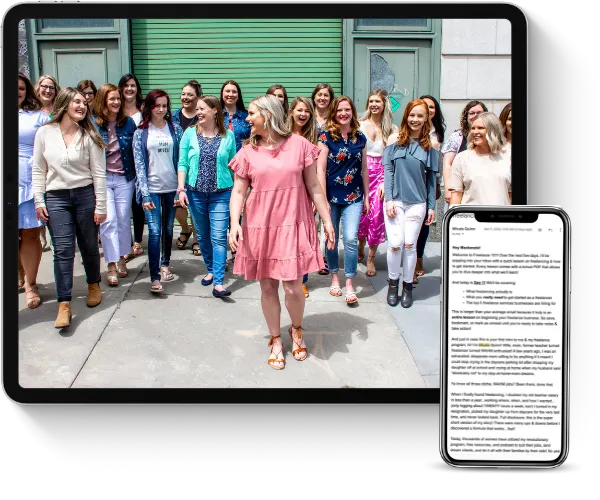 Learn how to earn $3K a month+ as a freelancer working less than 25 hours a week even if you think you have no experience.
This FREE crash course will teach you all about the freelance industry, so you can finally end the family vs. finances battle.
What is a Pitch?
A pitch is sent to a potential client, explaining your services and how your services can help them solve their problem.
It can be in the form of a written letter in the mail, an email, or verbally in a conversation.
A pitch generally will include a description of the service you are offering, convincing reasoning as to why they need it, and why you should be the person they hire to deliver it.
It can go by other names, like cold-pitching and direct outreach.
How to Write a Pitch
Identify the potential client. Do they fall into the ideal client range that you have set? Does their business line up with the service offering you are pitching? Could you take some of the responsibilities off their plate to help them not feel so overwhelmed as a business owner? Those are services to point to in your pitch to help them solve their problem.
Start researching. Note the things you would improve, what relates you to them, their social handles, and anything you see when you start following them.
Draft an initial pitch. When you first draft your initial pitch, it will be very general. Make sure you customize it. Add the details you noted from your research that relates you to them.
Track the email pitch. Tracking allows you to see if your email was opened, replied to, links clicked, etc. You can use software like

mailtrack

to track these details. Using this information will help you determine when and how to follow-up up or if you need to change your wording for next time.
Follow-up is important. Send a follow-up email a few days after your pitch. So many freelancers have come to the LFA group to share how they landed a client simply because they decided to follow up!
3 Simple Tips That Will Help You to Write a Pitch
Have a clean email address
Many people will say to have a professional email address. And while it should be somewhat professional, not all business names are professional. However, your email address is something that a potential client will notice first. So using your old email address from high school is going to take a lot of work! Create a free new email account that matches your business name if you haven't.
Short and sweet
No one wants to spend 10 minutes reading an email pitch! Business owners barely have time to check their email (that's why they need you as a VA in the first place)! So make sure your pitch is short and sweet, and keep it to the point. Using smaller paragraphs will make your email easier to skim.
Focus on the client
This email should be about their business and how you can solve their problem. Not about you! Do not include your lengthy background about why you started freelancing, how you started, and how long you have been in business.
How to Write a Pitch: Template
Opening: identify the business owner.
Hello, business owner,
Establish a connection.
I am a customer and fan of your business, and I love x,y, and z about it.
Compliment what they are doing well.
Find something on their website or social media page that you enjoy (make sure to touch on the area you want to be a part of. If you want to help with their social media posts, mention how you like their photos.)
Briefly introduce yourself.
I am a social media manager and can do x, y, and z.
Offer them something of value and how it will solve their problem.
I noticed you need to reply to comments on your social media account. It will help your account by x, y, and z. I can take some of the pressure of interacting with your audience off of you so you can focus more on x, y, and z.
Include your link to your website or portfolio.
Included is a link to my portfolio to see how this strategy has helped other businesses.
Close with your name and contact information.
Sincerely,
First and Last Name
More Resources on How to Write a Pitch
Are you looking for more resources on how to write a pitch that will help you land more freelance clients?
The Live Free Academy course teaches you everything you need to write a freelance pitch!
You will get access to the proven process for finding clients that are ready to hire + access to the exact wording that has helped LFA alumnae land their ideal clients!