More and more women are looking to work from home with kids! Freelancing is the best (and my favorite) way to work from home with kids. It does take a little bit of an adjustment though; to figure out how to work from home with kids around.
When I first started freelancing, I tried to plan all my work, any work calls, and discovery calls around when the kids were napping. That was great with 1 nap schedule, but when you add in a 2nd, 3rd, and 4th kiddo the situation becomes a bit more complicated! Not everyone naps at the same time, and with different ages some are phasing out naps altogether.
So how do you work from home with kids, especially multiple kids, and balance work + kid schedules? Today, we are going to hear from Chelsea Mellinger with tips on how to work from home with kids.
Chelsea is a pro at balancing all the schedules now, she's been a freelancer for 4 years since starting her virtual assistant business. Chelsea has also added 2 babies since she began freelancing. She shares her strategy for working at home with kids, and how she finds a balance between adding more clients and focusing on client work–so you can enjoy the season of life you're in!
Chelsea's Background
Chelsea is a business systems and customer relations specialist. She takes business owners overwhelm from running everything by creating efficient systems and providing daily management of the backend of their business.
Chelsea first joined the Live Free Academy after being a middle school English teacher. Loving teaching, she knew that what was more important to her was having a big family. After becoming pregnant with her 3rd baby, Chelsea knew she would be staying home.
For about a month, she weighed her options to join the program so she could learn exactly how to work from home with kids. She finally decided to join and take the chance!
Perks of working from home
One of Chelsea's favorite parts of working from home with kids as a freelancer is that she can set her prices and availability so that it works for her and her family!
For example, she could have a newborn baby, and work only 5 hours a month, or work part-time, or full-time. It's up to her!
"There are so many ways to make it work for your family lifestyle!"
Chelsea started her business when her 3rd baby was only 4 months old and has since grown her family with 2 more babies while working from home.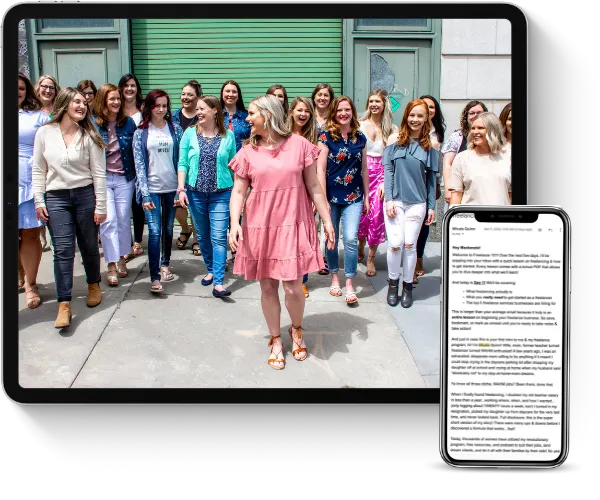 Learn how to earn $3K a month+ as a freelancer working less than 25 hours a week even if you think you have no experience.
This FREE crash course will teach you all about the freelance industry, so you can finally end the family vs. finances battle.
How To Work From Home With Kids
Prioritizing a family-work balance
Being honest with clients
Scheduling work and family time
Setting boundaries for working at home
1. Prioritizing a family-work balance
Chelsea says she loves that with freelance work from home she can pull back when she wants to. She just doesn't put her business out there as much, not applying in Facebook groups or posting on social media.
However, she can ramp it up when she wants to as well. For example, soon she will be starting a season of life where she will have 3 kids in full-time school and her youngest will be 1. So she feels like it's a good time to start marketing her business again and ramping it up!
2. Be honest with clients
After seasons where she has just had a baby or is just getting back into the swing of working from home Chelsea says she is just honest with clients. And they don't mind, as long as she is honest with them!
She will say, "Hey, I've just had a leave or a baby, and I'm just getting into working again."
She will also tell clients when getting on a discovery or work call with a client, "I've got kids napping, and they may wake up and come in here."
And her clients never mind when she tells them that!
3. Scheduling work and family time
Chelsea schedules her work time. However, during the summer months, her schedule changes a bit with her kids out of school and home with her.
She makes sure to communicate with her clients about schedule changes.
When the school year starts, Chelsea plans on having a mix of childcare, school, and kids'-day-out programs to give blocks of time that she can work. Which will look similar to this:
Full-Time School:
3 of the older kids will be in full-time school all day long.
Preschool and Kids Day Out:
One will be preschool in a kid's day out program that is from 9 AM to 1 PM, one day a week.
Childcare part-time:
Chelsea is going to have childcare for her younger ones 2 mornings a week.
This mix gives Chelsea 2 separate sessions of work time each day.
4. Setting boundaries for working at home
Creating expectations on turnaround time
With technology being as advanced as it is, it's easy to contact someone right when you need something. And many people feel that when they receive a notification or task from a client they need to complete it right then.
That's not the case though! Chelsea says it has taken a little bit of practice, but she set up boundaries for family time and work time. She focuses her attention on work when it's scheduled work time and her kids when it's their time.
Chelsea says to balance this, she is just honest with clients when a new task comes in. Telling them that she will get to it in a few hours when she's working.
And most clients don't assume that you will complete it right after sending it anyway. It's actually pressure you put on yourself.
Focus setting
To help with focusing on her family during family time, and not getting distracted by notifications all day long, Chelsea will use the focus feature on her phone. With this, you can turn off app notifications for specific apps at specified times during the day.
Ready to work from home with kids?
Are you ready to work from home with kids, building your freelance business with your babies by your side? You want a life of financial stability, but on your terms so that you can make it to all those holiday school parties for your kids and playtime during the day.
I get it because I wanted that life too! That is exactly why I created The Live Free Academy! I want to help teach moms exactly how to build a business working from home!
Freelancing has truly changed my life, Chelsea's life, and the lives of so many other women! Learn how to freelance with my step-by-step program which will teach you everything you need to know about starting and setting up your business.
It includes video training, templates, skills training, weekly coaching calls, and exclusive job leads for LFA students only! Learn more about how to work from home with kids by starting your freelance business here!