Are you searching for how to work from home and make money?
More and more people are desiring to work from home. According to the Pew Research Center, a study found more than half of those who began working from home during the pandemic prefer remote employment.
It's easy to see why more people prefer freelancing. Freelancing offers freedom and flexibility. The freedom to make as much money as you want. The flexibility to work how you want and when you want. It allows you to be home with your kids or go on a field trip with them while still contributing to family finances.
It's no secret that working from home is not just a trend. It's here to stay in a big way, and if you want to jump on that bandwagon continue reading to learn more about how to work from home and make money.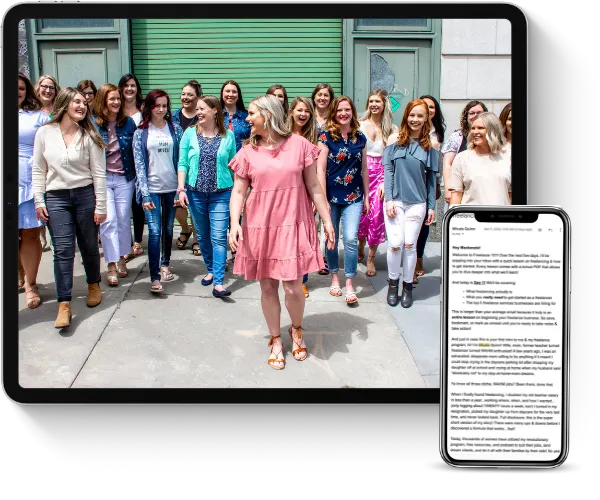 Learn how to earn $3K a month+ as a freelancer working less than 25 hours a week even if you think you have no experience.
This FREE crash course will teach you all about the freelance industry, so you can finally end the family vs. finances battle.
8 Ways to Make Money from Home
Freelance
Print-on-demand
Subscription box
Make and sell art
Blog
Make products and sell to online marketplaces (Etsy)
Tudor
Create and sell a course
Freelance
Freelancing has grown exponentially over the past few years and is not slowing down anytime soon.
Freelancing is selling your services to a business. There are tons of tasks a business owner does every day that they need or could use help with. Tasks that are essential to the day-to-day operations of the business that take up too much of their time, so they hire out.
That includes email management, customer service, content creation, and social media. Read Legitimate Work-from-Home Jobs for Moms if you want to learn more about freelancing jobs and how much money each makes.
Print-on-Demand
Print-on-demand means working with a supplier to customize products. You can change the products to show your designs, then sell them online. (You may also hear this method referred to as dropshipping.)
Generally, a print-on-demand company will handle the printing, fulfilling the order, and shipping for you.
Examples of products that are easily created and sold by print-on-demand businesses are hats, t-shirts, tote bags, blankets, towels, and cups.
Subscription Box
The subscription market is growing steadily.
A subscription box provides customers with products on a weekly, monthly, quarterly, or custom set basis.
Providing a subscription box can help you have more cash on hand by requiring full payment upfront creating a regular cash flow. You can plan for how much money is coming in each month, and use that to grow.
Make and Sell Art
If you are an artist, monetize your art by selling it through an online store or marketplace.
Research the best platforms to sell your art through. Factor in the costs of those platforms. Add in any other expenses like advertising you need to your selling price.
However, you can make multiple sales off one piece by selling original art, limited editions, digital downloads, licensing, merchandise, etc.
Blog
Decide on a niche, know your subject matter and research, then start writing about it. You will create, design, and plan content on your website.
After creating the website, and some content, you'll want to focus on growing your audience, then start monetizing the blog with ads, collaborating with brands to help sell products, and more.
Make Products and Sell Them On Online Market Places
Similarly, to print-on-demand, you are selling your products online. With this option though you are making your products, rather than paying another company to white-label.
Things you could make and sell in an online marketplace, like Etsy, are bath bombs, bows, jewelry, furniture, or tableware.
Tutor
If you know a subject well, you could become an online tutor. This would mean teaching something to someone one-on-one through a video on your laptop.
You can find tutoring jobs through sites like Education-First, or find your own clients to tutor.
Subjects commonly sought after are languages and business, but you could find tutoring jobs in subjects like computer science.
Create and Sell a Course
If you know a lot about a subject you can teach others about, like freelancing, you can make and sell an online course. You can listen to my story about how I transitioned to a course creator here on the Live Free Podcast.
There is more to creating a course than just recording a training video and being done.
You will put efforts into marketing, and creating a support system to ensure your students' success.
What to Avoid when Working from Home
Even though there are tons of ways to make money online, working from home, you may want to be wary of a few different platforms. Not all online jobs are created equal, and not all marketplaces are either. Here are a few you will want to avoid when looking to make money from home.
Freelance Marketplaces
These sites are tempting because the jobs seem plentiful, and for the most part they are. BUT these sites are full of people who will do jobs very cheaply. So you end up underpricing your services just to stay competitive.
These are sites like Fivver and Upwork.
If you are starting a freelance business, there are a lot of other options for you when you are looking for clients.
To name a few…
-The LFA hire form
-Networking in Facebook business groups
-LinkedIn
Pay-to-Earn Business Models
This business model promises you earn money when you spend money just to join. Not always, but often this is a multi-level marketing business model.
Some people can make very good money in these businesses. However, when you spend money on joining rather than investing in the business (on products for inventory or training) more often than not you won't get out of it what you put into it.
Non-flexible Work from Home and Make Money Models
For me, the whole point of working from home was so I could be home with my kids while they were awake, and work when they sleep.
Options that require you to work from the hours of 8-5 are not a flexible option for moms with little kids looking to work from home. Call center operator and in-home daycare were both suggested to me when I was searching for a work-from-home option.
However, any job that requires you to be tied to your home or computer all day isn't going to provide the flexibility you are looking for.
How to Make Money From Home FAQ
How can I make money from home?
There are countless ways moms can make money from home. Freelancing is one of the best ways if you want flexibility and freedom in your business. If you are looking to start a freelance business the Live Free Academy program can help you from getting started to finding your first client to scaling your business!
What are common freelancing jobs?
The most common freelancing job is virtual assisting, especially for moms who are just starting. Want to learn more about becoming a virtual assistant, what they do, and how much money they can make? Read this post on Work-from-Home Jobs for Moms: Virtual Assistant.
What skills do I need?
You don't need a ton of training or skills to freelance. You already have the skills you need!
Valuable skills that clients will pay you good money for to help them manage their business. Freelance Skills Assessment can help you determine what skills you have and how you can leverage them.