So, you set up a business legally, created your portfolio, and may have even started networking with business owners. You are ready to start working now, right? Wrong!
Don't forget to set your virtual assistant fees. It may not be the most fun or exciting step, but an important step!
You do NOT want to be the person that answers, "let me get back to you," when a potential client asks for your rates. Been there, and it's not fun!
So, let's talk about rates and how to determine your virtual assistant fees. After this post, you'll be ready next time a potential client asks about your rates!
What Should My Virtual Assistant Fees Be?
Many virtual assistants have a difficult time determining their virtual assistant fees because they believe they don't have the skills or experience to charge what they need to make a profit.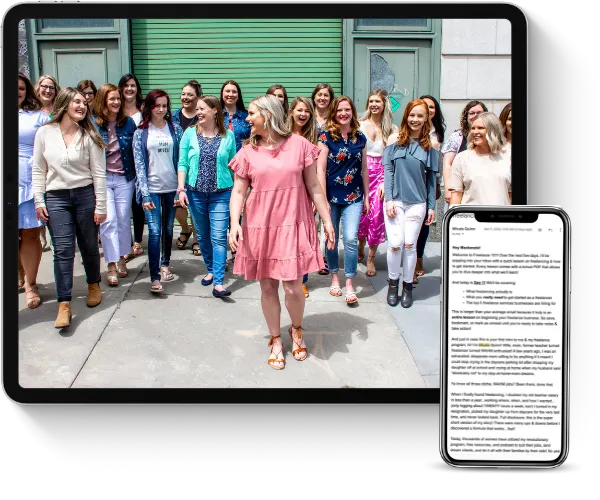 Learn how to earn $3K a month+ as a freelancer working less than 25 hours a week even if you think you have no experience.
This FREE crash course will teach you all about the freelance industry, so you can finally end the family vs. finances battle.
You should not charge so low that you can't make any money on your work. Believe me; there are tons of business owners out there that will pay you what you need.
There are two things you need to have when determining your pricing.
Confidence. You need confidence in the virtual assistant fees you are charging. If you are not confident in your prices, it will show through!
Comfort. You also need to be comfortable with the fees you are charging. Are you comfortable working for that rate? Do not set your rates so low to be competitive that you start to regret the work you do for that rate!
The Formula For Setting Your Virtual Assistant Fees
Beginner, intermediate, and expert rates
For a beginner, the standard rates are between $20-35 an hour. For advancing virtual assistants, rates are around $40-55 an hour. An experienced virtual assistant will be about $60-75 an hour, and an expert may charge anywhere from $80 and up.
These are standard industry average rates for a virtual assistant. The skills you have, your location, and the niche you choose could vary in the fees you charge.
And remember, these rates are all self-determined! There is no set certification and experience standard you must follow to determine whether you are a beginner or advanced.
This table can help you determine the rates you should charge, but remember to keep your prices at a point where you are comfortable and confident!
Number of working hours
Many virtual assistants think the number of hours you want to work determines your package hours. But you won't always have just one client, so break down the package into smaller parts. For example, break it out by service or deliverable.
Once you break down the parts of the package, figure out how long each piece will take. This gives you the hours per package.
Plan for taxes and other expenses
First, think about what expenses are needed to do this job. Are there any deliverables or items you need to purchase to deliver this service to your client?
Some examples of things you might need to purchase could be a subscription service for an app like Canva for designing or an analytics tool.
These are expenses that you will add to the price of your service. Add the full or partial cost of this into your virtual assistant fees so that you do not cover the cost out of the earnings you make.
You'll want to add this cost under each appropriate line item on your breakout of the package. Add up all the costs for these deliverables, then give yourself a 10-20% buffer.
Once you've picked your rate, determine the hours it will take for each piece of your package and add any expenses you'll need. Then total up the price for your package.
Multiply the hours by your hourly rate, add the expenses, and there's your total!
Want more help with pricing and packaging your services? The Live Free Academy is your step-by-step guide to price and package your services quickly and confidently! When you sign up for the 8-step course, you get exclusive access to the pricing calculator, where you can just plug in the prices and pieces you need.
Virtual Assistant Pricing Packages
Virtual assistant packages can come in a variety of options. It depends on what makes the most sense for the services you offer and the basis on which you will be performing them.
Let's touch on a few of the basic packages.
Hourly Retainer:
a set number of hours that recurs monthly. An hourly retainer will be ongoing until either party cancels.
Project-Based Retainer:
set deliverables that recur monthly until either party cancels.
One-Time Project:
a one-time package with set deliverables. This package is a one-time package and does not recur.
VIP Day/Intensive:
a one-time package that is delivered and completed within one day. It is a one-time package that does not recur.
Learn more about the types of virtual assistant packages in this blog post!
How to Invoice Clients For Virtual Assistant Fees
The invoice is an email you send that is connected to a payment processor and asks for payment. It's how you collect payment on your fees. And once you collect a payment, begin working!
As a business owner, you can choose the dates you'll invoice, and in some processing apps like Wave apps, you can make the invoice recur monthly on a specific date.
Set up an account with a processing app, like Wave. You'll start by adding your name and bank account information for the payment to be deposited.
Then set up an invoice with the title invoice, and add the date, payment due date, unique invoice number, client name, and contact information.
Finally, you'll add the hours, deliverables, or other details about the work you will be performing.