Are you falling down endless Internet black holes searching for stay-at-home-mom jobs? Trying to figure out how you can stay home and make money? Just a few short years ago, I was in your shoes doing the exact same thing!
If you're considering starting your own business, freelancing as a virtual assistant is a great place to start!
It's how I tripled my old teacher income only working 20 hours per week!
Although the steps to starting a business vary for each person depending on where you're located and how you want to approach your business.
These steps are a quick and easy guide to starting a freelance business today!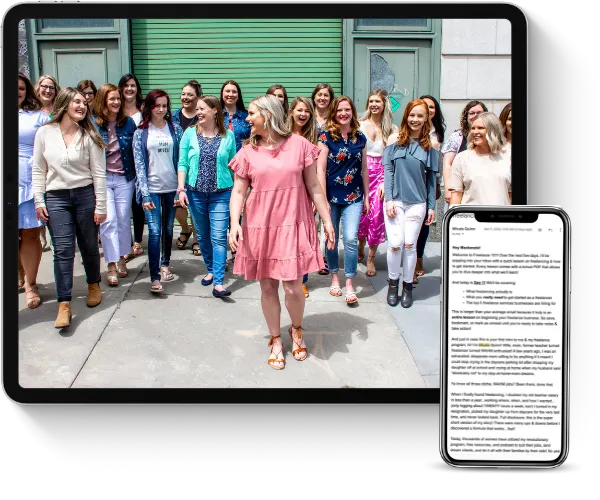 Learn how to earn $3K a month+ as a freelancer working less than 25 hours a week even if you think you have no experience.
This FREE crash course will teach you all about the freelance industry, so you can finally end the family vs. finances battle.
1. Setting Your Goals
Outcome, performance, and project goals are the three types of goals you will set when you're starting your business.
Your outcome goals are the goals you are working toward. They help you measure how you are doing. Performance goals are the daily tasks you will do that will directly tie you to meeting your outcome goals. And project goals are goals designed to help you focus on where your business is at. For example, setting up your business or learning a new skill set once your business is established.
Setting performance goals is like creating a plan to execute to get you to your outcome goals.
I talk more in-depth about each of these goals and how you can create a plan in the Live Free Academy (free workbooks included!).
2. Discovering Your Why
I could have put this step as number 1 because it is (arguably!) the most important. If you have been following me for a while then you know I talk a lot about finding your why.
This step is so important because starting a business is hard. It's hard work! You won't be able to magically snap your fingers and be successful. You have to put in the effort to make it successful.
There will be days that you may want to quit. Or ask why you're making this huge change.
And that is where discovering your why comes in. Determining why you are making this huge change in your life is going to be your motivation to keep going past the tough days.
That means digging deep down to figure out what this business will do for you and your family.
If you are not sure where to start go listen to this podcast episode 29: The Key to Never Giving Up: Knowing Your Why.
3. Setting Up Your Business
Yep! All that boring legal stuff you don't want to do. Do it upfront! It's not worth the hassle later on to play catchup.
You'll need to pay taxes on the money you make and plan for how that will affect your income. So, be sure to add your tax rate into your billing rates so you are not losing money.
Will an LLC or a sole proprietorship be more beneficial for you? What is the difference? We cover all this and more in the LFA training, and you can get more in-depth legal information from my podcast interview with Ashley Meyer, a business attorney answering all my freelance mom questions.
4. Discovering Your Strategy to Find Clients
Usually, when first starting out most of us are in the mindset of "I just want someone to pay me". I know I was!
But trust me — you will connect with the right people, and they will hire you!
First, you need to know who you want to work with.
That does not mean you have to turn down people who do not check all your ideal client boxes, but figuring out who you really want to work with is going to be so worth it!
I firmly believe that if you market to everyone, you market to no one.
Your strategy to find clients will start by answering these 4 questions.
-Who is your ideal client?
-What is their pain point?
-How do you solve it?
-Where can you connect with them?
Use that information to create a client avatar to guide your branding and messaging to resonate with your ideal client.
5. Your Mindset
Fear of failure is a common roadblock many freelancing moms experience when beginning a stay-at-home mom business. It can manifest in many different ways.
What is failure? Some think it's making a mistake on a client project or not landing a client. But those are just mistakes, not failures!
Failure is quitting or giving up when something gets hard.
There will be times when you make mistakes, and things don't go your way. But if you retrain your brain to see failure as proof you're trying, you cannot fail!
Rather than quitting and letting the fear control you, control the actions you take.
Whatever you do, do not let fear of failure prevent you from putting yourself out there and experiencing the opportunity of freelancing!