Freelancing is the best option if you are seeking work-at-home opportunities – especially for work-at-home moms.
You get to decide what you do, when you do it, and how much you charge for it. When you need to run an errand or go have fun with the kids, you don't have to ask permission or tell anyone – you just go! Ready for a raise? Increase your rates! Vacation on the calendar? No submitting requests…it's your life and your business!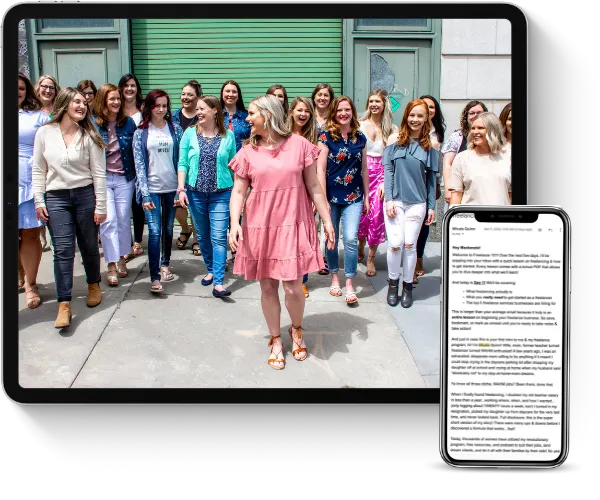 Learn how to earn $3K a month+ as a freelancer working less than 25 hours a week even if you think you have no experience.
This FREE crash course will teach you all about the freelance industry, so you can finally end the family vs. finances battle.
When you're ready to take control of your life and change your career, your first step will very likely be googling "
How to start freelancing
." Although you can find amazing info about freelancing on Google and YouTube, stay alert! You might also find false information and scams.
6 Common Freelancing & WAH Scams
These are some of my best tips for avoiding work-at-home and freelancing scams.
Urgency Is Never Your Friend
One of the sneakiest ways that scammers come between new freelancers and their hard-earned money is with urgency. Beware of any potential opportunity that rushes you into anything. Although you will usually always have deadlines, very few legitimate gigs will push you to act or make decisions urgently.
Pay-to-Play Is Never Legit
One of the most glaring indicators of a potential scam is anyone who wants you to pay for the privilege of getting work. Immediately block anyone who requires you to purchase an expensive piece of software or some other tool, or who won't consider you for a job opportunity unless you pay a fee first. No legitimate client will ever ask for these things.
Trust Your Gut
Essentially, if it sounds too good to be true, it is too good to be true. Before moving forward with any opportunity that doesn't feel completely right, research your industry and learn what your skills are worth. If the pay seems way over market value or the responsibilities don't align with the job description, keep looking!
Where Freelancers Most Often Get Scammed
The more the freelance wave grows, the more places you're likely to run into scammers. Common places to look out for:
Online Freelance Marketplace Platforms
If you're looking to platforms like Upwork, Fiverr, Guru or Freelancer to get gigs, stay vigilant for scammers. They commonly post to these and other freelance marketplace sites. Beware of anyone who asks for your personal or bank information or who wants you to give them money.
LinkedIn
LinkedIn has some great features for professionals, but it also has more than its fair share of scammers. Beware of any WAH opportunities that raise any of the red flags described above.
YouTube
Lots of super legit people use the YouTube platform to engage with their audience. Just look out for red flags – especially in the realm of online education and mentorship programs. NEVER spend thousands of dollars to invest in a business coach without doing thorough research (and reading legitimate success stories!)
Want to Be a Freelancer? Start With the Basics to Avoid the Risks
Sometimes it's the unknowns that trip up new freelancers.
Before you dive into any potentially risky biz moves, take the time to look for a mentor or community group that can help guide you away from scams and into legit opportunities.
I've put together a free guide full of my most valuable tips and tricks for how to be a freelancer! Click on the link now to learn more about what freelancing is and how you can use it to transform your life.