Are you a virtual assistant wishing to niche your services? On the blog is a success story with LFA Alumna Kari Jackson. She shares with us how she started working with real estate agents in the freelancing space, what tasks she does for her real estate agent clients, and how she got licensed to become a real estate virtual assistant!
After reading Kari's story, you'll get an idea of the steps you want to take to become a real estate virtual assistant!
Kari's Story
Kari started as a teacher when her kids were young and taught for ten years. When a friend came to her with a real estate opportunity, she jumped on it. Kari got her real estate license in 2006 and has been working as an agent since.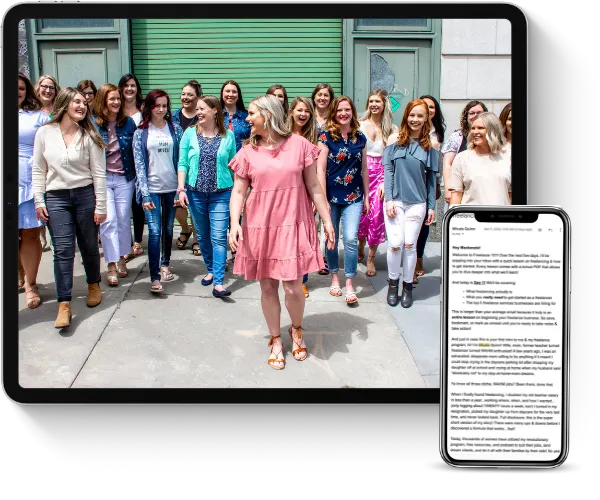 Learn how to earn $3K a month+ as a freelancer working less than 25 hours a week even if you think you have no experience.
This FREE crash course will teach you all about the freelance industry, so you can finally end the family vs. finances battle.
Loving the flexibility of the schedule as a real estate agent, Kari could utilize daycare and kids' day off programs while she worked and could pick and choose her schedule. When Kari got burnt out, she wanted a "go to work and come home, and be-done schedule-type job."
So, she found a position as a personal assistant for a florist in Kansas City. As time went on, she began doing their marketing, running the website, and managing their Shopify site and social media. Kari says she loved the job but was so busy that she dropped the ball at home. She was not able to go to all the activities during the week.
So, she started shopping around and connected with a realtor friend from her past. Kari ended up being the director of operations for her real estate team and worked there for a year and a half.
How Kari became a real estate virtual assistant
While Kari was working part-time for the real estate agency and as a contractor for the local florist, she dreamed of helping other businesses build their business.
So, Kari signed up for the LFA course, came up with a name, and decided she wanted to support local Kansas City businesses.
Once Kari got into her business and started networking on Facebook groups, it just naturally fell into real estate.
Her very first client was a real estate agent in Myrtle Beach. She signed the client, then discovered it was possibly a breach of contract with the local real estate agent with whom she had been currently working. So, Kari just decided to talk with the agency about it. They determined it was a breach of contract and ended her employment that same day!
After that fateful day, Kari worked on her business full-time, just as if she had been reporting to work until it started bringing in an income consistent with her previous job.
What You Can Do For Clients As A Real Estate Virtual Assistant
Some of the things Kari does for her clients that she does not need a license for:
Sending out client thank-you gifts
Sending out birthday cards or anniversary cards, and client care
Event planning
Social media planning and posting
Scheduling signage, staging, and other parts of the listing process
Check out this post to learn more about the tasks you can work on as a real estate agent virtual assistant!
Do You Need a License to Become a Real Estate Virtual Assistant?
Because the licensing laws vary by state, the tasks you can do depend on the state of your work and where your clients are. However, because you are working virtually versus in person, you don't need to have a license as a virtual assistant.
For example, in Kansas, if you are answering a client inquiry and have a phone call from someone wanting information about a listing. (Maybe they are asking how many rooms a listed property has.) As an unlicensed real estate virtual assistant, you would not be able to share any information about the listing.
How to get licensed
Getting a license varies by state because each state has specific laws.
The general process is to take a pre-licensing class (a 40-hour class in Kansas and Missouri), which you can now take online. After passing the class are a state exam and a 30-hour follow-up practice course. Once you pass the class, the exam, and the practice course, then you will be licensed!
An estimated cost of the class and exams is less than $1,000.
If you are starting as a virtual assistant, getting a license is not necessary for you right now. However, it will differentiate you from other real estate virtual assistants. Plus, it could increase your value with your clients by allowing you to take on more tasks for them-tasks that others without a license cannot do.
Want to hear the rest of Kari's interview? Check it out here on the Live Free Podcast!
Are you ready to become a real estate virtual assistant living a life you love working from home? Head to MicalaQuinn.com to check out all the free resources so you can get started as a freelancer today!