6 years ago I became a freelancer! I learned how to overcome self doubt and started my home-based business. If you've been around for a while you probably know the story.
As I was building my freelance business I was sharing resources and helping others get started too. I was doing that before I even had clients, but became known in a local Kansas City mom Facebook group as "the mom who could help you work from home"!
Eventually, it got to where anytime another mom posted that they wanted to work from home not working in an MLM, someone tagged me.
That led to me launching my first course, 6 years ago! That course was called, Jumpstart Your Freelance Business. It was very much a starter course. It was a course to see if there were actually people who wanted to learn how and would pay to learn how to do this.
I am so grateful that I said yes and decided to go after it. But it wasn't without self-doubt. I worked through those self-doubts and decided to go for it.
5 Common Self Doubts
Today, let's talk about the common "buts" that hold women back from freelancing. And learn how to overcome self doubt that might be holding you back.
I don't have time to build a business.
I don't have any skills.
I don't have experience, no one will hire me.
I don't know how to build a business or land clients.
I'm scared to fail.
How to Overcome Self Doubt
Let's dig into each of these common things I hear from women who want to freelance, but always have a reason why they can't. Let's talk about it and how to work through it!
Self doubt #1: I don't have time.
I want to do this, but I don't have time. Before you can say this with certainty, have you looked at your weekly schedule to see if this is true?
I built my business on the side, while I was still teaching. I was a mom to a little baby girl, Mclaren, and was pregnant with sweet George. I remember having these thoughts of "I don't have the time".
I also remember that feeling that enough was enough and I found the time.
So, I sat down and wrote down what I was doing with my time from the point that I woke up until I went to bed. What was I doing with my time?
My typical week looked like this:
6:00 Wake up and feed baby, rush through the morning to get ready for work.
7:30-4:30 work.
4:30-7 play time with Mclaren, then dinner, bath, and bedtime for her.
7-10 hang out with Colin (my husband), lounge, and more work for teaching.
I got serious about building my business because spending 3 hours per day with my child was ridiculous to me!
I was able to find a minimum of 20 hours per week to work on my business, but I had to make some changes.
Finding 20 hours to work
So I woke up early to work on my business from 5 AM to 7 AM. Colin was on board and did the morning routine with Mclaren taking her to school. Doing this 5 days a week, gave me 10 hours to work on my business and do client work.
I was also able to do client work from 7-9 PM once Mclaren was down for the night. Doing this gave me another 10 hours of client work.
10 + 10 = 20 hours. That didn't include lunch break or planning period where I would follow up with clients, book discovery calls, or get networking in.
To sum it up and see how to overcome self doubt of not having enough time: sit down and plan out your days. Are there 2 hours a day you can fit in to do client work?
Self doubt #2: I don't have any freelance skills.
First of all, you have skills, talents, and experience no matter what your previous job experience is or isn't.
If you don't have tangible experience doing any of the specific freelance tasks, no worries! So many of us have leveraged our natural strengths to reinvent ourselves in our careers.
Do you identify with at least one of these? Then I have no doubt you will be able to overcome self doubt that you don't have freelance skills:
natural problem solver
strong writer
motivated
creative
organized
detail-oriented
Plus, The Live Free Academy has over 40 skills training with how to do virtual assistant freelance work so that even if you don't have tangible experience that is no problem!
My team and I will show you how to schedule social media posts on Facebook, how to post a blog post, how to Edit a podcast, how to repurpose content, how to do email inbox management, how to schedule pins on Pinterest, and so much more!
Now, if you haven't had a chance to go through my skills assessment I highly recommend it!
Self doubt #3: I don't have experience.
So, now that I've taken away the skills being a doubt. You might be wondering, who's going to hire me as a beginner?
Are you actually a beginner?
Are you actually a beginner? Or are you just new to doing it in a freelance capacity?
For example, if you have 1 year of admin experience, you have experience as a virtual assistant.
If you have experience doing marketing in your day job, then you are not a beginner. You are just new to doing it as a freelancer!
Why clients hire beginners
Even if you are a true blue beginner, like I was when I got started, there are a lot of clients looking for and prioritizing a beginner over an expert.
Why? Because of budget. So clients with modest budgets will focus on hiring based on personality, and soft skills, and will provide training on resources for the tasks needed for their business.
Self doubt #4: I don't know how to build a business.
I want to freelance, but I don't know how to build a business or land clients. If this is your self-doubt, then, of course, you don't. You've never done this before!
I didn't know how to either, but I figured it out! I took the exact steps that I finally figured out what worked, and created The Live Free Academy.
I created it with one goal in mind: helping you launch and get clients ASAP. My months of trial and error all went to good use. It got me here!
I was able to strengthen what worked, get rid of what didn't, and help others get started freelancing too.
I've worked with over 3,000 women in the program which has been refined and updated over the years. I've added more shortcuts, tools, and templates. So that you can learn what to do, how to do it, and how to build your business.
You might not know how to build a freelance business yet, but I will show you inside The Live Free Academy. How to overcome self doubt of not knowing how to build a business? Sign up for the Live Free Academy!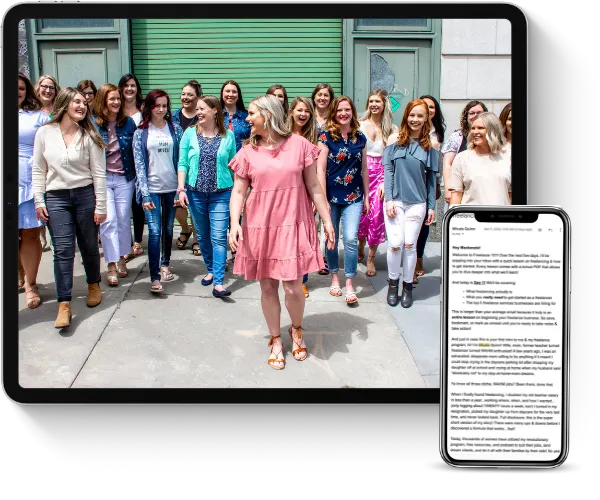 Learn how to earn $3K a month+ as a freelancer working less than 25 hours a week even if you think you have no experience.
This FREE crash course will teach you all about the freelance industry, so you can finally end the family vs. finances battle.
Self doubt #5: I am scared to fail.
I get it, I was too! Especially after trying 2 other businesses before starting freelancing that didn't work. I carried a lot of shame and hesitation to start.
But I was determined to figure out something that would work. I was determined to find something that would work when the bow business, the cookie business, and an MLM didn't work.
6 years ago, I made a commitment to myself to find something that would work!
So if this is your but, think about 1 thing. What would it mean to fail in your business? Would that mean to not land a client?
Land a client success rate
Let's look at the success rate of students inside the LFA. This has been tracked since 2021 when my team and I added the monthly "Land A Client" challenge component to the program.
The success rate of the students that have enrolled, completed the course and participated in the challenge.
We have had over 800 students complete the course and the challenge.
Each student reported they were at least 75% consistent in the monthly challenge.
Each student was able to land between 1 to 5+ clients in the 30-day window (or shortly after), with the exception of just 10 students.
That's a success rate of 98.75%!
How do you overcome self doubt of failing? Answer these questions.
Can you go through the course and complete it?
Will you commit to implementing what I teach in the course and the challenges?
When you get stuck will you commit to reaching out to me and the community for support?
If your answers to those questions are yes, then I have no doubt that you will be successful in your freelance business!
Doubts and fears do NOT mean don't do it!
Now that we've learned about how to overcome self doubt, whatever your but might be. Is there something else holding you back? A different doubt that I haven't mentioned in this post?
If there is, please reach out as soon as possible so that I can help you work through it. My job is not to sell you on my program, it's to give you all the information so you can make the best decision for your family!
If that's to enroll in The Live Free Academy, I would love to support you!