Want to know how to name your virtual assistant business? Deciding to start a virtual assistant business is super exciting! And so is choosing a name for your virtual assistant business.
But before you can pop the bubbly, you need to decide on a name for your virtual assistant business. Que the questions…how do I name my virtual assistant business? What do I name it? Does it need to be creative and fun and clever all at the same time?
Naming your virtual assistant business does not have to be hard!
In this post, we will talk about how to name your business. We will dive into 3 popular options in naming your virtual assistant business, and what you can do when you get stuck. Whether you are creative or not these tips will make it easy to name your business. So that you can move on to the next step in becoming a virtual assistant and landing paying clients!
How to Name Your Virtual Assistant Business
You have 3 options when it comes to naming your virtual assistant business.
To use your name.
Think of something creative.
Use a mix of your name and a little bit of creativity.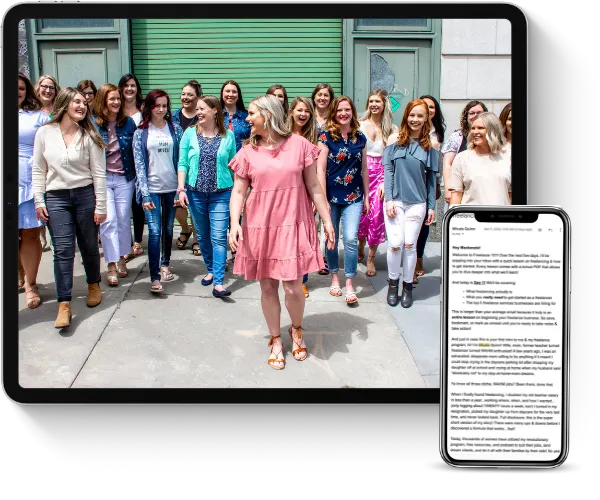 Learn how to earn $3K a month+ as a freelancer working less than 25 hours a week even if you think you have no experience.
This FREE crash course will teach you all about the freelance industry, so you can finally end the family vs. finances battle.
Using your name
Using your name is my suggested approach, it's what I highly, highly, highly, recommend. I recommend this because it is going to be the path of least resistance to getting started. It will also grow with you no matter how your business transforms and grows later on.
Sometimes people object to using their name because it's too common or hard to spell or pronounce. If that's the case, then most likely people won't be typing your name in when you are starting, they will be clicking from a portfolio.
If you have a super common name, and the name is already taken. Then you can always add a "hello" at the beginning or "the" as in "TheMicalaQuinn".
Choosing a creative name
If you want to go the creative route, I suggest picking something meaningful to you. Also, something that would be meaningful to your ideal client. But as you go about this, pick something that will still grow with you.
Also, make sure you do thorough research to make sure it's not already in use. To do this, search the internet, social media, and the trademark database.
Using a mix: your name + creative
If you choose something that is a blend of both your name and something creative. That may be something like your name + another word that describes your business. A few examples could be "Quinn Creative", "Quinn Collective", or "Quinn Social".
Pro-tip: do not start making up words that are hard to pronounce, and that nobody knows what they are. Clients won't be able to remember it and will have a hard time pronouncing it when they refer you!
What To Do When You Get Stuck
If you get stuck and are still wondering how to name your virtual assistant business.
Come talk with me and the LFA community on The Live Free Academy Facebook Group

.

Get some inspiration from a

name-generator tool

.
One thing to remember, when you get stuck, don't let this step hold you back from just starting! Remember the easiest route and path of least resistance is using your name!
You are not going to lose clients because of the name of your business! People don't care what your business is called. They will want to do business with you because of the skills you bring to their business. You will lose out on clients by not having your business named and set up. So don't let naming your virtual assistant business stop you from starting today!
What's Next After Naming Your Virtual Assistant Business?
So now that know how to name your virtual assistant business, what comes next?
Brand Visuals
The next step in starting your virtual assistant business is continuing to develop your brand visuals.
That includes developing your fonts, colors, logo, and images. I covered all of these in this blog about How To Create a Brand Board.
In it, we dive into the step-by-step instructions for creating a brand board.
Using a tool like Canva will make it easy to DIY. After creating a free account, type in the brand board, and there are templates you can update. You can add your logo, brand colors, images, and fonts then save it to your computer to have easy access while making your other brand documents!
Virtual Assistant Tutorital
By this point, you've named your virtual assistant business and are looking at branding. Keep it going! If you want step-by-step instructions for starting your business, The Live Free Academy course is your guide!
It has all the virtual assistant tutorials, skills training, and tools to build your business from the ground up. With modules about legal contracts and taxes, determining your ideal client, finding clients, landing clients, working with clients, and more. So that you have what you need to build your business and reach your income goals. If you're interested and ready to make that future commitment to yourself and your future business click here to go to the enrollment page.