Highlights: 
How freelancing has been the solution for Chelsea and her family, allowing her to stay at home and bring in an income. 

How Chelsea's business has evolved from VA to CRM specialist.

CRM specialist stands for Customer Relations Management. Is someone who works to create systems, or processes, within a business. 
Today's success story blog is a "where are they now" check-in with a stay at home mom, Chelsea Mellinger!
You guys have reached out and said you want some "Where are they now" episodes so that you can see the longevity of freelancing. So, let's check in with Chelsea to see how she makes money as a stay at home mom and CRM specialist!
Chelsea's Background
She was on the Live Free Podcast back in 2019 and shared how she began and started building her business as a stay at home mom. Today she is coming back on to share how her business has been going over the past 3-4 years.
A quick recap of the beginning
Chelsea was a middle school English teacher, and at first loved it. She knew it was what she wanted to do all her life!
She also knew she always wanted a big family, which was her ultimate long-term plan.
After becoming pregnant with her 3rd child, Chelsea knew she wanted to be a stay at home mom to her kids. So she wrapped up that school year and began to stay home with her sweet kiddos.
She then found the Live Free Academy program (that teaches mom how to make money as a stay at home mom), and she watched it for about a month. Knowing that she still wanted to be a stay at home mom, but also do something professionally.
Adding more kids!
When Chelsea began building her business as a stay at home mom, she was a mom to 3 sweet kiddos. She has had 2 more since, making her a mom to 5 kiddos!
Chelsea works and stays at home still, and has built a business to fit her stage of life in being a busy mom to 5 active kids.
Business and CRM Specialist
Chelsea works as a stay at home mom as a business systems and CRM specialist. She takes away business owners' overwhelm from running everything by creating efficient systems and providing daily management of the backend of the business.
What is a CRM?
CRM stands for customer relations management. A Customer relations management specialist works to create systems within a business.
A CRM is usually managed by software like Dubsado or Sprout Studio and is a tool businesses use to communicate with clients and customers. These systems automate communication and processes by sending out emails, invoices, and other documents to clients.
How Chelsea Began As A Stay At Home Mom
After a month of doing the course, Chelsea got her work from home business up and running. She landed a lot of clients in a short time and started out doing anything and everything as a general virtual assistant.
That lasted for about 6 months to 1 year. She really enjoyed beginning with a hodge podge of tasks so she could learn what she liked and didn't like.
If you want more details about how Chelsea began her business, listen to her original Live Free Podcast episode here!
Chelsea has almost always worked part-time. There was a period when she worked 25-30 hours per week and it was too much for her with having small kids. At that point, she decided to niche her services into CRM and let go of some of her general VA clients.
Balancing Family and Work
Chelsea says, what she loves so much about freelancing is that she can create a great balance of marketing her business or pulling back when she wants.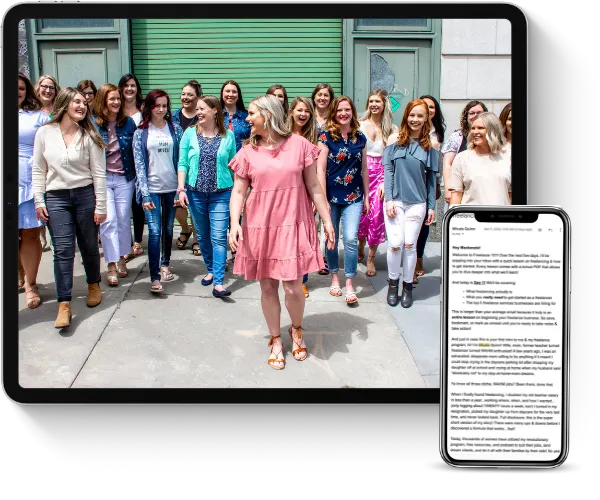 Learn how to earn $3K a month+ as a freelancer working less than 25 hours a week even if you think you have no experience.
This FREE crash course will teach you all about the freelance industry, so you can finally end the family vs. finances battle.
Or she can put her business out there and get more clients when she wants as well.
How to ramp up after a slow season
Chelsea remembers having a fear of pulling back in the beginning. She says she was very focused on having her social media all planned out, for example.
Investing in a website
After about a year and a half of working with clients, Chelsea invested in a website for her business that allowed her to send clients to it when she decided to start looking for clients again.
This made it easy once she was ready to put herself out there again.
She could also easily go in and update her services as they change with her business.
Being honest with clients
Chelsea says she would just be honest with potential clients that she was just getting back into the swing of things after having a baby. She says clients have never cared or made it a problem when she has been honest about that.
Or during summer break, her hours change and she may not be as available as during the school year. As long as she is honest, clients don't mind.
A Typical Week as a Work from Home Mom
You may be wondering, how does Chelsea work from home while having 5 young kids at home?! She says her schedule is very structured.
Morning work time
She always schedules work time in the morning, so that she can be in her clients' inboxes and tackle tasks within their inboxes. So it's important that she checks their inboxes 1-2 times each day.
Naptime hustle
Chelsea also gets some work done during the naptime hustle. With her older kids who are home from school over the summer, and have phased out naps they have quiet time. So they can watch T.V., but they know it's quiet time.
School, mom's day out, and childcare
Chelsea says this school year is going to be a little different for them.
3 of the older kids will be in full-time school all day long. One will be preschool in a mom's day out program 1 day a week.
This year, Chelsea is going to have childcare for her younger ones 2 mornings a week, so that she can work.
How to Make Money as a Stay at Home Mom
Are you ready to learn how to make money as a stay at home mom while building your freelance business on the side?
You can do it just like Chelsea did, and I would love to support you along the way! The Live Free Academy is my step-by-step program that will guide you through starting work and stay at home mom business so that you can reach your income goals and family goals.
Learn more about the program and enroll here! 
Not ready to sign up for the program, but want to hear more about freelancing and how it is a legit solution to make money as a stay at home mom. Download the Freelance Crash Course here!