Let's talk about how to land freelance clients! Learn what you need to land freelance clients and where you can go to find potential freelance clients. 
Everyone wants to go straight to, "Where do I land freelance clients?"
First, to land a client (in most cases) there are a few things you need to do to. To set yourself up for success, first, you need to build a solid foundation. To do that, build an actual business with a strategy and plan to follow. So you don't run around on a hampster wheel spinning and spinning.
You need the right strategy for you, and your goals to take action. If you want to learn more about building a solid foundation for your business so that you CAN land freelance clients, sign up for the Freelance Crash Course where I go over this in-depth!
A Solid Foundation Will Help Land Freelance Clients
Prep and plan to figure out your goals, how much time you have to devote to your business, and when you will work on your business.
Figure out what services your going to offer.
Figure out who you want to work with.
Put together your packages and pricing.
Develop your brand name, logo, and messaging. This is how you will talk about your services and talk to your potential clients.
Identify your strategy to land clients.
Work on your online presence, develop your portfolio, and

establish any social media channels.

Go through the steps to set yourself up to onboard and land clients.
If you are reading this list and thinking, I have no idea how to do these steps–this is what The Live Free Academy goes through. Step by step it will show you video training, workbooks, and other rapid launch resources to guide you through each step to setting up a solid foundation for your business.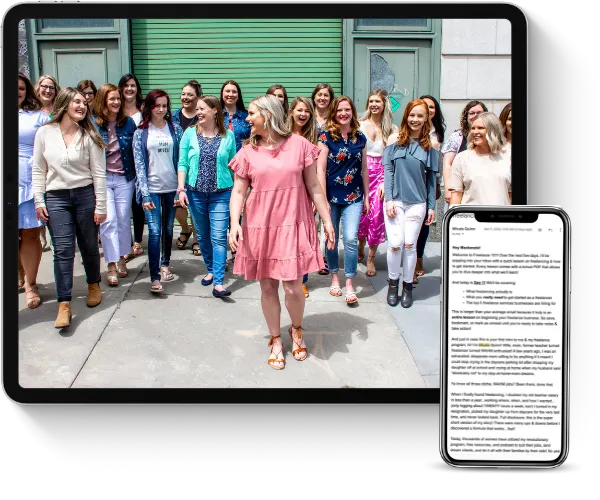 Learn how to earn $3K a month+ as a freelancer working less than 25 hours a week even if you think you have no experience.
This FREE crash course will teach you all about the freelance industry, so you can finally end the family vs. finances battle.
After setting up your solid foundation, by going through the planning and building stage, the next thing you need to land freelance clients is the right strategy. This depends on who you want to work with, and the route you feel most comfortable going with.
And this is why having a solid foundation is so crucial to landing clients. So many people want to skip identifying who they want to work with and go straight to landing clients. But everything you do in your business is built off your ideal client.
Routes to Land Freelance Clients
So, let's go through each of these routes, and what it takes to land clients for each one.
Facebook groups
This is my favorite way to land clients and is how a majority of the women in the LFA program land clients. There is a Facebook group for just about every client type and industry out there. For example, there are Facebook groups for Entrepreneurs, Mompreneurs, online course creators, podcasters, real estate agents, etc.
In these groups, people in these industries are coming together to ask questions about operating and sharing their struggles and what they are learning.
You can join these groups to be a part of the conversation and become known in these spaces as a virtual assistant and social media manager. So, when someone is looking for a virtual assistant, they can come to you and ask if you have availability.
They also may post directly in the groups that they are hiring for a virtual assistant, where you can then pitch directly to them.
When it comes to the Facebook group route, you should find 3 groups with your ideal client in them. Then spend 4-5 days per week going into each group for about 20 minutes each, being a part of the conversation, and answering questions when you can.
Personal network
This route works for a lot of people, and it can be people in your daily life that you reach out to or it can just come from conversations that you have with people. Let's go through 2 examples.
Going the personal network route, you could make a list of all the people in your circle that are well-connected and/or has a business and reach out to them. That could be a friend, family member, a neighbor. Reach out through normal means of communication; that could be in person, a phone call, text, or email. Reach out with the message that you are starting a business as a virtual assistant, and ask if they happen to know anyone that needs your business services. Hopefully, they will either ask more questions to hire you for their business, connect you with someone, or at the very least, keep you in mind for the future.
The other way this can work is whenever you are asked, "What's new?" Instead of replying, "same old, same old" tell them about your business.
Direct outreach
This is directly reaching out to businesses that you want to work with and pitching them. Finding a need that you can help with for that potential client, then reaching out to them.
Now, there are a lot of wrong ways to do direct outreach and right ways. To learn more about both read this blog post about how to do direct outreach the right way that works and gets replies from people. It will consist of having a very personalized email for each business. A basic template is not going to work.
Online job boards
This route is more of a passive route that you can take. There is a job board in The Live Free Academy, there is also Fivver and Upwork.
Generally, I recommend not using Fivver and Upwork because they are known for the "cheapest lead possible". However, there are more and more job boards popping up to use.
This route is going to be similar to the traditional route of finding work. Where they post a job, and you respond with a pitch.
Current employer
Another route many LFA students have found success in is reaching out to their current employer. They would reach out to their boss to let them know that this is what they want to do and ask if there is any capacity to do their current role as a freelancer.
Now, this route can have different outcomes. It has provided success to some freelancers but has also been considered their two weeks' notice for others.
As a former teacher, this route wasn't applicable. However, another student reached out to the school they were teaching at and was hired as a freelancer to do social media for the school. There is a lot of opportunity!
Marketing on social media
Another route is marketing yourself on your social media platforms. This is more of a premium high-level way to go about landing clients. This is because you will want to be a more established business out of the exploration phase.
in the beginning, there is so much shifting and experimenting with what services you will offer and who you want to work with. You want to build up your social media profiles based on your established ideal client and services so that you can build up your social media accounts with them in mind.
Referrals
When you have at least one client and have a great working relationship with them, you will likely get referred to others by them. Many students have landed additional clients with this method too!
Resources to Help You Land Freelance Clients
When networking and trying to land freelance clients, you want to be sure that you are following up with leads, refining, and evaluating how things are going. Keep tracking and taking action to implement your plan to land freelance clients!
In The Live Free Academy, we have monthly challenges to land clients! You can sign up for these challenges and commit to doing your daily, weekly, and monthly tasks. We're there for accountability and support, and we have found that students who are at least 75% consistent in implementing their strategy land anywhere from 1-3 clients in those 30 days!
So, if this sounds like something you want to be a part of and you're ready, sign up for The Live Free Academy. We would love to have you!
If you are not ready to sign up for the course but want to learn more about freelancing, check out the free crash course here: micalaquinn.com/cc.